Much ado has been made of Colorado's burgeoning distillery industry (50 and counting). Over the last few years, distilling small-batch spirits has become the new craft brewing in the Centennial State, and tasting rooms are popping up in the unlikeliest places, especially in and around ski towns. In nearby Basalt, we're fortunate to have the award-winning Woody Creek Distillers, which is one of the few spirit producers in the state that actually makes its own product from grain-to-glass (they also grow their own heirloom variety potatoes on co-owner Pat Scanlan's organic farm in Woody Creek).
Just to clarify, distilling- as in, starting with the raw ingredients- is a dying art worldwide. Here in Colorado, only a handful of distilleries do this- most buy spirits in bulk from out of state, and simply age and bottle them at their facility. Don't let sneaky marketing hyperbole and homespun packaging fool you. If you want the real deal (and to be clear, just because something is made from scratch doesn't guarantee it's good, nor are all products made from bulk spirits bad) do your research ahead of time, whether you're planning to buy a bottle at the liquor store or visit a tasting room. My point in mentioning this is because it's shady marketing, and I like to empower consumers. Bam.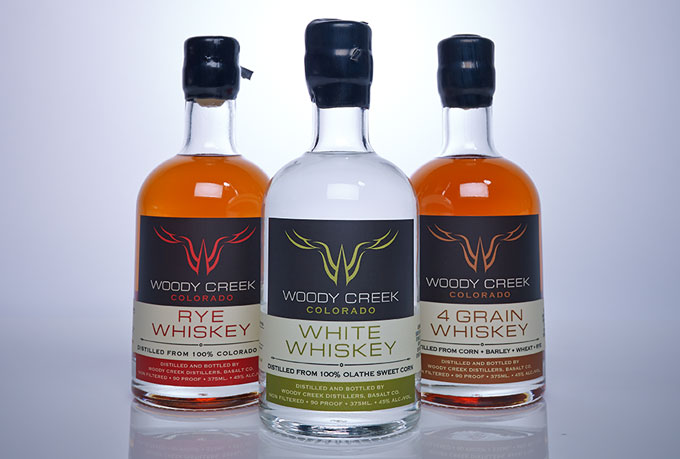 The Limelight and its sister property The Little Nell are invested in supporting Colorado craft distillers who not only make their own spirits from scratch, but use Colorado/Rocky Mountain-grown grain, water, and fruit. Now, the Limelight is taking things one step further, with the introduction of Whiskey Wednesdays, a wintery spin on the last summer's Rosé Wednesdays series. The program features a flights of four Colorado craft whiskies for $10, which includes three pulled pork-and-candied bacon sliders with executive chef Jeff Gundy's bourbon-bbq sauce (he's from Kansas City, so he doesn't mess around). The flight, a popular après ski activity, is available from 3-10pm, and is served on a custom-crafted wooden "ski," which contains generous pours of four of Colorado's premier whiskey producers: Stranahan's (Denver), Woody Creek Rye (Basalt), Breckenridge Bourbon, and Leopold Brothers Small Batch Whiskey (Denver).
If you order the flight any other day of the week, it's still only $16- a hell of a deal the likes of which you won't find anywhere else in town. And here's more for you if you really enjoy getting your whiskey (or other spirit) geek on: The Aprés Ski Cocktail Classic will be based at The Little Nell, the Limelight's sister hotel in Aspen, March 5-8. Join local and nationally renowned mixologists, brand ambassadors, consultants, sommeliers, and chefs for a series of seminars, private reserve tastings, pop-up bars, demos, pairing dinners and brunches, fireside chats, and Grand Tastings at select venues around town.
Photos via Woody Creek Distillers