Part of what makes Limelight Denver so special is its location. We are just steps away from the city's hub for dining, nightlife and transportation: Union Station. As one of America's best examples of urban renewal, the sprawling Beaux Arts complex seamlessly unifies Denver's pioneer town origin with its cosmopolitan present-day.
Built in 1881 as a trail depot, Union Station was immediately a testament to Denver's ambition to become a major American city. Throughout its history, it saw damaging fires, the advent of the automobile, abandonment and — eventually — a renaissance in the 21st century as Denver's public transportation rail hub and the beating heart of Lower Downtown's dining scene.
A visit to Limelight Denver isn't complete without a stroll through Union Station, and because of that, we've created this quick guide to its present-day roster of trendy menus, hip hangouts and one-of-a-kind stores, starting on the far side of Union Station, and working our way closer to the Limelight.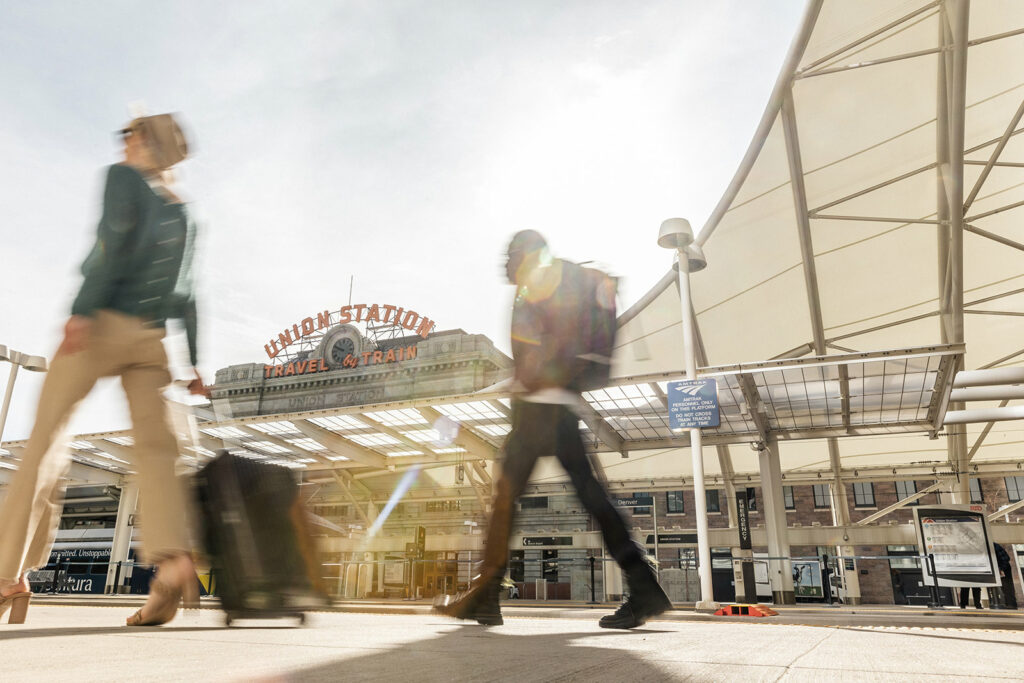 Mercantile dining & provision
James Beard Award-winning chef Alex Seidel's tribute to the European-style market has a uniquely Colorado twist: many of the menu's ingredients are sourced from Seidel's local farm. Reservations are a must for dinner, but walk-ins at lunch are usually accommodated.
Tattered Cover Book Store
This iconic Denver bookstore's Union Station outlet is smaller in scale, but has all you need to occupy your attention for the long journey ahead. We especially love the selection of journals and the joys of scanning the old-school magazine rack.
Snooze
Another Denver institution with a solid footprint at Union Station is this beloved "A.M. Eatery." Rarely have we seen pancakes get this creative.
Ultreia
A slice of San Sebastián, Spain right here in Denver, Ultreia toasts the tapas lifestyle and executes its menu to perfection. The restaurant is helmed by ​​another James Beard Award-winning chef, Jennifer Jasinski, who also presides over Union Station's Stoic & Genuine (see below).
The Cooper Lounge & Terminal Bar
These two watering holes are stacked on top of each other within the main hall of Union Station. The Cooper Lounge offers a bright airy space with high ceilings and the original Beaux Arts aesthetic of Union Station at its core. The Terminal Bar is a throwback to the 1950s: darker, with Irish "snug" booth seating and a cacophonous atmosphere. Meeting a client for drinks after work? Mix and match to suit your mood.
Landfall Floral Co.
While Landfall Floral Co. has a limited engagement in the Great Hall of Union Station, it is worth pointing out because it is an example of the type of pop-up that does well here. Local floral designer Emily Guin has brought her elaborate and inspiring arrangements to the hall, and — as a result — infused a dose of nature's elegance to the classic lines of the train station.
Milkbox Ice Creamery
Another throwback to the 1950s is the white-tile interior of this celebrated ice cream parlor, located right off the Great Hall. Sample from 16 different flavors and — in the summer at least — take your cone outside and watch the children playing in the fountains facing the skyline.
5 Green Boxes
Searching for a gift to take home to a loved one? Want to get lost in the distractions of a carefully curated boutique? Head to this locally owned shop and see for yourself.
Stoic & Genuine
Seafood may not be the first thing that comes to mind when you think of landlocked Denver, but Chef Jennifer Jasinski will transport you to the coast with her award-winning restaurant, which sources its seafood fresh daily.
Explore Limelight Denver Offers
Whether it's a business trip, a staycation or an urban adventure, our exclusive offers at the Limelight Denver are worth exploring. Book your trip today.