When I worked as a cheesemonger, the holidays meant one thing (two, actually): We were going to kill it in sales, and I could expect to work insane hours cutting, sampling, wrapping, and ringing up cheese at a pace aided by vintage punk on the iPod, epic quantities of caffeine and the occasional glass of bubbly bestowed upon us by the adjacent wine bar/retail shop.
I loved it, and two years later, I still miss that crazy, month-long rush.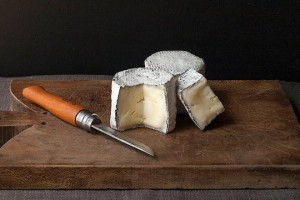 This is busiest time of year for the retail cheese industry because people are doing a lot of holiday entertaining, and restaurants also do brisk sales on cheese plates. Some of this can be traced to European tradition: hard and blue cheeses are released in the winter, as they're the result of aged summer milk. Aged cheeses –especially in mountain regions geographically similar to Aspen-  provided sustenance and vital nutrients and calories during long, bitterly cold winters. Early immigrants brought these traditions and cheesemaking to America.
Over the past decade, artisan cheesemaking has blown up in the U.S, as has the craft beer movement (no surprise at the connection; they're both fermented foods, which is one reason they pair beautifully- more on that in a minute). As a cheese magazine contributing editor, book author (Cheese for Dummies, Wiley, 2012) and consultant, I'm admittedly biased, but I love nothing more than putting together a cheese plate for holiday, backcountry, and après ski entertaining, or a lazy dinner. It's fast, easy, delicious, and impressive. Win-win.
I know that cheese, like wine, can intimidating, but once you learn a few basic guidelines, it's easy to make a great plate and offer some winning pairings.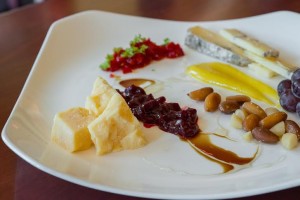 To help inspire and motivate you to hit the cheese counter, I've put together some tips on pairing, sourcing, and assembling. If that sounds like too much work, you're in luck:
Aspen has some great places to get cheese plates and menu items like fondue or Raclette. I'm besotted with two-month-old Meat & Cheese Restaurant/Farm Shop, owned by cheesemaker Wendy Mitchell of Basalt's Avalanche Cheese Company. They also have a bomb cheese, charcuterie, and butcher case, and esoteric specialty foods and vintage housewares, so it's one-stop shopping for all of your holiday needs. The truly epic Soupe a l'Oignon at the cozy La Creperie du Village is my favorite treat on a winter day (what's not to love about a mantle of crusty, golden Gruyère and baguette atop savory beef broth and caramelized onions?).
Ready to get your cheese on?
Here's a crash course on buying and plating
(different styles and textures, right here).
If there's going to be other food available, allow one ounce of each cheese per person (16 ounces = one pound). For an après ski party, you might want to purchase a little extra, to satisfy snowy-day appetites.
Limit your selection to three or four cheeses for up to 12 guests. More than that leads to palate fatigue.
Get creative with your selections, but have a theme in mind: You can serve all cow's milk cheeses, blues, or bloomy-rinds. What matters is a balance of textures and flavors.
I suggest: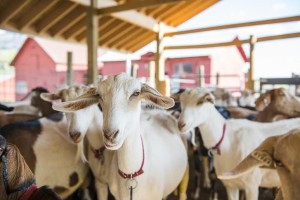 One creamy or mild cheese
One semi-soft washed rind (orange, red, or pinkish on the exterior, these are your stinky cheeses, although they smell more pungent than they taste) or bloomy rind cheese (think styles like Brie or Camembert, which have a soft, velvety white or grayish rind)
One hard (aged) or blue cheese
 Decide if you want a savory (not sweet) cheese plate, or a "dessert" plate with sweeter components. For savory, I prefer rustic, strong-flavored cheeses. Try hard Alpine styles like Comté, pungent washed rinds like Pont l'Eveque or an assertive blue like Avalanche Cheese Company's Midnight Blue. Served alongside good salami, pâté, prosciutto, or chunks of grilled sausage and hearty bread, and paired with beer, you've got a satisfying après ski meal. Accompany with grainy mustard, with marinated olives or cornichons. Alternatively, you could serve toasted nuts and fresh or dry fruit and a crusty baguette make for a more refined plate.
For a sweet plate, go with fresh, soft, or bloomy-rind cheeses, which are more delicate and fruity, milky, or floral in character. Think seasonally with regard to fruit; this time of year, I like to pair strong-flavored or hard cheeses like aged Cheddar or Gouda with sliced apples or persimmons, or I'll opt for dried figs, apricots, or cherries. Honey or preserves are also wonderful- try cherry, apricot, or plum. Round things out with toasted nuts, and plain crackers or a rustic walnut levain.
Making a Great Plate
Technically, you should plate cheeses clockwise, increasing in intensity (this will prevent a strong cheese from overpowering the palate; since you don't want to hover over your guests, try placing cheese cards on your offerings so people at least know what they're eating). The Cheese Police will not arrive to bust you for breaking this rule, I promise.
In the words of one of my chef mentors, K.I.S.S (Keep it Simple, Stupid). Let the cheese have the starring role, and don't clutter your plate or detract from it by going overboard on accompaniments. Two or three seasonal condiments are ideal. If you're not serving a meal later, buff things out by adding some separate bowls of hearty bread, nuts, and dried fruit.
Looks matter. Try a gorgeous serving platter, slate, or varnished slice of tree stump. Leave space between the cheeses and accompaniments (unless it's nuts or fruit, I prefer to serve them separately, to avoid a messy—and unappetizing-looking—plate). Small garnishes like a sprig of herbs, edible flowers, or clean, dry leaves are pretty and add a seasonal touch. I put preserves and into pretty bowls or teacups; a chunk of honeycomb can go right onto the main plate.
 There is a methodology and reason for cutting cheeses in specific ways, relating to their shape; check them out here. There are also reasons for specific styles of cheese knives, but they're rarely necessary. Just have some sharp, attractive paring knives or a Laguiole knife, and you're good to go- just be sure each cheese has its own knife.
Perfect Pairings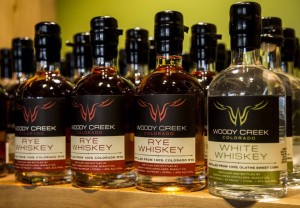 My culinary students and clients are always shocked to learn that it's easier to pair cheese with beer than wine. The tannins and oak-barreling, if applicable, in wine can clash with cheese, while beer has similar flavors (malty, toasty, nutty) and the same base ingredients (grasses) as cheese.
You can never go wrong with bubbles. The effervescence helps cleanse the palate of butterfat, and won't clash with most cheese flavors. An alternative would be a fruit-forward white (try a domestic Riesling or Gewurztraminer) like or lighter red, such as Beaujolais.
The following rules of thumb pertain to wine, beer, or spirits (trust me, you haven't lived till you've tried bourbon with a hunk of aged Gouda), or N/A beverages.
Match intensities. A big Cabernet Sauvignon or chocolaty Stout will overpower many cheeses. Conversely, a delicate, floral wine will be blown away by a funky washed rind or sharp aged cheese.
Strive for similarities or contrasts. A rich, buttery cheese like a triple crème or brie will go nicely with a beverage with similar attributes, but remember that the point of a pairing is balance. A super-buttery Chardonnay is overkill with rich, gooey cheeses. Likewise, think about what you're trying to highlight: the cheese, or the beverage. A rare, 1959 Chateau Lafite deserves a cheese that will do it justice, but not overshadow it.
Take terroir into consideration. "What grows together, goes together" is a good maxim, if not 100% accurate. There's a reason cheeses produced in certain regions are traditional consumed with wins, beers, or spirits from the same area (think about Trappist ales and cheeses).
Check out these pairing apps next time you're shopping for cheese.
The best way to learn how to pair? Start tasting and sipping! Get out there and enjoy.