In our second session of employee spotlights, we got the privilege of speaking with Chrissy Altomare, a Limelight employee who dirt bikes by day and slings drinks by night.
Like countless other Coloradans, Chrissy grew up in a small Midwestern town (Riverton, Illinois to be exact) and eventually grew tired of the fields of corn and soybean. She came out to Aspen one winter and never went back. Which we're very happy about because she's an exceptional bartender for the Limelight LOUNGE (tell her we sent you)
Lets get into it. He's a little more about Chrissy.
KA: So, what attracted you to the hospitality industry?
CA: I really love the clientele that comes to the bar; they're more laid back and chill then when I was waiting tables. And the social aspect of it… I'm very social and chatty so its a perfect job for me.
KA: And your also a dirt biker?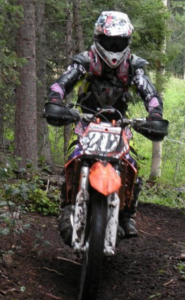 CA: I race off road moto, enduros, hare scrambles, and the 30b which is a class filled with guys and me. I was the ladies champ in the 2011 WeBe Racing series and I've raced a few Rocky Mountain Enduro Circuits. (shout out to KTM of Aspen and Rekluse Clutch for sponsoring Chrissy!) 
KA: How did you get into dirt biking?
CA: Well after I had my daughter, we had some friends that would go camping with and everyone had dirt bikes, and we didn't. So it was like "Man, everyone comes back so pumped with all these stories. I need a dirt bike." So I bought one for my 30th birthday. I bought one off Ebay and I told my husband it would be here in a few weeks and he should probably buy a dirt bike too!
He raced downhill before –Downhill Mountain bikes—but never road a dirt bike so I got him addicted as well.
And then we have a little one and she's 8 and she races which means our whole family races.
Interview time out. Check out this awesome video I found of Chrissy dirt biking.
Thanks for watching.
KA: That sounds fun, but I think I would be scared to hop on a dirt bike. Do you have any tips for a newbie like me?
CA: Lessons are always good just so you get acquainted with the bike; because you can pull too much throttle and be out of control. But if you like mountain biking, the balance is there. You just have to be conscious of your throttle. You don't want to get all whiskey throttle and wreck. And also using smaller bikes to start off with…that's always good because you don't have extra power. If you get out of control you can calm it down and stop in time.
KA: What about your favorite trails around Aspen?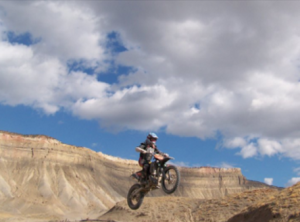 CA: Well the backside of Aspen is always fun. Aspen to Crested Butte. You can do that and you're going over mountain peaks way above tree line and it's gorgeous. Basalt Mountain is always fun, and when it's snowing up here, you can go down to Rifle and ride. Which we're doing tomorrow. So much fun.
KA: Besides dirt biking, what are some of your other favorite things about living in Aspen?
CA: I like to snowboard. I'm an outdoorsy person so I love to camp, hike, and ride my mountain bike. Pretty much anything outdoors, I just love to be outside and be with my family. I have weekends off so we're always trying to do something together.
KA: Yeah, Aspen is a great place to be for all things outdoors. So, being a bartender, do you have a favorite cocktail?
CA: There are a few favorite cocktails. I had a friend that passed and he had a drink called the "Fancy Ryan" and that was blood orange Pellegrino, vodka, and champagne. It was his drink and his friends would always call it a Fancy Ryan.
KA: That sounds delicious.
CA: Yeah, it's nice and light. Not too many calories.
KA: Do you have any advice for a hangover in a mountain town?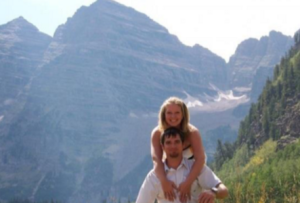 CA: Oh coconut water is always good. I'm a big fan of coconut water the next day and a good breakfast—like Aspen Over Easy
KA: Anything else that's been going on with you lately?
CA: Just riding my dirt bike, going to races, and hanging out with my family. And slinging drinks at the Limelight.
So there you have it.
Now everyone: Head to the Limelight LOUNGE, order a "Fancy Ryan," ask Chrissy about her dirt biking adventures. And don't forget to tip!