You already know the slopes are the place to be this winter. Now, what will you wear? What gear should you have? We've got the inside scoop on what's hot for the 2017-2018 ski season here in the Rockies.
When you visit, be sure to check out some of our local brands, including Smartwool, Topo, Melanzana, SubQ Designs, Zeal, BCA and Never Summer for your winter gear needs.
Outerwear Clothing
Look for jackets, sweaters and insulated pants featuring natural, eco-friendly materials such as wool, down, camel hair or hemp. These fibers are sustainably harvested and naturally renewable, making them fit into your move to be more green. As a bonus, skipping clothing made with synthetic materials may mean less skin irritation and exposure to lab-created fabrics.
This year we're noticing a trend toward muted, Earthy tones. Choose dark olive, caramel beige, chocolate brown, slate gray or classic snowy white this season. Try mixing two or three tones in your outfit for a classic look!
Ski Gloves
If there's one thing that can ruin a powder day, it's having cold hands. This season vow to splurge on the best ski gloves you can find, complete with a warming system and waterproof coating. They're worth every penny!
Here are a few features to look for:
breathable lining with moisture wicking ability
waterproof exterior shell
leather palms and fingertips for extra grip
touchscreen or goggle-wiping fingertip pads
chinch at the wrist to keep cold air out
style (mitten or glove) that allows you ample dexterity
glove leash to tether them to your jacket
Eye Protection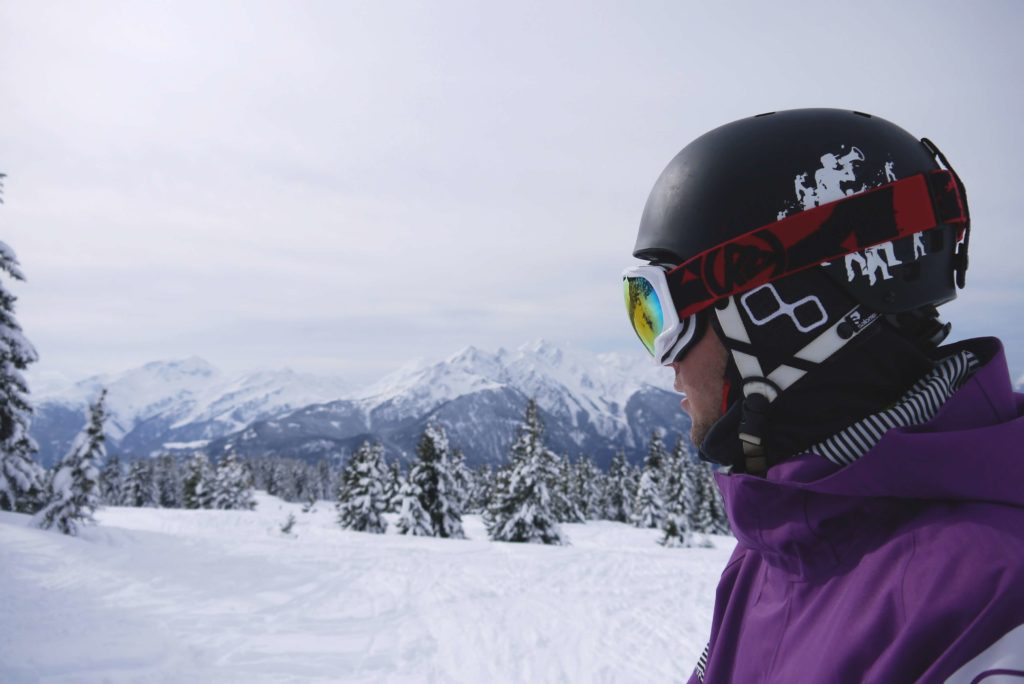 From sunglasses to ski goggles, you need to protect your eyes from the glare of the fresh white powder. Look for adjustable straps, anti-fog coatings, ski helmet compatibility and 100 percent UV protection. Do you wear corrective lenses? Ask your optometrist for suggestions that will best manage your vision when you ski.
Ski Boots
If you're opting for a new pair this season, consider the hottest trend: custom insole molding. After selecting the best exterior boot shell for your level and type of activity, the inner lining is made to fit your foot, ankle and lower leg perfectly so that comfort is number one!
Must-Have Accessories
When you're away from your hotel room for most of the day, you need a few extras. We suggest keeping your hands-free as much as possible.
Waist Packs: They're back! And it's for a good reason. These belt-like bags are super handy when you have a day of adventure ahead. Tuck away your wallet, hotel key card, cash and cellphone. Some waist packs feature water hydration pouches or extra padding to hold camera gear.
Smart Devices: Speaking of tech, we love having smart devices with us that offer GPS tracking, maps and the ability to call for guidance incase we get lost on the trails. We're swooning over the wearable phone-watch combos for their portability and teeny-tiny size.
Water Thermos: The key to having a fabulous day in the mountains is staying hydrated. Whether you opt for a portable hydration system, or frequent breaks at the hotel cafe, keep sipping! We love backpack-style water pouches for long hikes and Hydoflasks for shorter outings. Of course a durable metal water bottle that clips onto your belt loop works great.
Are you ready to plan your next snowy getaway? Visit Limelight Hotel and get a ski weekend scheduled on your calendar. We can't wait to see you on the slopes!