Welcome all LGBTQ to Aspen, Colorado!
Our community in Aspen is proud to be a long-standing supporter of all backgrounds. If you're in the market to plan your next getaway, look no further. Aspen is jam-packed with events, festivals, world-class restaurants, a vibrant nightlife, and everything else you need for a fantastic time.
Not to mention, the annual Gay Ski Week – the nation's premier LGBTQ-lifestyle ski event is held right here in Aspen. Plus, it is a beautiful spot to tie the knot and has a plethora of LGBTQ-friendly wedding arrangements.
Here's your guide to the Aspen LGBTQ community and events:
2019 Events & Festivals
Gay Ski Week | January 13 -20
One of the most fun weeks of the year, filled with color, glamour, and endless activities, is Gay Ski Week. This event is a full blown week of parties, live music, comedy, films, fabulous eats, and most importantly, skiing and riding on the four Aspen Snowmass mountains.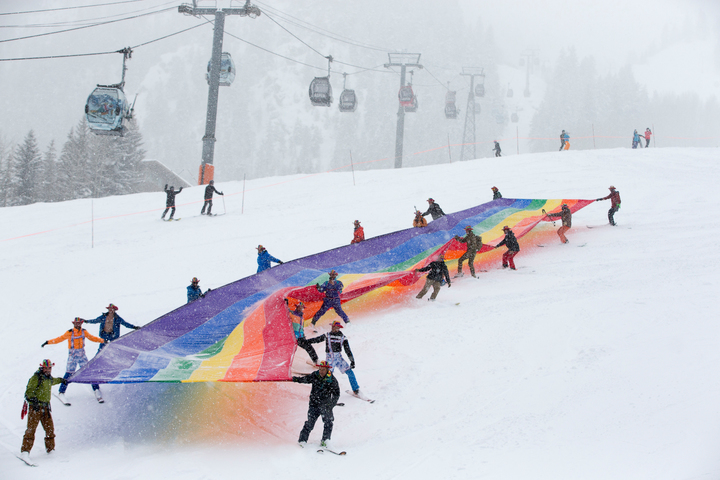 Festival goers can attend special lunches, symposiums, dinners, and parties all week long. Limelight Hotels is thrilled for this event and is proud to be the host hotel for Gay Ski Week.
Winter X Games Aspen | January 24 – 27
If you're in town for Gay Ski Week and want to extend the trip, the X Games returns to Buttermilk Mountain. Featuring over 200 athletes, including 75 Olympians in the world's best action sports event of the year! Plus, an exciting music lineup all wrapped up into an incredible festival experience.
X Games Aspen will host musical performances by Lil Wayne, Louis The Child, The Chainsmokers and Kygo. All sport competitions are free and open to the public. Musical events require tickets.
Aspen Laugh Festival | February 20 – 23
For LGBTQ travelers who enjoy comedy and are ready for 3 days of laughs, then Aspen Laugh Festival is for you. The event is held at the Wheeler Opera House and hosts well-known comedians every year. You can purchase passes or single tickets now for this year's theme of "The Power of Laughter".
Aspen Film Shortsfest | April 2 – 7
The Aspen Film Shortsfest is one of the top events of the year and sells out fast. Now recognized as one of the world's "50 leading Film Festivals" by indieWIRE, Shortsfest offers a heavy dose of culture, innovation, and creative work. For the artistically inspired, make sure you attend this event!
Public screenings, panels, workshops, and other festivities are all a part of the celebration for the art and craft of short filmmaking.
Belly Up Aspen Concert & Event Venue | Live Shows Regularly
The famous and well-loved Belly Up theater has regular shows through the winter and summer. You'll have an intimate concert experience in this 450-person venue where you can often see big names, such as The Flaming Lips and Mavis Staples, or attend fun events, such as the All Gay and All Lesbian Comedy Night & Late Night Dance Party. Check out their calendar for a schedule of events and concerts.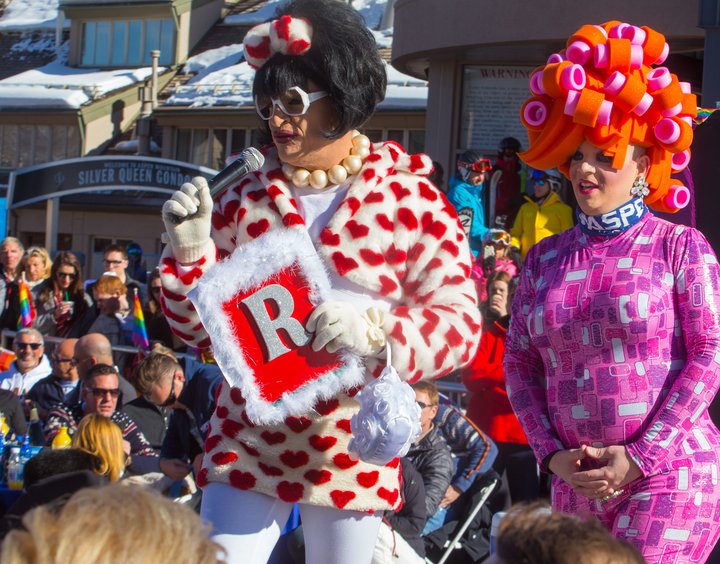 Locals Choice – Bars & Restaurants
Aspen offers an array of dining options from quick and casual to fine dining with world-class eats to satisfy any foodies dreams. There are many options to choose from, but here are just a few of our favorites:
The Lounge at the Limelight Aspen – This is your spot for gourmet comfort food at all times of the day. Offering breakfast, Après, Dinner, live music and an array of beer, wines, and cocktails.
Matsuhisa – For a taste of premier sushi visit chef, Nobu Matsuhisa, to taste his signature style.
L'Hostaria – Homemade pastas, an extensive wine list and patio seating make this Italian restaurant a perfect choice.
Rustique – This French-country kitchen is a staple for locals.
If you want to spice it up or unwind after a day on the slopes, check our three favorites for a little nightlife – Eric's Bar, Red Onion, or Bootsy Bellows.
Summer Fun
Aspen in the summer is like no other place around! The city is alive and bustling, the trails are calling your name, and there are a host of events to attend. One of our favorites is the Aspen Saturday Market, running from June through October. The market offers Colorado produce, crafts, live music and a food court.
Ski/Snowboard Four World Class Mountains
Famous for its diverse terrain, the Aspen Snowmass valley offers top-notch skiing and snowboarding across four mountains. The four mountains – Snowmass, Aspen Mountain, Aspen Highlands and Buttermilk – offer a combined 5,285 acres, with eight terrain parks, four halfpipes, 336 marked trails, and 46 lifts.
Lodging
Limelight Hotels is a boutique hotel offering affordable luxury with style and comfort. We welcome you to stay at our Limelight Aspen location right in the center of town. Or consider our brand new hotel – Limelight Snowmass. We offer an abundance of amenities and we're dog friendly!
It's easy to get around the valley and Aspen city with both local buses and free shuttle buses going to all four mountains.
Mountain Weddings
In Aspen, you can have your dream wedding on a mountaintop or tucked away in the woods with an array of venue options across all four mountains. LGBTQ wedding arrangements are made specific to your wants and needs. Find your perfect wedding venue here.
We can't wait to see you soon! Contact Limelight Hotels Aspen today to make a reservation and get your trip underway!