Aspen has one of the oldest and largest 4th of July parades in the country. And there are lots of other ways to celebrate the all-American holiday in America's premier mountain town. So get out your red, white and blue, and celebrate the 4th of July in Aspen style. Here are some highlights of things to do.
Boogie's Buddy Race: Tie up your running shoes for the 5-mile race to benefit the Buddy Program, the Roaring Fork Valley's youth mentoring program. Race info and registration
Community Village: Head to Hyman Avenue from 10:00 a.m. to 2:00 p.m. to enjoy live music, a parked car show, and dance.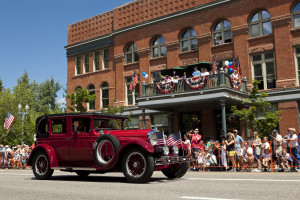 Old Fashioned 4th of July Parade: Make sure you've got your spot on Main Street before the 11:00 a.m. start. Or register to be in the parade for free.
AVSC 4th of July BBQ: Enjoy some games, bouncy castles, and a few cold ones from 12:00 p.m. to 3:00 p.m. in Koch Park. It's all for a good cause: the nonprofit Aspen Valley Ski and Snowboard Club.
Limelight Lounge Specials: Go for happy hour or grab dinner in the Limelight Lounge with a 4th of July special Watermelon Sangria and a Chicago Hot Dog with Jalapeño Cheddar Sausage & Sweet Potato Fries, starting at 3 p.m.
Aspen Music Festival and School Free Concert: What the 4th of July without the patriotic favorites? Here them for free in the Benedict Music Tent at 4:00 p.m.
Community Concert Hosted by Belly Up Aspen: Gather in front of Aspen Art Museum where Belly Up Aspen will bring the party into the streets from 6:30-8:30 p.m.

Laser Light Show: The grand finale of the day kicks off at 9:15 p.m. Enjoy the spectacular show in Wagner Park and feel proud to be an American—in Aspen.
Ever celebrated the 4th of July in Aspen? What's your favorite part?