Spring is not just around the corner anymore. It's HERE. Even with miracle March powder days and chilly weather, prepare yourself for corn skiing, green grass, and patio beers in the warm afternoon sun. Because we hope that spring cleaning isn't the only item on your to-do list, we thought we'd put together a few things to look forward to as the off-season approaches our little town. Here are some of our favorite things to do in Sun Valley this spring.
Spring Skiing
To kick off spring, get your crew to the base of River Run for Cliquot in the Snow on March 31 and April 14th. Get your bubbly on in style with good friends, better music, and tasty treats. Bubbles will be available by the glass or by the bottle.
Make sure to find your way to Baldy for Closing Day on April 14th and 15th! This festive weekend is prime time for hilarious costumes, vibe'n music, and parking lot parties. The best way to celebrate closing day is with a group of your closest friends dressed in a coordinated costume (think, Scooby Doo, Napoleon Dynamite, Mario Kart, Disney Princesses, etc.).
In the meantime, keep tabs on the snow conditions and weekend openings by checking Sun Valley's Facebook page.
Community Events
Once closing day is over, the off-season begins, it's time to hunker down, local style.
If you're into community events, get down to Campion Ice House in Hailey for The Dodge Ball and support The Sage School. This dodgeball tournament is family-friendly (although there is a healthy amount of fierce competition) and is a grand ol' time with raffles and prizes. The Hoe Down will follow, hosted by Syringa School. Both are fundraisers and support educational opportunities for locals in the valley and beyond.
On May 19th, Ketchum will host the putt-putt tournament of putt-putt tournaments, Ketchum Wide Open. Get a group together, a costume, a sense of humor, a drink, a putter, and get ready for mini golf. This charity event is timeless and a favorite among locals. Each bar in Ketchum sets up a putt-putt hole as teams walk around town putting. It's a pub crawl with a purpose. Have fun and give back to the community you love!
In May
Come May; you'll probably be preparing for where you should host a fiesta for Cinco de Mayo. Ketchum is a great place! Be sure to compare and contrast town's best margaritas as this will surely help you narrow down your lineup of excellent venues.
For Mother's Day, get out of town this year and bond over walks, relaxation, and #treatyoself days. For dining, Gretchen's in Sun Valley will be hosting High Tea on Mother's Day. Make your reservation for a fancy afternoon of hot tea (and champagne), finger sandwiches and pastries. If brunch is more your style, Rasberry's will also host a Mother's Day Brunch. Editor's note: Rasberry's never disappoints. Everything is made from scratch, in-house, and is just delightful to eat.
Over Memorial Day weekend, you can sign up to run the Redfish Lake Lodge Memorial Run, with half marathon, 10K and 5K options. Don't forget to carbo-load the night before. Sign up here.
Sun Valley Brewfest
Celebrate the end of spring at the Sun Valley Brewfest on June 16th. A $30 donation gets you unlimited samples from local breweries and access to food trucks and local vendors. This fest takes places to Ketchum Town Square. If you like beer and great weather, you can't miss this summer-kickoff event.
The Wild Blue (and Green) Yonder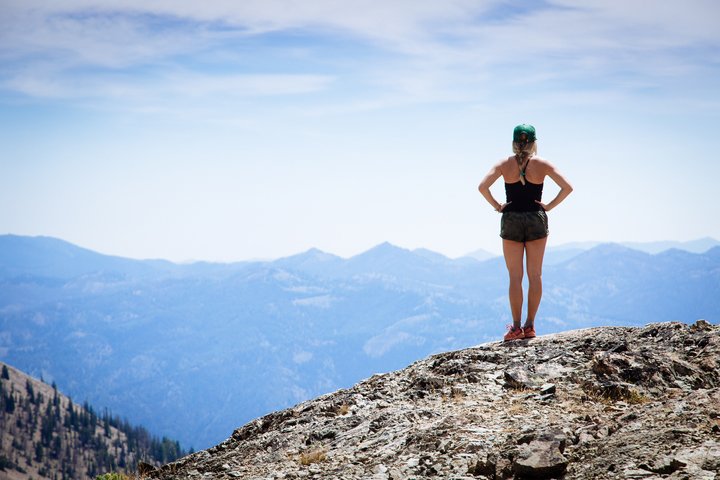 Of course, there are plentiful outdoor opportunities in the spring as well. Mountain biking is starting to open up, spring hiking is getting good, and Big Wood River fishing will start on Memorial Day! Don't miss out on this unique and quiet time in Sun Valley to get out when the crowds are gone, and everything is green. It's magical.
If the valley is calling you, and you're an Idaho resident looking for a getaway, Sun Valley is the perfect place. The Limelight Hotel knows this, and as such, we are excited to offer Idahoans a local's discount on hotel rooms from March 4-June 20. You can get a room for as low as $119 per night. It's a steal!
We look forward to seeing you in the valley this spring – there's no lack of fun in between ski season and summer!