While the snow is melting and skiing season rapidly comes to a close, summer is just around the corner. Even though many flock to beaches for the season, there's no better summer vacation locale than Aspen, Colorado. The warm summer days and cool nights create a truly one of a kind experience ages 2 to 99.
Whether you're vacationing for a week of adventure or relaxation, carve out some time to sit on Limelight's patio, curl up with your hot date, and enjoy the simpler things in life.
S'mores.
Yum.
Yes, we're talking about the wonderful simplicity of fire-roasted marshmallows pressed between two graham crackers just warm enough to perfectly melt rich, milk chocolate.
Here at the Limelight, we want you to embrace your inner child this summer by enjoying a S'mores Kit on one of our patios.
The Limelight's S'mores Kit for Four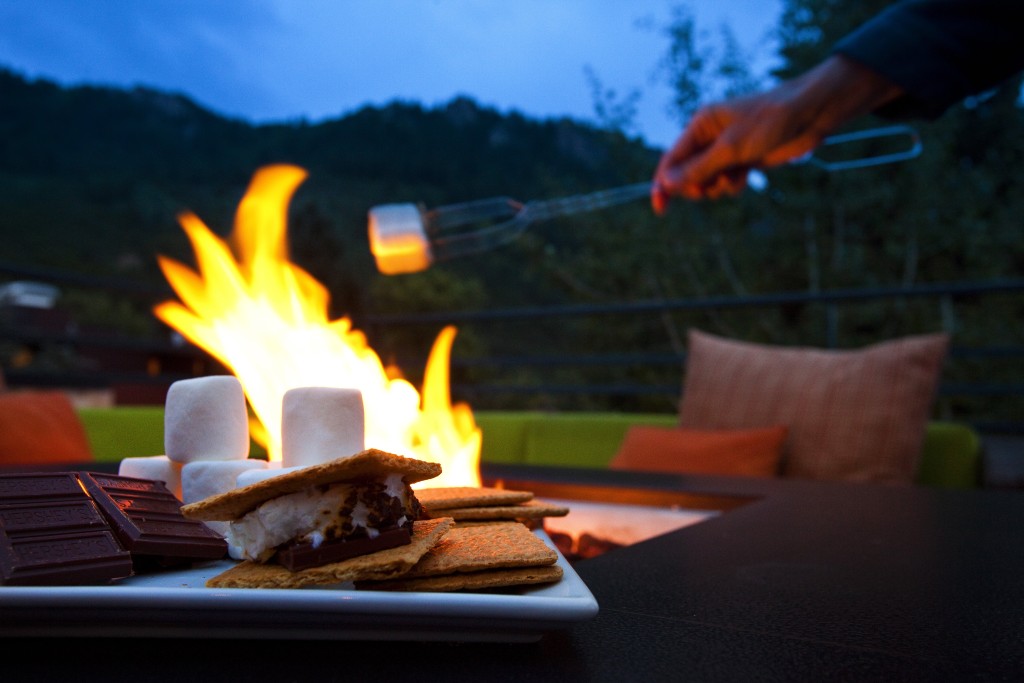 We serve Graham crackers, marshmallows, and chocolate bars to a group of two- four on one of our gorgeous patios right off our beloved lounge. You and three friends can relive your favorite childhood summer nights with this classic, delicious dessert.
Wine Pairings
You might be thinking, "As an adult with a full-time job and a mortgage I need a little more than s'mores to relax at the end of the day."  Lucky for you, there are several wine options that pair superbly with s'mores which include:
Banyuls, a semi-sweet red dessert wine from southern France
Tokaji, a sweet wine with dried apricot, orange blossom, and honey
Port-style red, such as a Pedro Ximénez Port
A sweet Riesling
Asti Spumante
Château d'Yquem
A well-aged Montilla-Morales can evoke a caramel-like flavor
If you prefer beer over wine, there are a selection of ales that pair splendidly with s'mores. For instance, try a Belgian Quadruple or chocolate taste. To contrast the sweetness of chocolate, either coffee or Imperial stouts are your best options.
As famous American author, Mark Twain, wrote in Following the Equator, "Wrinkles should merely indicate where smiles have been." Eating s'mores isn't just for the youth. Grab some close friends, unwind, and make some lasting memories with the S'mores Kit for Four at the Limelight. Then drift off with sticky fingers and happy souls.