Winter sports in Sun Valley draw crowds of all kinds: nordic skiers, backcountry shred heads, fat-tire biker babes, groomer aficionados, and even ice climbers if they're willing to hike for it. But sometimes the more aggressive, adrenaline-filled activities are not what you're looking for on a vacation.
If this is the case, strap a pair of snowshoes on your feet and head for the hills! You'll get just as good of a workout without the adrenaline, and stay away from the crowded slopes of Baldy.
If you need snowshoes, you can pick up a pair at the Sun Valley Nordic & Snowshoe Center, or in Ketchum at Backwoods, The Elephant's Perch or Sturtevant's. Once you have the right gear, you'll need a place to go. Here is a brief guide to snowshoeing trails in Sun Valley and Ketchum area.
Ski & Snowshoeing Trails in Sun Valley (Maintained)
Out at the Sun Valley Ski & Snowshoe Center, you will find five separate trails that are groomed and family friendly. You won't find a better close to home walkabout tour; loops range from one kilometer to 5.2 kilometers.
The White Cloud Trail is a favorite amongst frequent users of Sun Valley's trail system because of the stunning views of Ketchum you'll catch when you are up on top. There is a $10 fee for using the trails if you are snowshoeing, so be sure to stop into the Center before you head out!
Ten minutes north of Ketchum is a beautiful area we locals call the SNRA. This recreation area sits on the North Fork of the Wood River and is surrounded by beautiful mountains. Despite being so close to town, it feels remote, quiet, and isolated enough that you can completely zone out and just enjoy the beauty around you.
While there are some trails that are groomed for cross country and nordic skiers, you'll want to stick to the North Fork Loop that is designed for snowshoers. This loop is approximately 4km long but will get your blood pumping well enough during your quick afternoon adventure.
16 miles north of Ketchum, past the SNRA, you will see a sign on your right for Billy's Bridge. If you pull over here, you will find yourself smack dab in the middle of the Sawtooth National Forest with plenty of playground space to get your snowshoe strut on.
If you would like to stick to a mapped trail, follow the signs for Billy's Bridge Loop. This is an 8km snowshoe loop, so you'll need to plan to leave a little earlier in the day for your excursion, but it will be worth it! There are two places you can park to access the Billy's Bridge Loop. The first parking area will be the first pull out beyond the Russian John Guard Station, and the second will have access to a public bathroom. The trail from the public bathroom is a little longer than the one from the roadside parking lot. Choose wisely, and be prepared for emergencies when you're adventuring that far from town!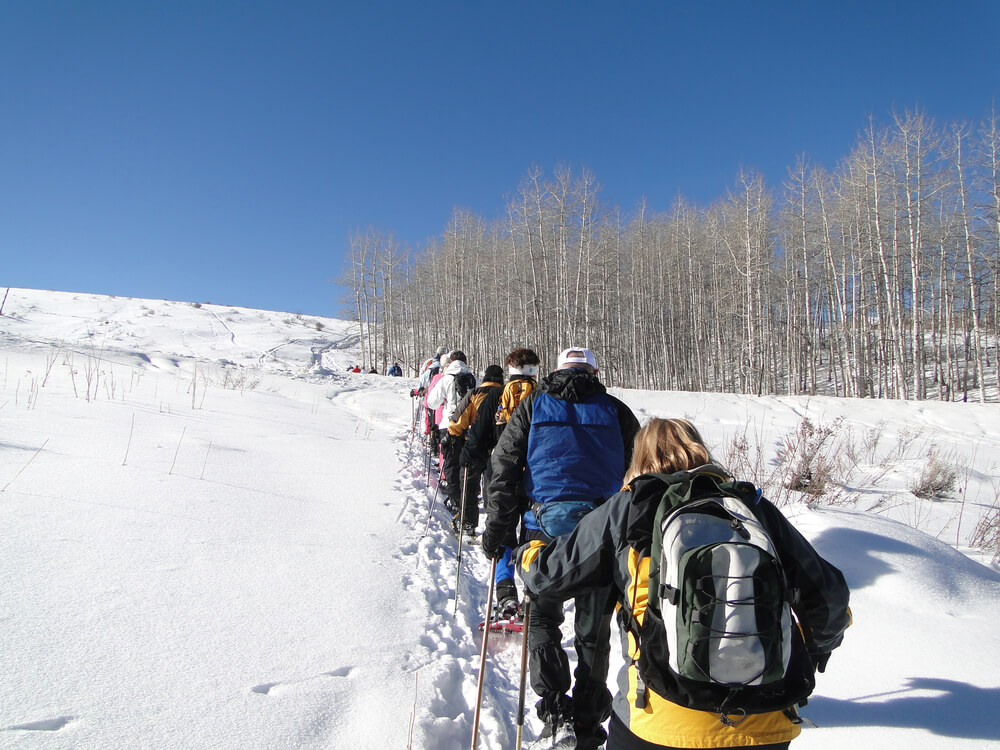 This trail system can keep a person busy for days. With just about 35km of designated snowshoe trails, you can wear yourself out quickly, or spread your adventuring over a few days. Once you have completed your rounds on Galena's excellently maintained trail system, stop into Galena Lodge for the best darn chili (and grab yourself a cookie too.) If you're there for a midnight snowshoe and dinner, you are one lucky duck! Those sell out quickly, so be sure to book a reservation in advance.
Galena Pass Backcountry Snowshoeing (National Forest – Unmaintained)
This adventure is for avalanche savvy wanderers – the trails on top of the summit are unmaintained and require backcountry avalanche skills, knowledge, and safety gear (including a pack, avalanche beacon, shovel, and probe) for travel.
If you head up Galena Pass, just before you crest, you will see a turn out to your right. This is the trailhead for Titus Ridge. It is a beautiful backcountry excursion, and on a clear day, the views are stunning. There are many skiers and snowboarders who have taken great pains to craft a beautiful skin track for easy ski travel, so please be respectful and walk beside the skin track, not directly on it.
After you've completed your excursion for the day or the afternoon, head back to Limelight Hotel in Ketchum for a bite to eat, and a nightcap at the Lounge. You'll need to rest those weary legs for tomorrow's adventure!
Many of the trails listed are maintained by the Blaine County Recreation District, and they do require a day pass for use. The pass is only $4.72 + tax per day and the cost of the pass supports a program that benefits the entire Wood River Valley. Please contribute to this wonderful resource that year-round residents, seasonal residents, and visitors are able to enjoy.