The perfect ski day often includes fresh powder, blue skies, short lift lines, and a day (or three) off work. But even if conditions aren't perfect, you can have a wonderful day; you've just got to prepare.
Whether you're a newbie or seasoned skier, you can always step up your game. Here's our list for having a jam-packed, low-stress ski day.
The Night Before
To have a chill day tomorrow, we need to do a little prep today. This is simple but important stuff like:
Get your rentals. Leaving rentals to the next morning can postpone your start time.
Layout your gear.
Decide upon transportation. Some hotels provide transportation to the ski resort; some don't. Know beforehand and plan.
Note: It's always a good idea to acclimate to the elevation, which is why staying in town the night before is a good idea. Plus, you'll get to sleep in, grab breakfast, relax before your first day.
The Perfect Ski Day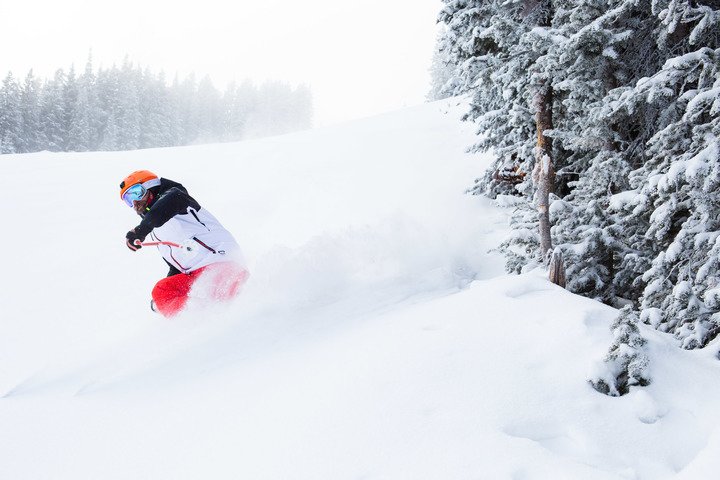 It's here! Wake up early and make time for a sit-down breakfast. This plus your coffee fix will keep you satiated til lunchtime and ensure that you're awake and ready. There are few things worse than 10 AM hunger pains.
Bring with – your phone, hotel key, cash, and lip balm. Anything beyond the essentials will weigh you down.
The last to-do before actual skiing is: Protect yourself. This varies from skier to skier, but in general, you want to apply 30+ SPF sunscreen to exposed areas and do a quick warm up and stretch.
You're ready to ski, so prioritize your runs. Choose your favorites to hit first while they are groomed and uncrowded. But don't over-plan. Leave plenty of time for spontaneity. If you are new to the mountain or don't know the best runs, ask the locals and fellow skiers on the chairlifts. They should be able to point you in the right direction.
At the end of the day, grab a drink or bite on top of the mountain and wait until the last minute to head down. It will feel like you have the entire mountain to yourself.
Extra Goodies
If your resort or hotel offers "First Tracks," take advantage. First Tracks in Aspen is the ability to ski before the mountain is open to the public. This magical experience allows you wide-open, untouched runs for up to an hour. For guests of The Limelight or The Nell, this experience is complimentary.
The perfect ski day should end with a thaw-out, whether this is in the form of a hot tub, hot toddy, or steamy shower. Spend the evening relaxing at a local restaurant and listening to live music.
For perfect ski days, visit Aspen Snowmass or Sun Valley Ski Mountains. And to make your post-ski day even better, stay at The Limelight Hotel, walkable to and from the lifts.