In ski town vernacular, "Thanksgiving" is synonymous with "opening day." Even if Mother Nature needs an assist in the form of snow-making, most major Colorado resorts kick off ski season by starting operations on Thanksgiving Day.
As a longtime food industry professional and ski town veteran, I bid farewell to celebrating holidays in 1995, when I was a culinary school student in Vail. Ski town service industry jobs mean you're working when most people are on vacation, but I'm not complaining. I've learned that there's plenty of pluses to staying in town when I can't be with my family in California.
Here's why you should consider spending Thanksgiving in Aspen, whether you're a longtime local or urbanite looking for a holiday destination:
The lack of crowds
The Aspen region's four ski resorts are known for their lack of lift lines, but during Thanksgiving, you can also explore the town with ease. Sidewalks are free from what I like to call the "tourist shuffle" and there's no waiting for tables at restaurants and bars. Now is the time to visit galleries and boutiques, hit the Aspen Art Museum or check out a concert at The Belly-Up or Wheeler Opera House. Après is festive and fun, minus the packs of drunken frat boys (just sayin').
This is also a great time to book an activity with an outfitter (see if they offer early season discounts) or reserve a bunk or bedroom for backcountry trip, as the 10th Mountain Huts generally reopen for the season over Thanksgiving (note that accessibility will depend upon snow pack, as it's generally too early in the season to engage in Nordic activities around town).
It's more family-oriented
As the season progresses, Aspen takes on more of a party atmosphere. If you're opting out of staying in the city for this most family-focused of holidays, late November is an ideal time to plan a getaway in Aspen. No kids in tow? Envision lingering in the hotel hot tub or sipping cocktails fireside minus the pitter-patter of tiny, ski boot-clad feet.
Off-season specials aplenty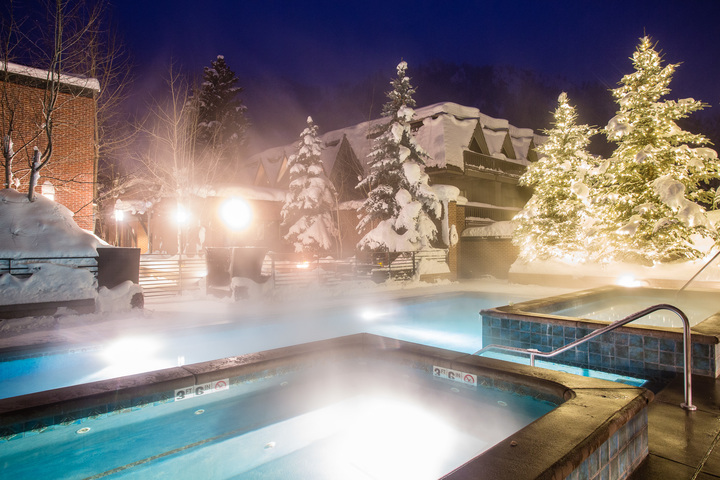 Things are still quiet, but most businesses have reopened for the season and many offer specials and discounts to tourists and locals: Ask your concierge or check out the local papers for restaurant and bar for details. The Limelight offers all Coloradans a special rate of $145/night during select dates, and a 20-percent discount on all other rooms through early December. Valid state ID required; call (855) 565-0985 for reservations.
On the slopes, advance-purchase pricing for early/late season passes and rentals will score you an additional 25-percent savings. You can also save ducats on advance-purchase ski and snowboarding lessons.
It's festive
Aspen looooves the holidays, so you'll still get to experience the trees, houses and town all lit up with fairy lights. Nothing gets me more in a holiday state of mind than curling up with a toddy or hot chocolate in front of a fireplace (check out the hearths at the Limelight LOUNGE, Hotel Jerome Living Room, and the St. Regis) after a walking tour of the lights.
The weather is (usually) still mild
The climate seems to have its mind these days but in general, days are sunny and mild through December- it's unlikely you'll lose a ski or travel day due to a white-out. Since I'm not a meteorologist, be sure to check weather reports before hitting the road.
No cooking or clean-up necessary
If you're the type who lives to spend a few days in the kitchen, more power to you. But if you're idea of a vacation involves letting someone else do the dirty work, most restaurants are open and quite a few offer Thanksgiving dinner specials. The Limelight's sister property, The Little Nell, is renowned for its holiday repasts; this year, you can choose between a traditional dinner at the always-hopping Ajax Tavern or a more formal three-course meal at signature restaurant Element 47.
Thanksjibbing
The annual ski season kick-off party is back. On November 25th, Snowmass Base Village invites skiers and boarders to throw down for a cash purse at the Rail Jam, but there's also Turkey Bowling, a restaurant leftover challenge, a DJ, kids' activities, and more.