Besides the obvious reasons- there are few better ways to start a new year than by catching fresh turns and enjoying the festive vibe of a historic ski town- there are other compelling motives to celebrate New Year's in Aspen. No matter what your budget, there's activities and events for everyone. Most important, however, is appreciating the place itself, and taking some time to experience the things that make it so special (snowy meadows and peaks , the view of the Maroon Bells looming over Hwy 82 as you pass the roundabout, historic Victorians and cobbled streets, friendly locals, dogs, and fairy lights everywhere you look).
Fireworks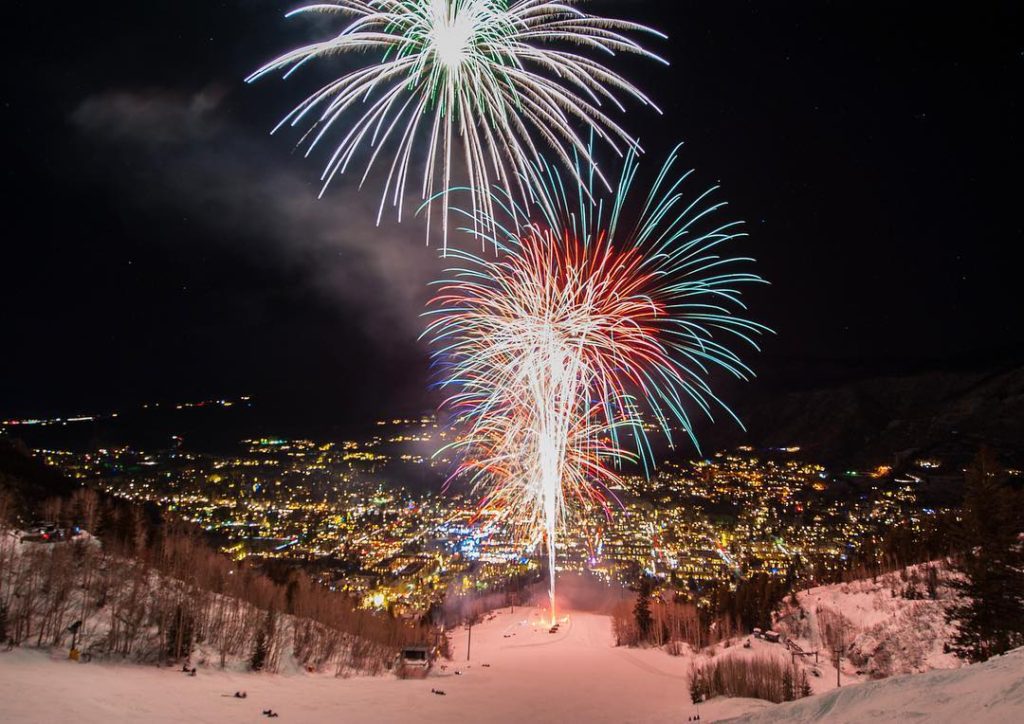 Aspen's famed fireworks over Ajax are one of the greatest displays you'll see anywhere, and they're gratis. There's two shows, at 8pm and 11:59. The best things in life really are free.
Walk around town
I get giddy just looking at the diversity of historic architecture in the Roaring Fork Valley. From the brick structures and elaborate Victorians of downtown to the decrepit mining shacks and barns of Woody Creek and Basalt and Ashcroft's eerie ghost town, the history of this area never fails to fill me with awe. The Aspen area had a vibrant history over a century before it became an internationally-renown ski resort, and it's this version of the Valley- and sharing it with others- that I love the most.
Get your groove on
Aspen is a town that loves its music, and if there's dancing involved, so much the better. The famed Belly-Up is headlining Jane's Addiction, while the Wheeler Opera House is a steal at just $89 (includes open bar and food).
Eat, drink, and be merry
Many of the best restaurants in town are hosting special, prix-fixe dinners. From Element 47 at The Little Nell, Prospect at the Hotel Jerome, and Trecento Quindici Decano at the St. Regis, to Jimmy's, Acquolina, Casa Tua, Meat & Cheese, and La Creperie du Village, there's something for everyone. Start things off with the Limelight's famed Happy Hour, featuring live music, $10 wood-fired pizzas, and drink specials.
Go big
It will cost you, but Aspen's high-rolling NYE parties are legendary. The Limelight's sister hotel, The Little Nell is throwing a "Dom Perignon" event featuringthree musical acts, as well as tunes from a DJ. All you can eat and drink, $575. The annual St. Regis blow-out will have live music, a DJ, and the serving of a specially-created barrel-aged Manhattan from Garrison Brothers Distillery.
Get into the spirit(s)
If Champagne isn't your thing, what better time for a hot toddy?  My favorite spots include Chefs Club at the St. Regis, The Little Nell, Woody Creek Distillers in Basalt (be sure to check their holiday hours), and in front of the fireplace at the Limelight.
Hit the trail
One of my favorite things to do is snowshoe by moonlight (or headlamp), but I also find snowy nights exhilarating. Try the 21 miles of groomed trails around of Ashcroft, but wherever you go, be sure to let someone know, and take lots of layers and a map. And hey, it's New Year's; don't forget a flask.