So, you've come off of your fall mountain bike ride and you're headed home to wash off the grime. The shower just doesn't seem luxurious or healing enough to meet your needs. 
Fret not, Idaho has you covered.
Several million years ago, Idaho sat on top of what we now call the Yellowstone Caldera (currently located underneath northwestern Wyoming and southwestern Montana). In the aftermath of the shifting of the tectonic plates, Idaho still retains the hotbed qualities without the intensity of the active geysers and boiling hot temperatures of Yellowstone's hot springs.
If you're looking for a romantic getaway this fall, or you're just interested in the hot springs near Sun Valley and Ketchum, use this as your starter guide for a tour de hot springs.
Frenchman's Bend Hot Springs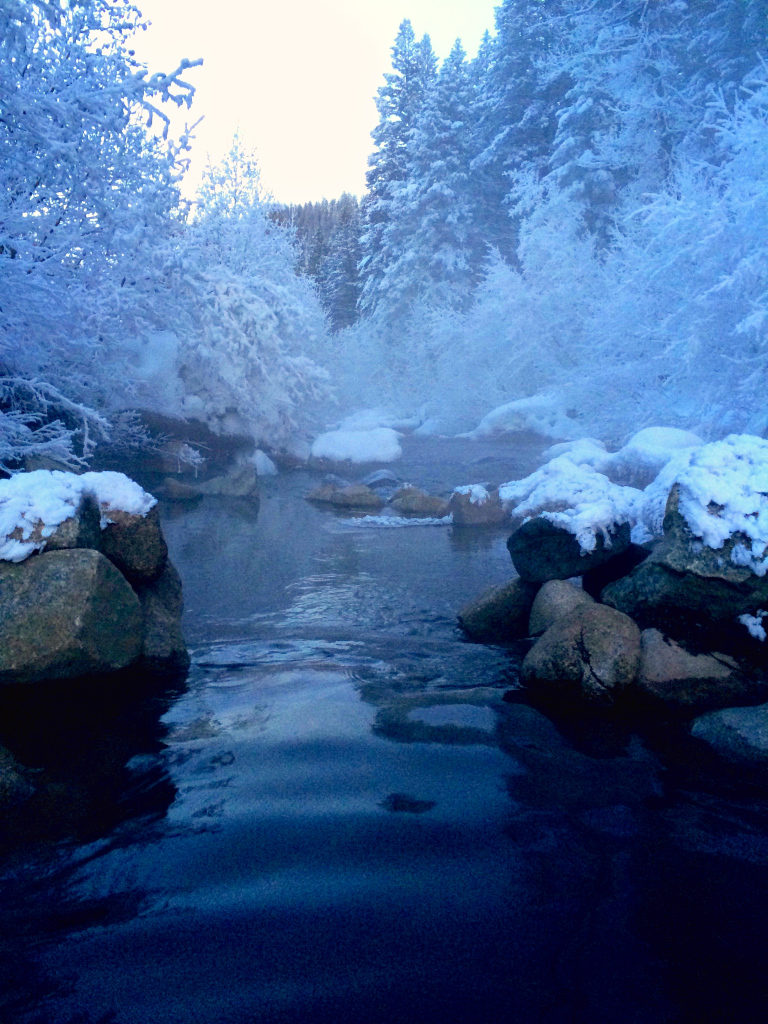 Image courtesy of Hot Spring Hunter
The closest hot spring to Sun Valley and downtown Ketchum is Frenchman's Bend Hot Spring, located roughly 10.5 miles out the Warm Springs drainage and just 10.7 miles from Ketchum.
You will pass through several subdivisions, and the road can be deadly (especially when it's icy), so in the name of safety, drive cautiously. Right after you pass Croney Cove Ranch, you will arrive at wide pull off on the right side of the road. From the parking space, walk ¼ of a mile upriver and the springs will be on your left. View how to get to Frenchman's Hot Springs.. 
This hot spring is a great spot for family soaks and has three different pools varying in temperature. It is right on the river so when you overheat, you can take an icy dip to cool off! These springs tend to get busy in the evenings, and more so on the weekends, so plan your excursion wisely.
Most importantly, please pack out what you pack in. Because this is a popular area for locals and visitors alike, it is important that everyone who indulges in the warm waters of Frenchman's participates in the maintenance and cleanliness of this site.
Galena Pass
For a longer excursion, perhaps a day trip, head over Galena Pass to Stanley. The Salmon River is sprinkled with riverside hot springs that are intimate, wild, and memorable.
If you're looking for a public soak, head down river past Lower Stanley, 3.4 miles on Highway 75. The pull out is a barely noticeable wide spot on a left-hand curve, and .7 miles past mile marker 92.
Park here and step over or around the guardrail and scurry down the trail and rocks. You will see a wooden tub with a pipe pumping hot water into it. In the low water seasons, there are pools accessible on the river itself, but the tub is the most intimate space you can find. It is big enough to hold 3 people comfortably, and a great place for a romantic getaway with your loved one. Again, please be respectful and remember that many people love this place – if you pack it in, pack it out!
Stanley Mountain Village
If you are in the mood for a more comfortable, developed soak, waste no time in moseying over to the Stanley Mountain Village for their unbelievable sheltered hot spring.
You do have to call ahead to reserve a spot in this intimate tub, but it is worth the preparation.
If you time it right, you'll be able to watch the sun set over the Sawtooth Mountains while sipping from your glass of wine.
This deep, concrete tub can accommodate up to 8 people comfortably, and if you're okay with sharing your hour of zen with a few strangers (let's call them potential friends), this is the place for you. This hot spring is not fancy – it's simply a wooden shack that houses the tub, but it is beautiful and rustic and certainly one of a kind.
Once you've finished your excursion, and you feel loosened up and relaxed, head back to the Limelight for a glass of wine and dinner at the Lounge before you rest up for the next day's adventure.
For more information on hot springs near the Wood River Valley, check out Visit Sun Valley's downloadable hot spring description pdf, or the best regional specific website for Idaho's hot springs you can find online.
Planning to stay in Sun Valley or Ketchum this winter? Check out the Limelight Hotels.
[booknow]