It's the rare job where the objective is to not have to work, but for the four-footed employees of the Aspen-Snowmass Avalanche Rescue Dog team and their handlers, it's the ideal scenario.
Nine dogs work for the three main mountains– Aspen, Highlands, and Snowmass. Buttermilk uses a dog owned by a member of the volunteer Mountain Rescue, which operates under the jurisdiction of the Pitkin County sheriff's office and conducts search-and-rescue (SAR) in the backcountry (i.e. regions not located within ski area boundaries ).
The Aspen-Snowmass Avalanche Rescue Dog program was officially established in 2000 by longtime patrollers Brad Benson (Aspen), and Lori Spence (Highlands), although the region's first "avi dog" was a canine named Chopper who worked Highlands in the early 80s.
Meet Zoot the Avalanche Rescue Dog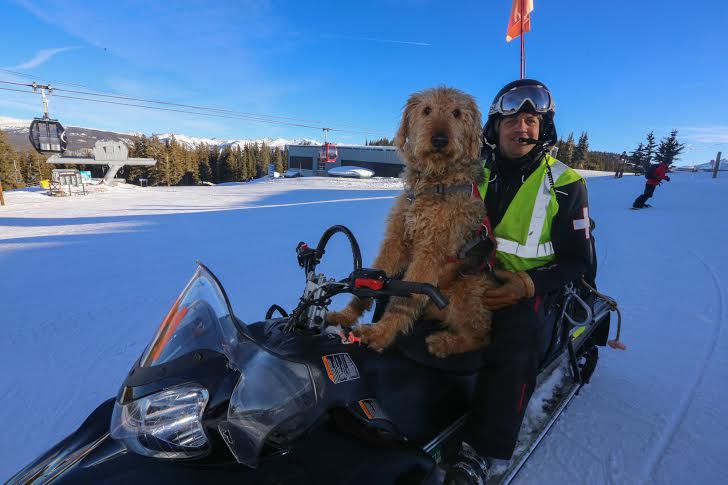 Benson is the owner of five-year-old Zoot, an Airedale avi dog and mountain ambassador/local celebrity who can often be seen lounging outside of the ski patrol hut at the top of Silver Queen gondola, clad in his signature red working vest.
Zoot and I became acquainted two weeks ago while doing Last Tracks– one of Limelight's new guest ski programs. While conducting the "last sweep" of the mountain with the ski patrol, I met Steve Rausch, a patroller who owns Aspen's other avi dog, a young Blue Heeler named June. Being a crazy dog lady, I got to talking with Rausch and asked him if it was possible to assist with the dogs' weekly training sessions, to which the answer was an unequivocal "yes."
I first became obsessed with avalanche rescue dogs about five years ago, while living in Seattle. I read about the heroic exploits of a black Lab named Bazuka, who patrols Alpental with her owner, patroller Kevin Hugget. Intrigued, I arranged to research a story on the Snowqualmie region's BARK (Backcountry Avalanche Rescue K9s) program, a volunteer organization run by local patrollers and avalanche controllers. I spent a memorable day playing crash/smash-test dummy with the dogs, who were put through their paces by variously digging me out of a trench and rescuing me from an isolated snow cave located a mile away from the patrol hut.
Aspen's Avalanche Rescue Dogs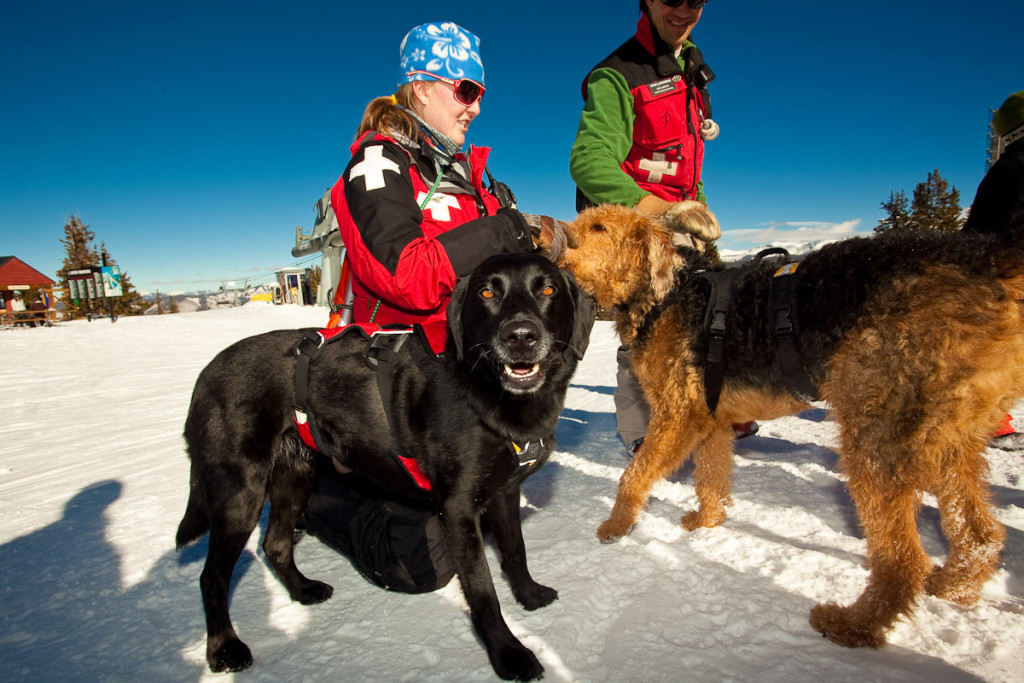 Here in Aspen, the avi dog program operates differently, in part because the dogs and handlers aren't responsible for SAR (an expansion of avi dog work that extends into the summer months; in Washington, Bazuka and some of her colleagues help find lost hikers in the backcountry). The Aspen Skiing Company supports its avi dog program by providing funding for certification training through the esteemed Wasatch Backcountry Rescue (WBR) dog school, which runs about $1000 for the week, and covers vet bills. Some years they also bring in trainers.
Explains Benson, "Our goal, as ski patrollers and avalanche dog owners, is for them not to work. It's very dangerous to have a dog in deep, nasty snow, and hard work getting them out to a slide. Unfortunately, most of our dogs are used for body recovery, rather than rescue, because it takes so long to get to a site. They're scent-trained for human smell, and a body frozen in a slide will retain that smell for awhile. It's different from what a cadaver dog is trained to do, which is sniff out decomposition."
There's a good reason Aspen's mountain rescue dogs don't have much to do. "We do such an effective job at avalanche control, there's not much need for the dogs to actually conduct search-and-rescue or recovery on the ski area," says Benson. "There's also the matter of jurisdiction. We handle on-mountain incidents, while the sheriff controls out-of-bounds issues, which is when Mountain Rescue gets called in. But if something happens out-of-bounds near the ski area, we'll be asked to assist."
Ideally, an average day for Zoot and his friends involves them riding the chair up with the patrollers to the hut, and hanging out. Adds Benson, "Every couple of days, we'll do some training procedures, based on human smell, where the dogs search, find, and rescue volunteers. I'll take Zoot for a run, but we try not to do too much of that because it stresses their joints. That's why the dogs come down at the end of the day on a snowmobile or toboggan."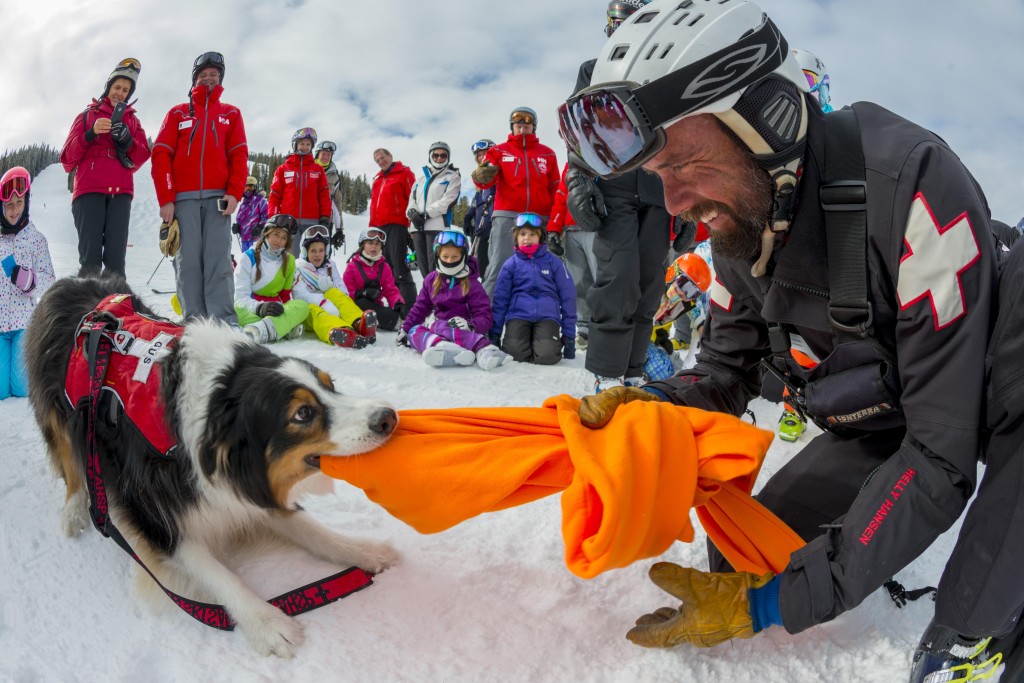 The main job performed by the mountain rescue dogs is to help patrollers check avalanches to ensure they don't scent anyone who could be buried. But, adds, Benson, "Everyone loves having the dogs up here. They're kind of ambassadors for the ski areas. School groups will come up, and we'll teach them about backcountry and ski area safety, and they can assist with training by having the dogs search for them in our snow cave."
Unlike the circumstances with many service dogs, the patrollers encourage their animals (who, Benson is quick to point out, are family members, not just employees) to interact with the public. "Their job is to love people and want to find them," he explains. To that end, not every pup, no matter how extroverted, can cut it as an avi dog.
"What we look for in a puppy is their play drive," Benson explains. "The whole thing is a game- play is what motivates them. Depending upon the dog and the training system (Swiss or North American), they're rewarded with food treats or play. In the States, we tend to use play as a reward, but some dogs, like June, respond more readily to food."
Benson got his first avi dog- also an Airedale- in 1992. He got Zoot when the pup was eight weeks old, and within days, had him up on the mountain for the first time in his backpack. While Airedales are good working dogs, the breeds most commonly seen in avi and SAR programs are Labs, Golden Retrievers, Australian Shepherds, and Border Collies. It's critical that the dogs hone their abilities with frequent training, which is how I ended up being buried in a small snow cave beneath the gondola. Benson commanded Zoot to find me, and within minutes, his shaggy head was poking through the snow as he worked to free me. His reward? Heaps of praise from me.
There are different levels of avi dog certification; the animals train for a year before taking their initial test through the WBC. Younger dogs are then recertified every other year, while older dogs retest every year to "ensure they've still got it, and aren't ready to be retired," says Benson, who adds, "Out here, most SkiCo dog handlers use the summers for training and keeping their animal's skills sharp."
Volunteer with Avalanche Dogs
Interested in meeting the dogs, and helping them train on the slopes? "We're always looking for volunteers in winter," says Benson. If you're interested in spending a few minutes buried in a snow cave, call the Aspen, Highlands, or Snowmass ski patrols at 970-925-1220, and set up a time to meet at one of the huts. Zoot and his canine compadres can't wait to meet you.
Take Caution in the Backcountry
If you're attempting any (legal) backcountry pursuit, you should take an avalanche awareness course, check with the ski patrol about conditions before heading out, and always carry a beacon and probe. Let people know where you're going/when you'll be back, and go with at least several partners, if possible. Sometimes, s—t happens anyway, but since many people don't follow this basic protocol, remember that searchers are risking their lives- and those of their dogs- to save yours. For information on avalanche awareness classes, contact the Colorado Avalanche Information Center, American Avalanche Association (AAA), the American Avalanche Institute (AAI), or the American Institute for Avalanche Research and Education (AIARE).
Got a furry friend you want to bring on vacay? The Limelight is Aspen's most dog-friendly hotel; check the website for details on their pet friendly policies.
Photos via Aspen Skiing Company & Jordan Curet