If you're a dog person, then it's a given that your pooch isn't a pet so much as family member.
Animal lovers implicitly understand this stuff. One of the best things about ski towns is that they're so dog-friendly: Canines are allowed into many hotels, shops and bars, and welcomed on restaurant patios.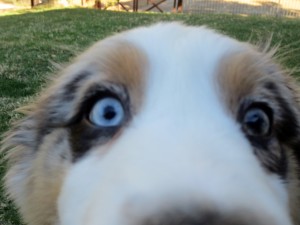 I've seen dogs (full-sized ones) with their own seats in coffee houses, or hitching a ride on their owner's kayaks. Why take the dog for a walk, when you can go skijoring? In Telluride, where I used to live, there's a monthly "dog court" day set aside for only animal-related infractions, and there's a least one dog "hitching post" outside of a bar (even though this establishment permits pets, and has a house dog of its own). In Aspen, dogs are also thoroughly integrated into the culture.
Many ski town luxury hotels- like the Limelight- are dog-friendly, but not all of them go out of their way to make your furry travel companions feel pampered. In this area, the Limelight excels. For a $25 cleaning fee, your dog will be welcomed. For $40, you'll be gifted with a branded leash, collapsible bowl, frisbee, and treats, in a drawstring bag.
The hotel is also conveniently located across the street from Wagner Park, Aspen's epicenter of off-leash activity.
Traveling to Aspen with your fuzzy friend?
Check These Out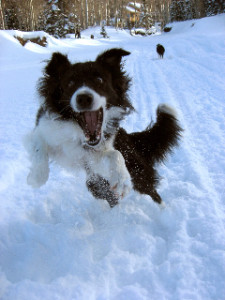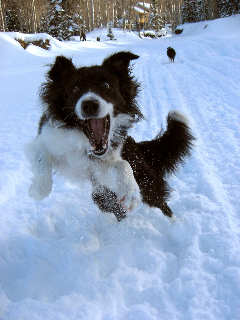 Herron Park: Located at the east end of town on Neale Street, this peaceful creekside spot is just five minutes' walk from the town core, and intersects with the scenic Rio Grand Trail– another prime dog-walking spot, as long as you keep your's on a short leash (it's a major bike and pedestrian path). There's no shortage of other dog amenable parks in town; ask your concierge or stop by one of the town Information Centers on for suggestions and a map.
Aspen Mountain: There's no charge to bring your dog up the Silver Queen Gondola during the summer season; once at the summit, go for a hike, or just enjoy the stellar views from the Sundeck.
Hunter Creek Trail: There are dozens of dog-friendly hiking trails in the region, but this is one of Aspen's most beautiful, and accessible, hikes. Located close to downtown (Limelight guests can take advantage of the free shuttle anywhere within city limits), this 6-mile roundtrip trail takes climbs up to a lush hanging valley full of thundering waterfalls, bridges, and views of the Elk Mountains. There are some steep, rocky parts, but it's manageable for novice hikers (and their canine companions) as long as you're wearing proper footwear.
Maroon Bells Scenic Area: Dogs must be kept on-leash at all times in this region, due to heavy usage and to protect wildlife, but the views of the famous Maroon Bells are worth the compromise. Note that dogs are allowed on the bus if you're taking public transit.
Leash laws: Technically, dogs must be kept on-leash in Pitkin County, but you'll find that on many trails, locals let their pets loose. Please be honest about assessing your dog's ability to adhere to voice and sight command, especially where wildlife are concerned, and heed Aspen's strict laws regarding picking up after your pet.
The main pedestrian thoroughfare in town is the Hyman Ave. Pedestrian Mall. It's dog-friendly (on-leash, please). Be sure to stop at C.B. Paws, Aspen's pet boutique, and neighboring Annette's Mountain Bake Shop, where co-owner Annette Docimo bakes up dog biscuits daily (the people food is some of the best in town, too- pick up some of her ethereal macarons or one of the incredible sandwiches).
Tips:
You're not the only one susceptible to the effects of altitude. Make sure your dog stay well-hydrated, too, and take it easy the first couple of days. If your pet has light-colored eyes and/or coat, be aware that sunburn or eye damage can be an issue. Hike in the morning or late afternoon.
Don't let your dog drink from creeks, rivers, lakes, etc. They're frequently a source of giardia, which will necessitate a trip to the vet.
Aspen is exceptionally dog-friendly, but if yours isn't well-behaved, expect to get the boot, or some serious stink-eye on the trail. Leave rowdy pets at home.
For 24-hour emergency services, Valley Emergency Pet Care (VEPC) is located approximately 16 miles downvalley, Basalt.
Many local campgrounds allow pets, but do your research, first.
Be sure your dog has up-to-date tags and vaccinations.
Had to leave your best friend at home? Not to worry. The for-profit, no-kill Aspen Animal Shelter has an innovative, year-round "Rent-a-Pet" program that allows visitors and locals to borrow a dog (no paperwork necessary; just show up) for anywhere from 2 hours to a weekend. Just like online dating, you'll be matched up according to athletic ability, personality, and dog/people-savvy, before you hit the trails or town. Bonus: Many of the shelter animals are adopted as a result.
Want more details on how to enjoy the Rockies with dog? Pick up a copy of Canine Colorado: Where to Go and What to Do With Your Dog (Fulcrum Publishing) by longtime Aspen resident and writer/editor, Cindy Hirschfeld.