Dedicated skiers always have a list of things that are the equivalent of the Holy Grail when it comes to seeking snow: heli-skiing, making first tracks on a pow day, shredding with a pro.
Even if you're not a hardcore, some of these are still attainable, and thanks to a free, innovative, new ski program from the Limelight and sister hotel The Little Nell, they're available to you, as long as you ski at an intermediate level.
Just launched this season, Last Tracks with the Aspen Ski Patrol enables guests of the Limelight, The Little Nell, and Residence at The Little Nell to join the ski patrol on their end-of-day sweep of Aspen Mountain. Not only do you get to ski with the big boys (and girls)- you also get an inside look at their daily operations, meet the avalanche dogs who work alongside them, and have mountain to yourself as you accompany them on the day's final run after the lifts have shut down.
My Experience
I did Last Tracks a week ago, and it was even more of a blast than I'd anticipated. It's great to meet the people who work so hard to ensure skiers' safety, but also enlightening to see just how many measures they have in place to make the mountain a fun- rather than openly hazardous- place in which to play.
There's a mystique about ski patrollers: They work dawn to dusk so we can safely earn our turns, and I confess, I was slightly starstruck to have the opportunity to ski from the summit of Silver Queen Gondola to the base with them on a sweep.
Just as it sounds, sweeping is a controlled last run of the mountain, in which patrollers scan for lost, injured, or lagging skiers and riders. They work as a synchronized unit via walkie-talkie, so that the entire mountain gets covered at once. They're trained to spot anything that seems amiss, and know what areas present potential pitfalls, so they pay extra attention to nooks, crannies, ledges, and forested areas. It's beyond impressive to see such a vast area covered in a relatively short period of time, but that's why they're the experts.
One of the best parts of Last Tracks is just having the opportunity to hang- and ski- with the patrollers, ask questions, and see the camaraderie that exists between them. It's something most visitors don't get to experience, and we're fortunate to have such a program in Aspen. These are people dedicated to not just the sport, but the mountain lifestyle and environmental preservation, and without them, we wouldn't have a reason to get up on snowy mornings or bluebird days. For me, however, the highlight was schussing down Copper Bowl as a small group, the alpenglow lighting up the valley below. Last tracks, indeed.
How to Participate
You must be a hotel guest to participate, registration required by noon the day of. Last Tracks is offered daily, minors under 12 must be accompanied by an adult; limit 12 persons. Meet at the Ski Patrol Hut at the top of the gondola.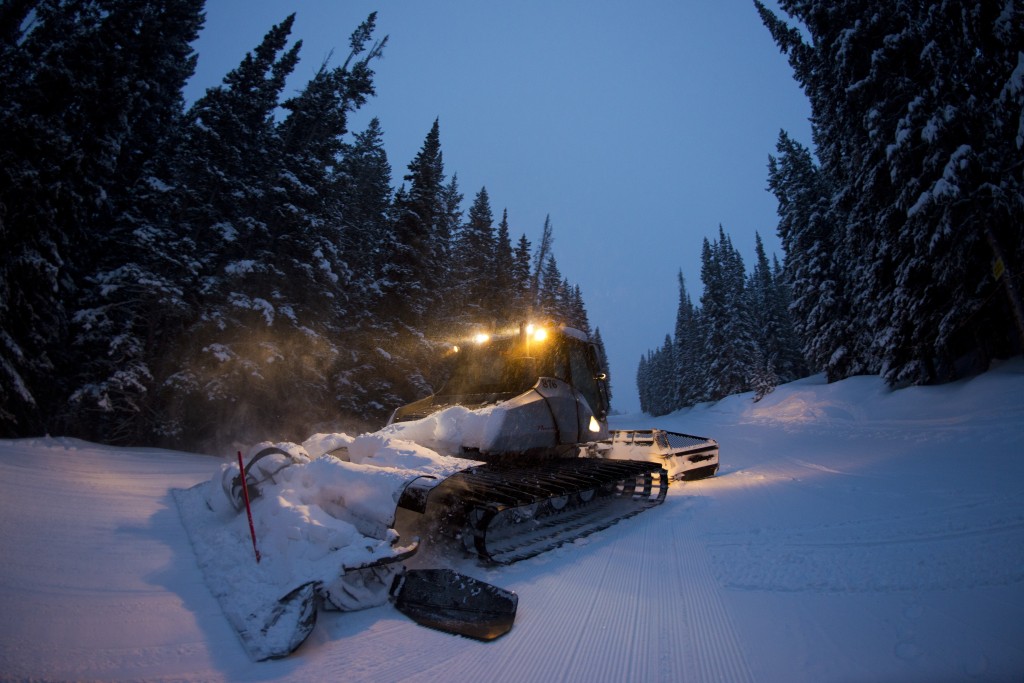 P.S. If you want to get in on the freshies on Aspen Mountain, Fresh Tracks gives hotel guests get exclusive access to Aspen Mountain (in partnership with the Ski & Snowboard Schools of Aspen/Snowmass) before the gondola opens to the general public. The program is offered every Friday at 7:45am (transportation from the hotel to the gondola is provided), and limited to five guests. You must pre-register, be at least 18 years of age, and an intermediate skier/rider to participate.
If you're looking to get some tips from local pros, Inside Tracks allows you to ski or ride with members of the Ski & Snowboard Schools of Aspen Snowmass. Get on-mountain intel and performance tips at Aspen Mountain, Aspen Highlands, and Snowmass. Details, right here; pre-registration required.
Don't ski? Don't worry. Try a free snowshoe tour of the Aspen area instead, in partnership with ACES (Aspen Center for Environmental Studies). Their naturalist guides will teach you about the flora, fauna, and geology of the region. Offered most Wednesdays 10am-noon, 8 guest limit. Pre-registration required, transportation provided by the hotel.