There are few places in Colorado skiing which are as iconic or sought after as Highland Bowl. Skiing it has long been considered a rite of passage for locals & visitors alike, and for good reason.
Most skiers remember their first trip up and down these slopes. How could you not? Between the effort, the views, the steeps, and the best bowl skiing in the lower 48, Highland Bowl is the kind of place that sticks with you. For good or bad, memories of the first trip down don't easily fade. Mine certainly haven't.
My inaugural outing came following behind a pair of very confident, very knowledgeable (read cocky) locals. I grew up snowboarding and only had only one season of skiing under my boots when my friends invited me for a weekend exploring Aspen Highlands. Like anything else in life, the best way to get better at skiing is just to tag along behind people who are much better than you and hope for the best. And so I did.
I had been apprehensive about Highland Bowl for the past two days, but the prospect of doing the walk of shame back down was simply not an option.
At around noon of our second day, my buddy Ryan turned to me on the chairlift and declared. "I think we should give Highland Bowl a shot. I think you can make it. Worst case, you can always trudge back down if it looks like it's just too much."
This, not-exactly-ringing, endorsement wasn't the biggest confidence booster for my first trip up. But it also had the wisdom of throwing a subtle challenge into the mix. I had been apprehensive about Highland Bowl for the past two days, but the prospect of doing the walk of shame back down was simply not an option.
"Alright man, let's do it," I replied.
And so, from the top of the Loge Peak Lift, we slid over to the snowcat pick up zone and kicked off our skis. There were about a dozen or so skiers and snowboarders milling about, waiting for their turn.
"No cat for your first," Ryan declared.
That was fine by me. Aspen Highlands runs a courtesy snowcat to the first gate to shave off some of the hike, but for the inaugural trip, it just didn't seem right to cut out any of the distance. This is earn-your-turns terrain.
Our skis quickly went onto our backs and we made the necessary final adjustments before joining the snaking line of skiers and riders making their way up the mountain. You see, Highland Bowl doesn't just come to you. You have to work for it. From the lower access gate, Highland Peak looms above at 12,392 feet. The only way to get there is along the famous ridge walk to the summit. It is an introduction like none other.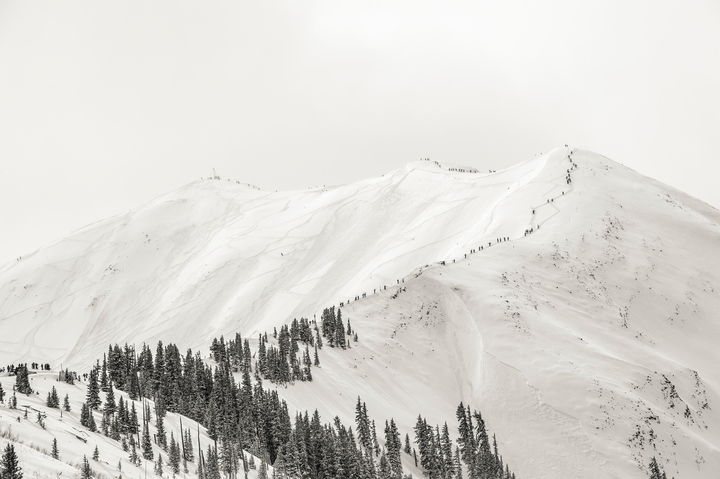 As we made our way up the ridge, to my right, the peak dropped off in a steep, sudden, sometimes scary way. A thin rope line placed by ski patrol is all that separated hikers from the abyss beyond. Straight ahead loomed the thin ridge that climbed ever-upwards. Directly below me at my feet, boot tracks and tiny steps cut in the snow ushered us on a relentless climb into the sky. And to my left sat the crown jewel of Aspen: Highland Bowl. The bowl itself stretched out in a nearly perfect 180-degree arc, offering some of the best, steepest, and most sought after in-bound terrain in the state.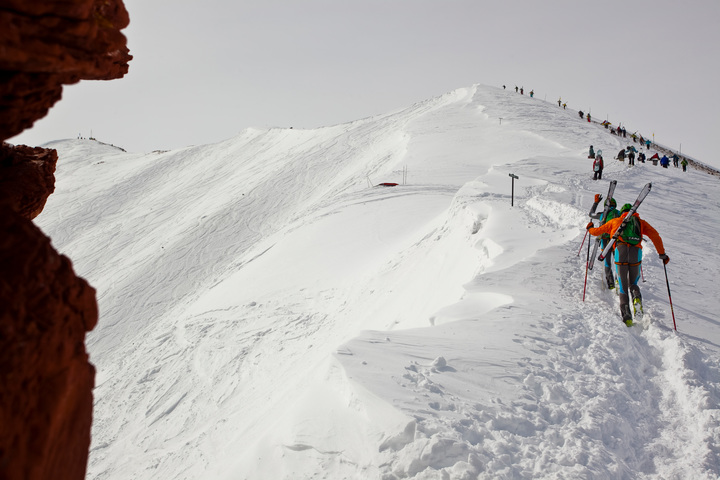 But the chance to soak in the views were quickly and regularly interrupted by mother nature. Hiking to the top of Highland Bowl can be an all-out assault on the senses and this day was no exception. The discomfort of a sub-zero wind chill was matched only by the biting ice-crystals, whipped up from the snowfields below. On this day, any exposed skin was prone to frostbite.
Speed was of essence to escape the gale, but that was much easier said than done. Hiking at 12,000+ feet in winter tests the best of us. As we took a quick breather mid-way up, Ryan turned to me and remarked, "This is the most underrated part of Highland Bowl. The climb does a great job of keeping away all the riff-raff."
I nervously laughed in agreement. Sneaking a peek over to the runs on my left, most exceeding 45 degrees in pitch, I couldn't help but worry that I was exactly that sort of riff raff he was talking about. Huoh boy…
Finally, we reached the summit. The views from the top of Highland Bowl will humble all.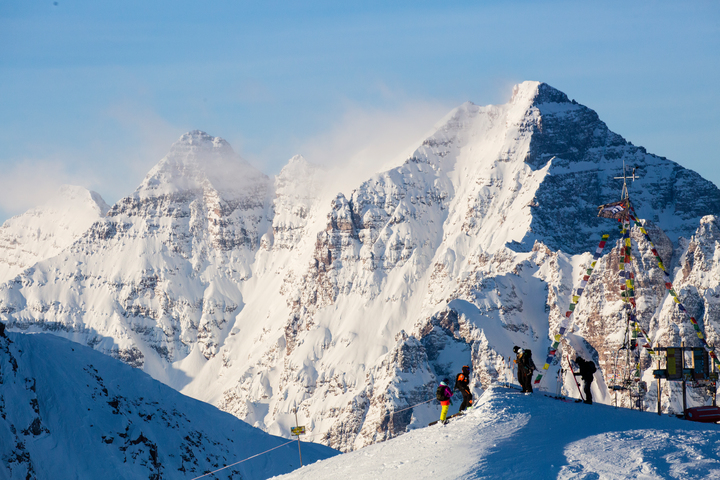 The Elk Mountains, in which Aspen sits, are truly magical. These are some of the steepest, most majestic peaks in the county. And Aspen Highlands give a prime view of three of the very best mountains in Colorado: Pyramid Peak and the Maroon Bells. These 14ers are as majestic and lofty as any mountains on earth; their soaring beauty matched only by their treacherous and striking faces.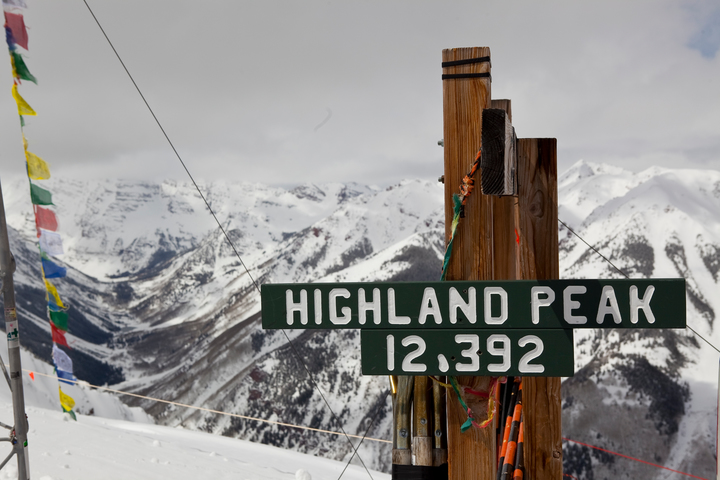 Taking a moment to soak in the Elks from atop Highland Bowl is enough to make anyone realize that Colorado truly is God's country.
"Alright. Time to enjoy!" Ryan said with a huge grin.
He had done this dozens and dozens of times. He had even once worked on the bootpacking crew that painstakingly walks every inch of the bowl to make it safe from avalanches. But despite all the time back here, the enthusiasm had not worn off. Highland Bowl has a kind of special energy. Time for me to see what it was all about.
I won't lie. I was scared. I had never skied anything like this before. These slopes are steep. Really steep. And big. And full of variable terrain. And usually full of blower pow. How would I do? Was I a good enough skier yet? Could I handle this kind of terrain? Was I about to yard sale all the way down to the base of the Deep Temerity lift?
These fears and thoughts ran through my mind as my friends dropped into Ozone, our chosen run for the day. I soon followed in tow.
A few initial shaky jump turns had me finally into the belly of the beast. The hardest turns are always the first. I'm sure I looked even worse than I felt. The scenery, the wind, the steeps, and the unknown had rattled my confidence. I was skiing not to fall; skiing scared.
I took a moment to pause and gather myself. I reminded myself that a timid skier is a bad skier. Fear leads to tension and tension leads to bad things in skiing. Don't be timid; stand up and ski.
Open snowfields, incredible pow, and unmatched freedom of movement. This is why we ski.
And so I did. I won't say the rest of the run was perfect, but boy was it fun looking back on it now. The next few thousand feet of epic terrain were an incredible introduction to some of the best runs a skier can find. Open snowfields, incredible pow, and unmatched freedom of movement. This is why we ski. This is why Aspen is special. And this is what keeps so many coming back again and again.
The turns eventually led me into the whooping, congratulatory arms of my buddies at the bottom.
"Not bad, eh?" Ryan remarked with a smile. I took a moment to look back and consider:
The most epic location in Colorado, the biggest, baddest bowl, the best steep skiing around, incredible snow, and near perfect conditions?
Nope, not bad at all.
David Yarian is a born and raised Colorado skier and boarder. In his free time, he contributes to Exploring the Rockies.