In Ketchum, it's easy to get caught up in the myriad of outdoor activities available in the surrounding public lands.  But some days, it's better to stay put.  Fortunately, the town itself exudes a bustling, yet pleasantly relaxed air that will charm the lungs and spirit of anyone out for a stroll, deeming a "down day" in town a day well spent.  With the gridded layout of streets, well-maintained sidewalks, and ample signage about town, navigation is easy.  Not to mention, crosswalks are abundant and well marked.  To put it simply, the pedestrian is king in Ketchum.  So slip on your shoes and sample the fruits of your court.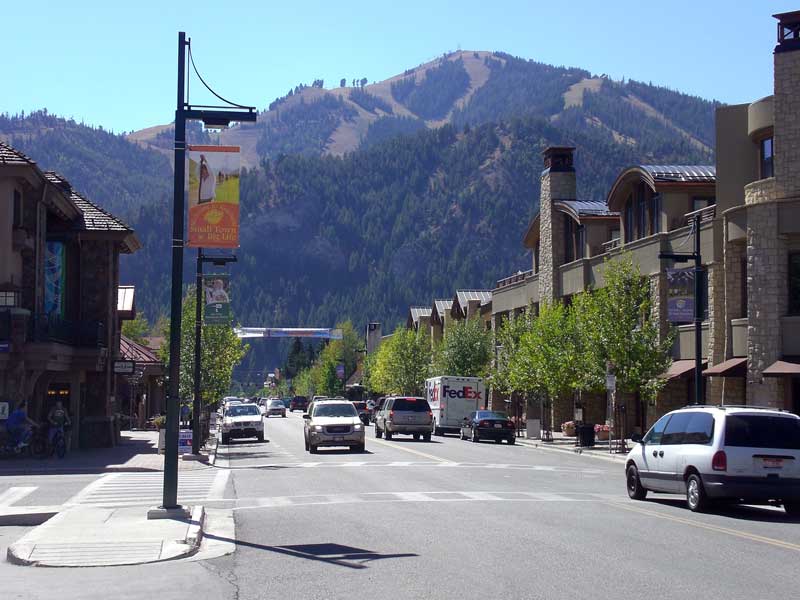 By Stephen Marks – (WT-en) StephenM at English Wikivoyage – Own work, Public Domain
Before your journey through town, jumpstart your engine with a "Bowl of Soul" from Java On Fourth.  This should supply enough caffeine to sustain you throughout your walk.  Now that your eyes are wide, go put them to use in any one of the many art galleries in Ketchum.  
Galleries
From the eloquent sculptures of the Gail Severn Gallery, to the eclectic paintings of the Broschofsky Gallery, to the astounding local photography of the Kirk Anderson Gallery, and beyond, the town's got it all. Stop into the Sun Valley Center for the Arts and witness their current visual arts exhibition, which alternates themes throughout the year.  
Now that you're feeling artsy and sophisticated, ground yourself with some local history knowledge with a stop at the Ketchum-Sun Valley Historical Society's Heritage and Ski Museum in Forest Service Park. You'll learn about the valley's rich sheep herding, mining, and skiing history.  
The museum gives a nod to Ernest Hemingway's influence on the town with an exhibition in his honor, as well.
Inevitably, you'll work up an appetite rambling around town, and it's important to stay well nourished.  
Besides, food is a pivotal factor while properly experiencing any place you visit, so live Ketchum to the fullest, and go crazy.  The town's daytime fare is bountiful and diverse.  Irving's Red Hot's, on the East side of Main Street, caters well to foot traffic as a walk-up gourmet hot dog stand.  Their soft pretzels and mustard will also sustain your carb needs.  
Wander down to Washington Avenue and grab a  grinder at Johnny G's Subshack, and wet your whistle with dollar pints of the coldest beer in town.  Stroll to Seventh Street and visit The Haven, a local food truck with fresh, organic twists on a diversity of cuisines.  
If it's sugar that your weary legs are craving, go to Leroy's Ice Cream stand in Town Square, and have a bench-seat-sit in the very center of all things Ketchum.  On Tuesdays, the local Farmer's Market sets up right there, so if you're planning on crafting a DIY meal at home for the evening, pick out some fresh produce, meats, breads, and sweets while your grocery-getting saunter takes pace with a local musician's live performance amidst the market tents.
After some nourishment, go for a browse in any of the many unique clothing shops such as Theodore, or stop by Backwoods Mountain Sports to prep yourself for tomorrow's outdoor adventure.  For a meld of either taste, swing into iconic Silver Creek Outfitters for anything from western wear to fishing waders.  
Whatever strikes your fancy, the town of Ketchum has got it, and be assured—it's all within walking distance.  Oh, and if you've got a four-legged companion that needs some "urban" exercise, bring that pooch along—it's a dog-friendly place.