Spring break is a rite of passage in ski towns. Happily, it's usually not the alpine version of Panama City, and is mercifully free of cruising, wet t-shirt contests (usually), and redux-MTV Beach House mentality. There are lots of families, high school kids on school-sanctioned getaways, and, admittedly, drunk college students behaving…like drunk college students. At one time or another, I have been all of these, as have many of you reading this.
Ski towns are wonderful places to spend spring break. What's not to love about schussing or riding beneath bluebird skies, minus frostbite-inducing wind chill? While the 1970s/80s cool factor of spring skiing in jeans is happily a thing of the past, there's definitely something to be said about paring down to the bare minimum and hitting the slopes in just a hoody and shell pants. You feel….free.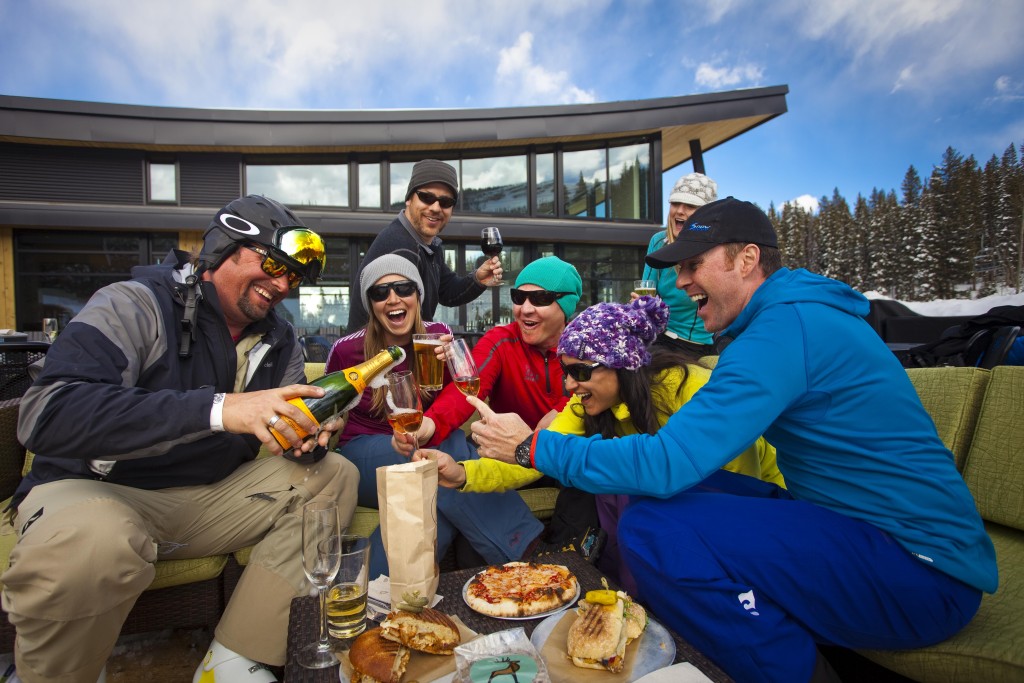 Aspen is a spring break destination, but draws a different crowd than other ski areas. Commuter resorts, and extensive regions like Lake Tahoe tend to attract younger holiday-makers, families, and folks on a budget, while Aspen is a magnet for couples, international visitors, and Denverites looking to escape the swarms at Colorado resorts off the I-70 corridor.
With that in mind, spring breaking in Aspen varies. It's not the kind of place where you pound Jell-O shots until you pass out or see how many naked compadres you can cram into the hotel tub. Nope, it's more of a mellow vibe, one that certainly carries on the fine tradition of après celebration, combined with the general joie de vivre that comes with longer days, sunny skies, and the urge to squeeze every last drop out of each day because it's the season's last call for time on the slopes. How you spend spring break is Aspen is up to you, but here's some suggestions on ways to amp up the enjoyment, local-style.
Hit the slopes early.
Those unused to drinking at altitude sleep in, but since Aspen doesn't corner the college market, making first tracks is easier than ever.
Avoid lunchtime crowds by BYOL.
Brownbagging it instead of hitting on-mountain cafeterias means more runs for your buck as well as saving major ducats. Tip: Two of my favorite spots to pick up high-end picnic fixings, from cheese and charcuterie to the best sandwiches in town, are Annette's Mountain Bake Shop, and Meat & Cheese Restaurant & Farm Shop.
Enjoy Aspen's considerable arts and culture scene.
We have an amazing new (and free) Aspen Art Museum,
Responsible Drinking
If you feel compelled to go on a bender (no judgment), avoid watering holes advertising 2-for-1, Ladies Night, or $2 tall-boys. Unless you like feeling really, really old. Do note that altitude amplifies the effects of alcohol, so go easy and drink a glass of water in between beers.
Be extra-aware on the slopes.
More skiers—including an increased gaper populace—means a greater likelihood of a collision. Ski in control (like you always do, right? Right?), and wear a helmet.
Behave yourself.
It's easy to go nuts when you're on vacay, whether it's with enthusiasm or impatience due to long lines. Relax, you're in Aspen. Enjoy the scenery and people-watching, and enjoy our slower pace.
And locals, please don't pull attitude. It's obnoxious, even to other locals. Especially when you just moved to the mountains from the Midwest at the beginning of the season. We're all here for the same reason: to enjoy the lifestyle. Respect your home, temporary or not, and encourage visitors to do the same.