I grew up listening to old school country music- Patsy Cline, Marty Robbins, Johnny Cash and June Carter. My parents met in 1956 at Colorado A & M (now Colorado State University) when my dad- then in his final year of veterinary school- saw my mom- a member of the school's barrel racing team- compete. Three months later, they married, after the proverbial whirlwind courtship that in their case consisted of trail rides, cattle gatherings, rodeo, barbecues, and dances. That's where the music comes in (I promise this is going somewhere with regard to Aspen).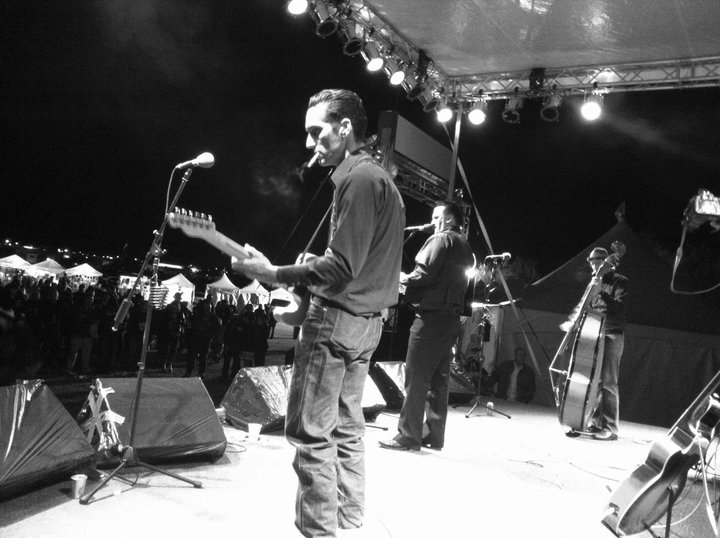 If my love for legit country and bluegrass was developed in-utero, it's only intensified over the years. Johnny Cash in particular is one of my favorite musicians, a sentiment shared by many. Cash's influence on modern music and culture can't be overstated. Even now, 12 years after his death, he's one of the most prolific songwriters and recording artists of all time, and his music continues to resonate with people of all ages, all over the world. It's also not surprising that the Aspen area is rife with Cash fans, given our Old West, agricultural, and mining heritage, and the unending appeal of Cash's badass nature.
No surprise then that tribute bands exist, but there's only one that's endorsed by the official Johnny Cash webpage, that has received acclaim from Cash family members and surviving bandmade W.S. Holland: Cash'd Out. The San Diego-based quartet (Douglas Benson on vocals, Kevin Manuel on guitar, Stephen Rey on bass, and George Bernardo on drums) formed in 2005, and has been on the road ever since, playing their repertoire of over 150 Cash and Cash-Carter songs to fans like me.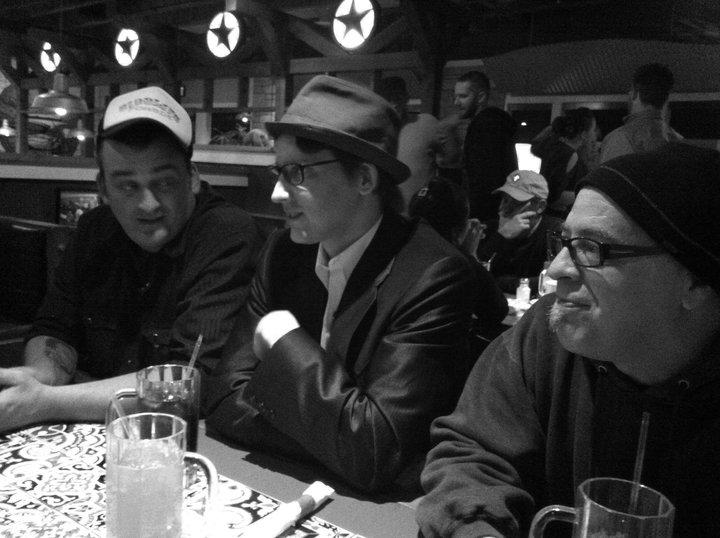 Aspen goes nuts when Cash'd Out comes to town; their gigs at the Belly Up always sell out- as well as guarantee a rowdy great time. It's not just that they're talented musicians; it's also Benson's ability to channel Cash and emulate his movements, expressions, playing style, and vocal inflections in speech and song. After their last Belly Up show, I had a chance to chat with the guys and find out a bit more about their unusual vocation, and why they love visiting Aspen.
How did you get into Johnny Cash's music?
Doug Benson: "I was a skate/surf punk in San Diego. I didn't grow up on Cash, although on the occasions when I did hear his music, it resonated with me. It wasn't until I was in Mexico with some friends over 20 years ago, and someone put Hello, I'm Johnny Cash on the boombox that I got hooked. I literally played it non-stop for four days, until the batteries died. I started out singing along to his songs around the campfire, and that weekend kind of took ahold of me."
Did your friends comment on how much you sounded like him?
DB: "Not at that time. Ironically, I ended up joining the air force and working in communications, just like Johnny Cash. I moved to Europe to work in fiber optics and as a test engineer, then came back, bought my dad's motorhome, and became assistant manager at a campground. That job gave me time to learn guitar, and I started playing and singing gigs at a local restaurant.
I saw how much my Cash covers affected people- they told me how they drove an hour to hear me because I sounded so much like him, and how it reminded them of their childhoods and loved ones. That really made an impact on me, and I decided to start a tribute band. It was initially just a way for my friends to get together and hear us play- I never planned to make any money off of Johnny Cash."
So, do you feel this is a calling?
DB: "I'm a spiritual person, and I do feel (my work) is a calling. But I never say I'm trying to be the Man in Black. We're paying our respects by playing his music."
How did the band actually form?
DB: "I put an ad in the paper that I was seeking a "guitarist; must play like (late guitarist) Luther Perkins."
Kevin Manuel: "I was looking for a guitar, and Doug's ad said he had some for sale. The mention of Luther got my attention, because he was the main reason I wanted a guitar. When I was younger, every time my parents put Live at Folsom Prison on the record player and I heard that iconic opening guitar riff from "Folsom Prison Blues," I thought, "I want to do that!"
Doug, how did you learn to emulate Cash's expressions, movements, and stage presence? It's eerie!
DB: When I worked in fiber optics, I was on the road constantly, working 18-20-hour days. I'd keep myself awake by singing along with Cash on the car stereo. I'd cup my ear and get as close as I could to replicating what I was hearing, and I was inadvertently stretching my vocal cords, emulating his voice. I was just trying to get back home, but those drives put me on this whole other path in life."
You're both from San Diego, which is home to the original Belly Up. How does the Aspen venue compare?
KM: "It's one of the finest venues out there. The sound is amazing, and there really isn't a bad seat in the house. I grew up listening to music at the Belly Up Solana Beach, and they've really kept the same feel in Aspen."
DB: "It's always an honor to play the Belly Up. It's iconic."
Is there anything else you look forward to when you play Aspen?
KM: "It's just so beautiful, summer and winter. Being up in the mountains, playing music…it's amazing."
You've had some very prominent members of the Cash camp- Cindy Cash, Lou Robin, W.S. Holland- compliment the band. How does that feel to have that kind of praise?
DB: "It's awesome. Just the fact that they've been in the audience, and have thanked us…never for one second did it cross my mind that would happen someday. It's been like a signpost, saying 'This way, this way.'"
 KM: "It's been a great ride so far. We've seen some pretty cool stuff on the road, and have met a lot of great friends along the way. That's what really makes this way of making a living the best."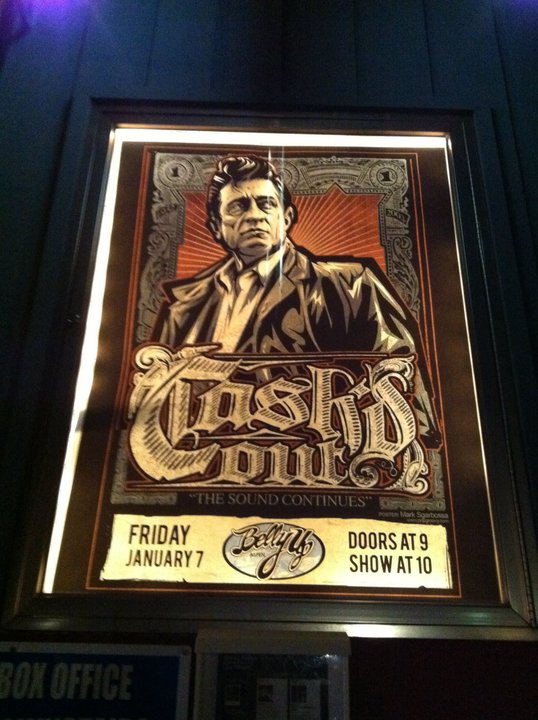 Don't miss Cash'd Out at the Belly Up July 15
Get your tickets here . In keeping with the spirit of Cash, why not try a Colorado Whiskey Flight at the Limelight LOUNGE before the show? Four generous pours from the state's top producers is just $16.