There's good reason the Maroon Bells are the most photographed peaks in North America: They're stunning and easy to get to. When you're in Aspen, you've got to go see these geologic celebrities. Here's your insider's guide to seeing Maroon Bells.
Catch the shuttle
Private vehicles are restricted from 9 a.m. to 5 p.m. daily, mid-June to Labor Day and weekends in the early fall. But shuttle buses depart every half hour from Aspen Highlands. Rates are $6 for adults—$3 on Wednesdays. From Aspen, you can catch a free RFTA bus from Rubey Park to Aspen Highlands. There are exceptions to the no-car rule, including disabled passengers and infants in car seats. Check guidelines here.
Go early—or stay late
You'll get magazine-cover worthy photos in early morning or late evening thanks to the diffused light. And Maroon Lake should be a glassy mirror to reflect the Bells' full beauty. You'll also avoid peak crowds, and have the option to drive your own vehicle for $10. Use #maroonbells and #llshine to share and compare your Bells shots.
Go the extra mile
Head up the glacial valley past Maroon Lake for a more personal experience with the Bells and their wilderness. Follow the trail to Crater Lake (main trail to the right of the lake). It's a rocky but moderate, 3.2-mile round trip that takes you to 10,076 feet. And it's worth every step to savor the stillness beneath North Maroon Peak. Carry water and snacks and be prepared for thunderstorms, especially in the afternoon.
Get the Best Angle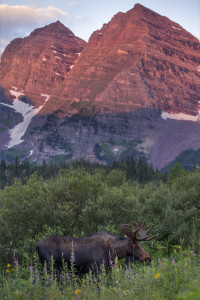 You'll probably want to snap a few photos of Maroon Bells. After all, they are the most-photographed mountain peaks in the United States. Fall season is typically the busiest due to the changing Aspen trees, but with a little preparation you can get the perfect shot. Take some pointers from Nasmin Mansurov or Jeremy Swanson. He gives a tell-all about the best time to photograph, how to set up and what not to do.
Continue your day of natural beauty on the Limelight's rooftop terrace. Share your stories with new friends.
[booknow]