My friend Bill is an executive chef at Beano's Cabin in Beaver Creek. Recently, I spent a day helping him forage various wildfoods for his restaurant. As we skulked around in the forest looking for porcini and huckleberries, I asked what inspired him to feature foraged foods on his menu.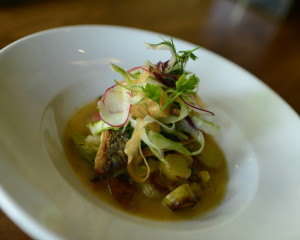 "There's no identity to Colorado cuisine other than game, lamb, and trout," he explained. "Using a wood-burning rotisserie and oven and serving indigenous wildfoods offers diners a chance to taste what grows right here."
He has a point.
After 20 years of living on-and-off in Colorado, I've seen the culinary climate grow more sophisticated, ethnically diverse, and localized in nature, with chefs like him increasingly choosing to source from local family farmers and ranchers and use foraged foods, which fosters identifiable regional foodways.
While Colorado cuisine continues to evolve, however, there are still certain foods that are, and always will be, intrinsically intertwined with the state's culture, history, and geography.  From blue spruce ice cream to the infamous Rocky Mountain Oysters, I've compiled a list of Colorado's more unusual foods, and where to find them.
Wildfoods:
Beano's Cabin is on the site of a historic homestead- established by one Frank "Beano" Bienkowski. Located on-mountain, it's accessible by horseback or shuttle in summer, and Sno-Cat in winter.
Every day during the summer, Bill covers two to six miles of the surrounding mountain, harvesting seasonal ingredients like various cresses, miner's lettuce, pineapple chamomile, ox-eye daisy, dandelion greens, chanterelles, and salsify. He transforms these into inspired dishes like wood-grilled foie gras, with foie fat poached strawberries, grilled wild rhubarb, cow parsnip flowers, chiming bells, and penny cress, and wood-grilled porcini and star-studded puff balls with roasted huckleberries and sweet clover (pictured).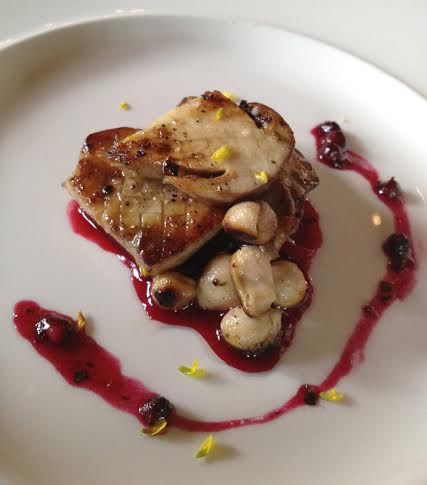 For winter, he puts up as many foods as he can, like porcini preserved in oil, and smoked cow parsnip seeds, and gets creative with evergreens, resulting in the aforementioned blue spruce ice cream. Beano's Cabin is closed until December 13; reservations required.
Game:
While not unusual per se, most city slickers don't encounter venison on the menu at their corner coffee shop. Historically, game- elk, deer, buffalo bear, moose, antelope, grouse, rabbit, etc.- has been a means of subsistence in Colorado amongst Native Americans and early settlers.
Subsistence hunting is still a big part of Colorado culture (Our fall hunting season, as in other states, acts as a means to cull and control herd populations so they remain at sustainable levels, and don't impact the environment).
Allow me clarify something: It's illegal to serve "wild" game to the public, which is why all of the "game" meats you see on menus nationwide has been farmed. Colorado is home to a number of game farms, such as Highwire Ranch, in Paonia (buffalo and elk), and High Plains Buffalo Ranch, in Littleton. You don't have to look very hard to find game on Colorado menus, but obviously it's not all raised in-state or by sustainable methods.
Cooked properly, however, game is delicious- even farmed species are leaner than most domestic livestock, without the (irony alert) "gamy" flavor disliked by most Americans. For elk- similar in flavor and texture to beef- check out Eight K at the Viceroy Snowmass; Chef Will Nolan features deliciousness like elk hand pies and smoked elk rack with a rosemary jus, while The Living Farm Café in Paonia does an elk burger with neighboring dairy Avalanche Cheese Company's Midnight Blue.
In Aspen, there's Pine Creek Cookhouse, where you'll find elk, bison, and venison, and at Telluride's New Sheridan Chophouse, look for dishes like dry-aged, bone-in buffalo ribeye, and elk short loin with braised kale and smoked cherry reduction.
At Old Major in Denver- a temple of meatiness- chef/owner Justin Brunson is going big on game this fall, with dishes like pheasant with sage stuffing, potato puree, green bean casserole, and cranberry, and elk and pork sausage. Mercantile Dining & Provision– chef/owner Alex Seidel's incredible new restaurant in Denver's historically renovated Union Station– does an egg yolk pappardelle with braised rabbit, wild mushrooms, cauliflower, and truffle, that is life-altering.
Rocky Mountain Oysters:

Ah, the prairie oyster. Also known as calf testicles or calf "fries," these tasty fried treats are a by-product of spring cattle brandings, and have been a part of Colorado heritage for over a century. Traditionally eaten at post-branding barbecues, they've become something of a tourist draw, which is why  you'll find them on bar menus and at dedicated events like The Little Nell's Rocky Mountain Oyster Festival and BBQ. Calf cojones really do taste like chicken; you can also try them at Denver's famous Buckhorn Exchange.
Yak:

These wooly bovines, which are indigenous to the Mongolian Steppe and Tibetan Plateau, are traditionally used as meat, milk, fiber, and draft animals. They fare well in Colorado's high-elevation climate, which is why small-scale yak ranches are popping up around the state. They're more efficient to raise than beef cattle because they're hardy, breed and calve easily, consume one-third of the feed needed by conventional cattle breeds, and are adapted to push through the snow for forage.
The rich, beef-like meat, is low in fat and cholesterol, and high in protein, Omega-3's, and conjugated linoleic acid. Yak meat popular at farmers markets and can be found at select Nepalese, Tibetan, and Indian eateries like Sherpa's Adventurer's Restaurant & Bar in Boulder.
Located in a funky old house, this Sherpa-owned and-operated spot (which donates proceeds back to owner/outdoor guide Pemba Sherpa's community in Nepal) serves up homey dishes like thupka, a brothy soup loaded with meat and handmade noodles, and Sherpa Stew, hearty meat soup enriched with dumplings. Although you can order both dishes with other types of meat or vegetarian, for me, it's all about the braised yak.