It's officially shoulder season in Aspen, which to the uninitiated means you have the fall foliage and idyllic Indian summer days (global warming notwithstanding) to yourself. It is, therefore, the ideal time to visit, especially because you can avail yourself of great deals, from the Limelight packages, to local restaurant, bar, and outdoor activity specials. Without further ado, I present you with some of the best ways to spend off-season in the Roaring Fork Valley.
Hike to the Fall Colors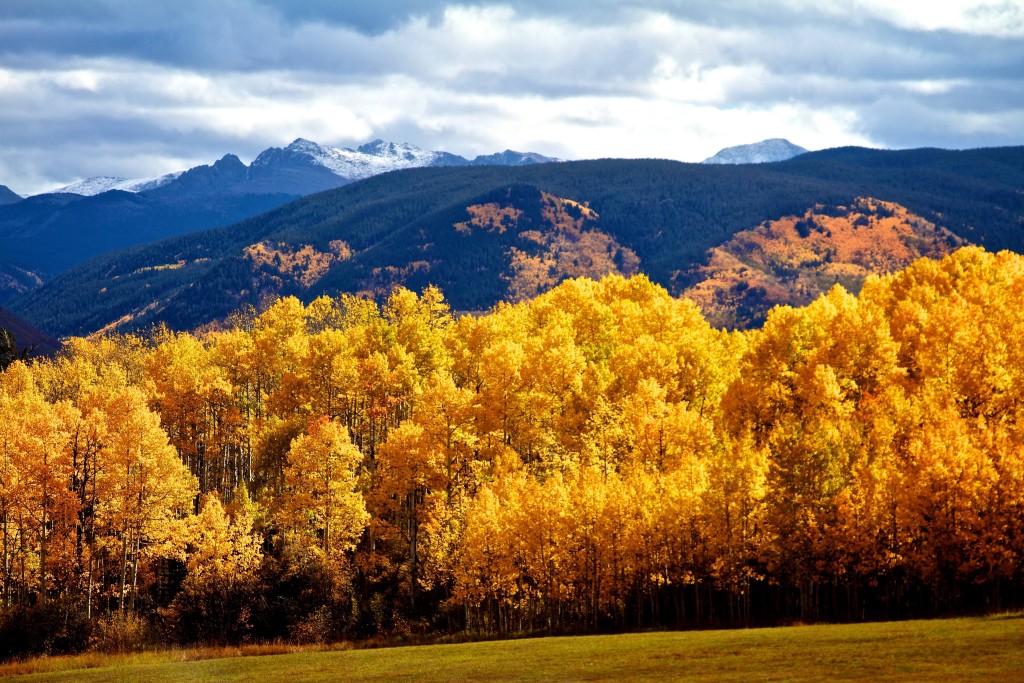 If you've never spent an autumn in Colorado, you may be surprised to discover that our fall is spectacular.
Right now, the aspens are turning, creating bursts of gold across the mountains. It's a dramatic event beloved by locals, and there's no better way to experience it than by heading out on a day hike. My pick is West Maroon Pass, the trailhead for which (via the Crater Lake Trail) is located less than seven miles from downtown Aspen (the Limelight provides free shuttle service, fyi).
It's inarguably Colorado's most famous wildflower hike, but most visitors think to make the 12-mile trek over the Elk Range to Crested Butte in fall. That's a shame, because you'll find few other people on the trail, and the scenery is stunning. Be sure to bring lots of layers, bring a pair of waterproof shoes or walking sticks for navigating creek crossings (trust me on this; I'm an experiential learner), and get an early start to avoid inclement weather. Allow six hours for the full hike, if you're in good physical shape and acclimated to the altitude (the summit of West Maroon Pass tops out at 12,500 feet).
Fly-fishing with a Twist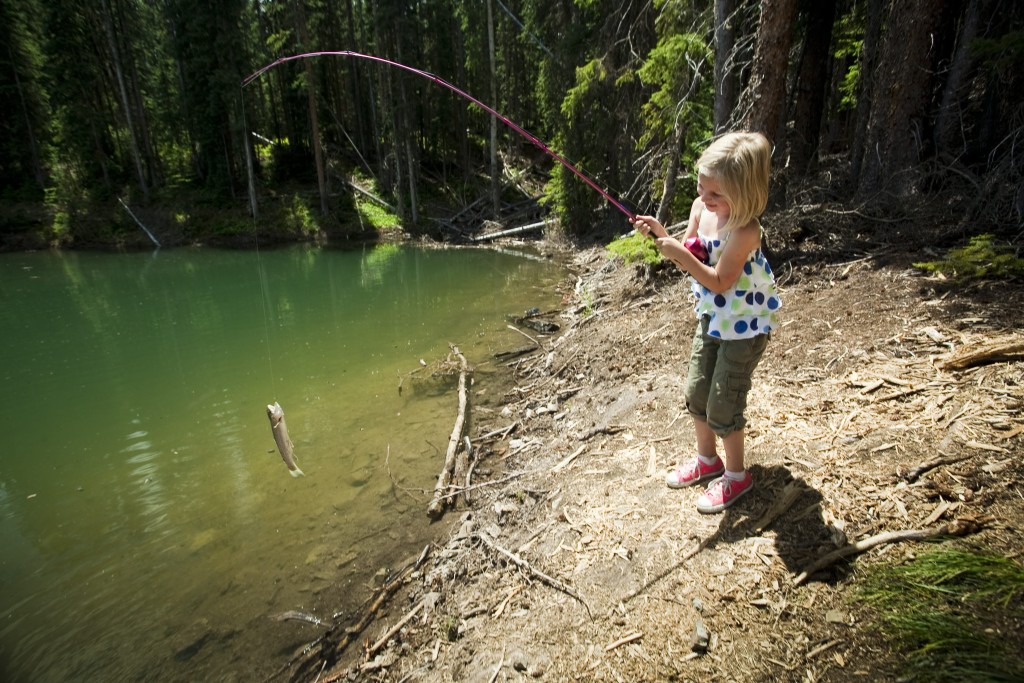 The Aspen area is a world-class destination for this sport, but Basalt, 18 miles downvalley, is its epicenter (in 2013, the town hosted the Fly Fishing Team USA National Championship). If you choose to go with an outfitter, Limelight guests have access to sister property The Little Nell's Adventure program.
They'll put together a personalized trip on the gold medal waters of the Frying Pan or Roaring Fork Rivers, including access to a hand-crafted wooden boat, an elaborate picnic lunch, and customizable options such as horseback fly-fishing in the Maroon Bells Wilderness, or a Whiskey Fly Experience that includes a visit to award-winning Woody Creek Distillers in Basalt and special pairing dinner at the Nell's signature Element 47 restaurant,
Go Paragliding
What better way to check out the fall colors than while soaring off the summit of Aspen Mountain, at 11,200 feet? Check out Aspen Paragliding, a USHPA-certified school that also offers instruction, certification, and clinics; the fall season ends around October 15.
Get Peddling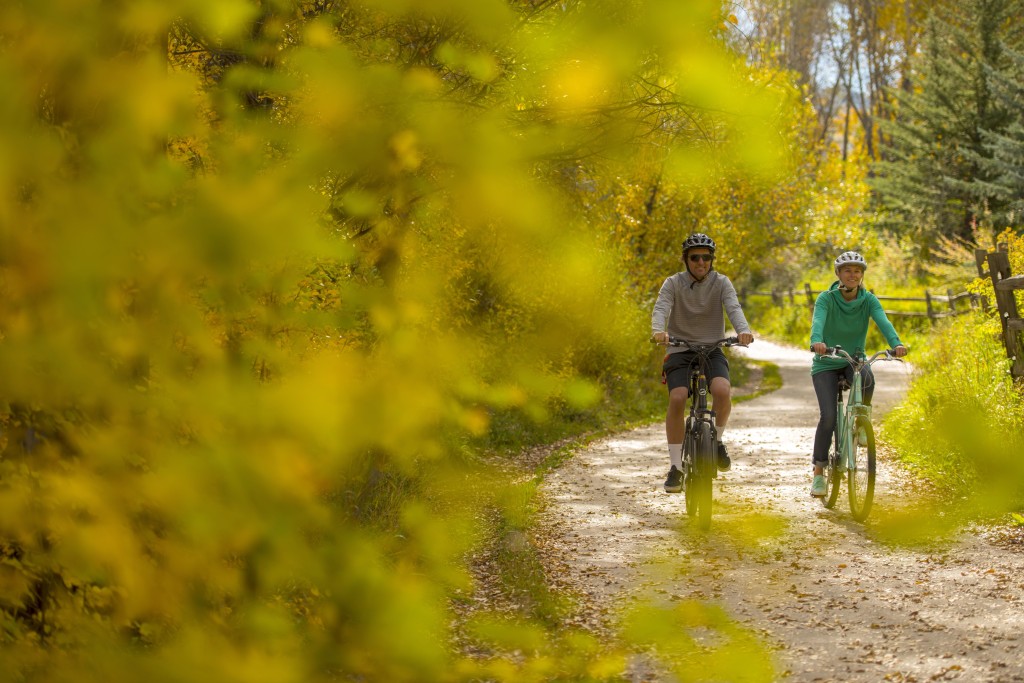 The pride of the valley, the 41-mile Rio Grande Trail follows the former Denver-Rio Grande Railroad bed from Aspen to Glenwood Springs. It's multi-use, but if biking is your thing- be it fixed gear or hardcore- don't miss this distinctive way to sightsee. The Aspen-to-Carbondale leg is the most scenic stretch, and will take you along the Roaring Fork River, past groves off aspen, historic ranches, and across original wooden trestle bridges. The best way to get back to your hotel is by bus; check out the schedule right here (do note it changes seasonally, so be sure it's the right version).
Tip: watch out- literally- for deer and suicidal chipmunks and golden-mantled ground squirrels.
Hit the Trail Horseback
The Roaring Fork Valley has a strong ranching heritage that thrives to this day. If you're biking or motoring the back roads in fall, you're likely to encounter a "cattle jam," as ranchers bring their herds down from summer pasture; in Carbondale, even Main Street is a thoroughfare for the occasional cattle drive.
There's no better way to explore the backcountry than by taking a trail ride or pack trip (hunting trips are also offered this time of year) through a local stable. I recommend Aspen Wilderness Outfitters.
Should season in Aspen is brimming with possibility. Plus, with discounted rooms, you can stay in a downtown aspen hotel for less. Score.