Ski towns simply don't have a shortage of pizza. Between après, late night revelry, and the need for on-the-go lunches (all the better to get you back to your outdoor recreational pursuit of choice), a slice is never more than a few minutes' walk, stumble, or schuss away. Aspen is no exception, with everything from national chains who deliver to made-to-order on-mountain options and wood-fired fine-dining pies.
I've done the hard work for you via extensive research (somebody's gotta do it). The following is my favorite pizza in Aspen, and under what circumstances they're best enjoyed. Here's the Aspen pizza scene. 
New York Pizza
It's not just one of Aspen's only late-night options– it's the best (and open till 2am). Brave the line out the door and down the stairs and line your stomach post-bar or -show with a fresh-from-the-oven, oversized slice or three.
Limelight LOUNGE

Aspen's best Happy Hour specials aren't just about beer, wine, and booze. Tasty, ten-dollar, personal-sized wood-fired pizzas to order? Yes, please. And one for the road. Check the rotating menu for seasonal pizza offerings.
Brunelleschi's
Busy and family-friendly, this is the spot for crisp pies loaded with every conceivable permutation of toppings, and equally stuffed calzones.
Slopeside Lanes
A bowling alley with great wood-fired pizza? Yup. Locals love this Snowmass spot.
Elk Camp and Up 4 Pizza, Snowmass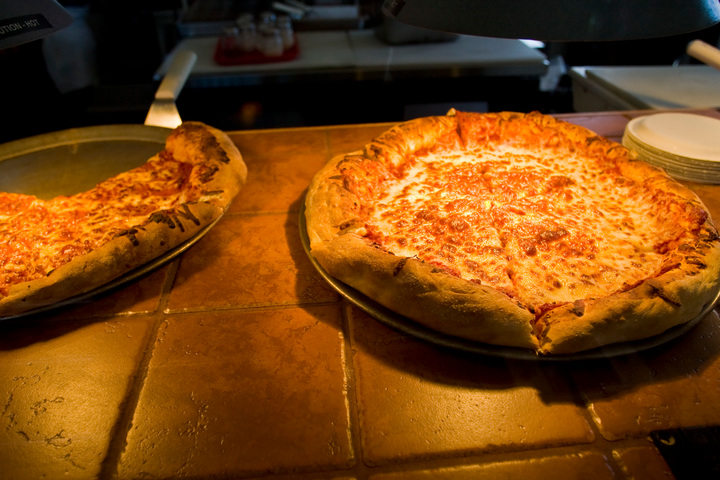 Elk Camp- located at the summit of the Snowmass gondola of the same name- redefines what on-mountain dining should be (delicious, locally or in-state-sourced, and sustainable whenever possible). The made-to-order personal pies are even more delish when you take into account the altitude (18,300 feet). For a more fast-casual snack, hit up Up 4 Pizza at the top of Big Burn Lift- beloved for its excellent pies (made at 11,835 feet) and righteous cookies.