My friends who visit from other parts of the country have a hard time believing how many free activities Aspen has to offer. High up on my list are the many chances to take in music during the summer months. Summers in Colorado are amazing because there's no humidity and we have more bluebird days than just about anywhere else. This perfect climate means that many of the free concerts I'm going to talk about below take place outdoors.
Music, mountain vistas, or dancing the night away? Sign us up! Here is a taste of the free music in Aspen this summer. 
Local Bands at The Lounge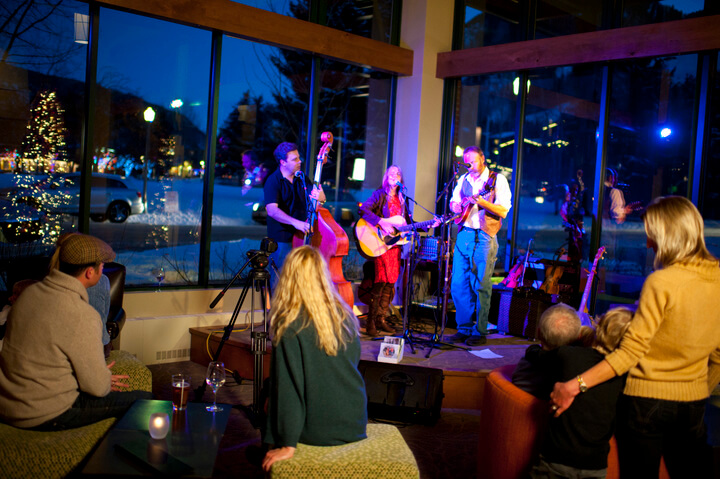 To start your free music in Aspen tour, look no further than downtown. The Limelight Hotel is located in the heart of all the action (across from Wagner Park and the walking mall) and has live music for "après" every Thursday through Monday from 6:30-9:30pm.
If you're not familiar with ski town lingo, après-ski literally translates as after skiing and it's the time when skiers leave the slopes to enjoy a cocktail. Aspen's talented local musicians play sets each afternoon into the early evening. The Limelight has après food and drink specials starting at 3:00pm daily that really makes this the best place to head after outdoor recreation.
Snowmass Free Concert Series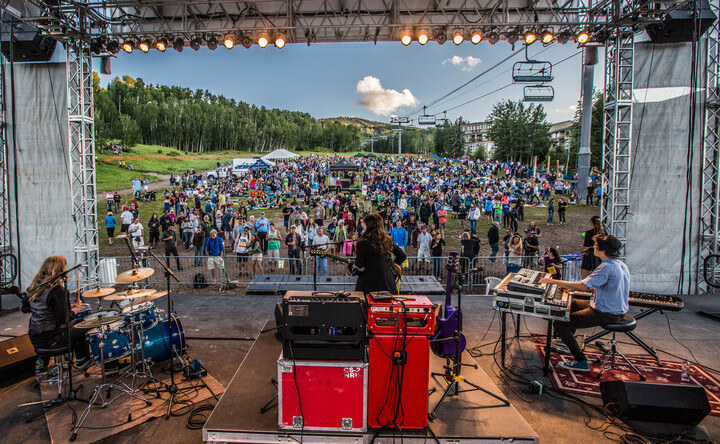 Aspen locals will all tell you that we kick off our summer weekends on Thursday nights. Everyone heads to Snowmass Mountain (a quick, free bus ride away) for the Snowmass Free Concert Series. Starting June 15 and running through August 17, Fanny Hill is the perfect outdoor concert venue to watch the sun go down. Well known national acts including Lukas Nelson, Head for the Hills, and Brother's Keeper featuring the legendary John Popper are among the headliners.
Classical Saturdays
Our free music offerings aren't just for rock fans. Thanks to the Aspen Music Festival and School, our community has deep classical roots.
Top students and performers from all over the world come to Aspen each summer to learn, teach, and perform. While events at the Benedict Music Tent can be both formal and pricey, the public is welcome to take in music and the view on top of Aspen Mountain each Saturday. Hike to 11,000 feet from town or take the gondola up for a nominal fee and enjoy the talents of music festival students performing from their vast repertoires.
Bluegrass Sundays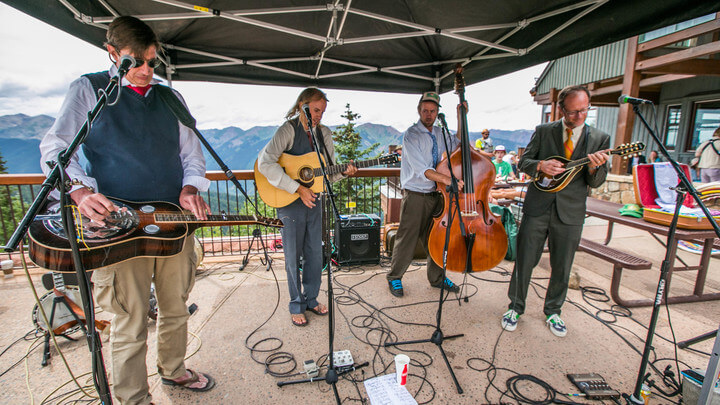 Sundays are a second opportunity to enjoy music from the top of Aspen Mountain. Each week a different Bluegrass act from all over the state will take the stage for an al fresco performance. Many locals hike up each week to listen to the music and enjoy a late lunch from the Sundeck.
Belly Up
If you're looking for after hours music, Belly Up Aspen has you covered and a number of their shows are free! Local DJ Berkel Beats will headline in mid-June with his signature bass infused classic rock, hip-hop, trap, dubstep, and house music. There's no cover until 10:30pm, at which point it goes up to just $5. For a more mellow scene try The Last Revel, a folk acoustic rock trio playing an all-ages show on June 11.
Belly Up has a variety of music throughout the summer season, their calendar is updated all the time with new shows. Whether you come in the middle of the week or a holiday weekend, you can easily find free music in Aspen this summer!