Author and fly fishing enthusiast John D. Voelker (better known by his pen name, Robert Traver) once said, "The best time to go fishing is when you can get away."
Anytime you can escape the hustle and bustle of your daily routine, you should grab that opportunity with both hands and not let go. If you're getting away from it all in Aspen, Colorado, you're lucky enough to enjoy world-class fly fishing at the nearby rivers, creeks, and lakes. If you're a first-timer, try a customized fly fishing adventure created by our sister hotel, The Little Nell. As for those anglers with a bit more experience who are comfortable hitting the waters on their own, Aspen offers numerous locales for the perfect day of fly fishing.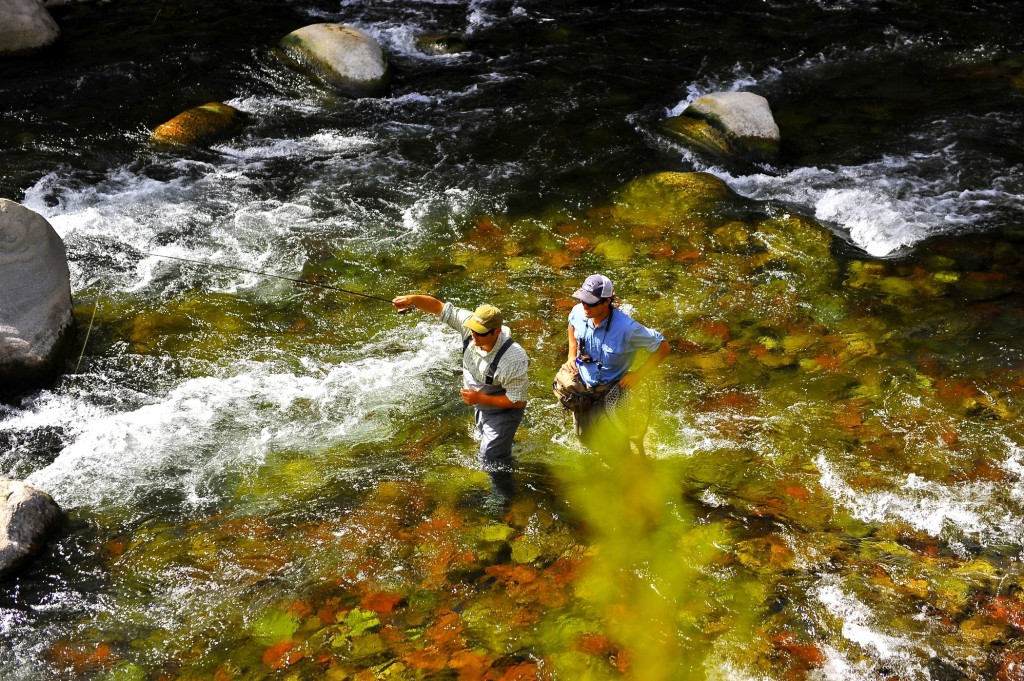 Roaring Fork River
Home to four different species of trout, this stream just outside of Glenwood Springs is an idyllic spot for a day of fly fishing. With headwaters beginning seventy miles away at the top of Independence Pass, the stream passes through Roaring Fork Valley and with all of those miles, offers a variety of water types for fly fishing sportsmen to enjoy.
Maroon Creek
Less than two and a half miles away from Aspen, and nestled in the heart of some of the most stunning mountains in the world, this stream is found in the Maroon Bells scenic area. Fly fishermen can catch Brook and Cutthroat Trout at Maroon Creek. The east branch of the stream bypasses Maroon Lake while the western one flows directly into the lake. Many expert fly fishermen recommend the western branch near the lake for active spots.
Maroon Lake
Sitting 9,850 feet above sea level, this lake's basin was carved out of the earth by Ice Age glaciers. Offering a selection of bass and trout species for fly fishermen to reel in, Maroon Lake isn't just a fantastic spot for angling. The natural beauty is so awe-inspiring, you might arrive there to find yourself unable to tear your eyes from the scenery. With easy access to a parking lot, Maroon Lake is a nearby fly fishing getaway perfect for a day trip.
Snowmass Lake
For the outdoor enthusiast with a passion for fly fishing, Snowmass Lake is just the ticket. Hike in along the Maroon-Snowmass Trail before wading into the lake's water to try your hand at landing some magnificent Brook Trout (mostly active in the morning and evening). Due to being only trail accessible, plan on visiting the breathtaking, secluded Snowmass Lake between June and September.
Fryingpan River
An angler's paradise year round, Fryingpan River is a tributary of the Roaring Fork River that offers a variety of fish sportsmen can attempt to reel in. As a matter of fact, Fryingpan River is home to one of the most prolific insect hatches of any body of water in the western United States. Furthermore, the waters between of Fryingpan River found between Ruedi Reservoir and the confluence with Roaring Fork River are considered gold medal status, home to Brown, Rainbow, Cutthroat, And Brook Trout varieties.