Downhill skiing is all about the rush. The turns. The powder. The first time you conquer a black diamond run.
But what about the elusive uphill skiing (or skinning)?
Yes, uphill skiing should be on your radar, especially if you're a self-identified shredder or shred Betty who's looking for new adventure. Now, you may be thinking, "Why on earth would anyone want to ski uphill? Isn't it hard? Don't you get sweaty? Isn't that what the chairlift is for?"
Well, the answer to all of those questions is 'Yes.' It is hard. You will get sweaty. And that's exactly what the chairlift is for. But the reasons shredheads should try skiing uphill are numerous. If any of the reasons below resonate with you, consider taking the next step in your skiing career.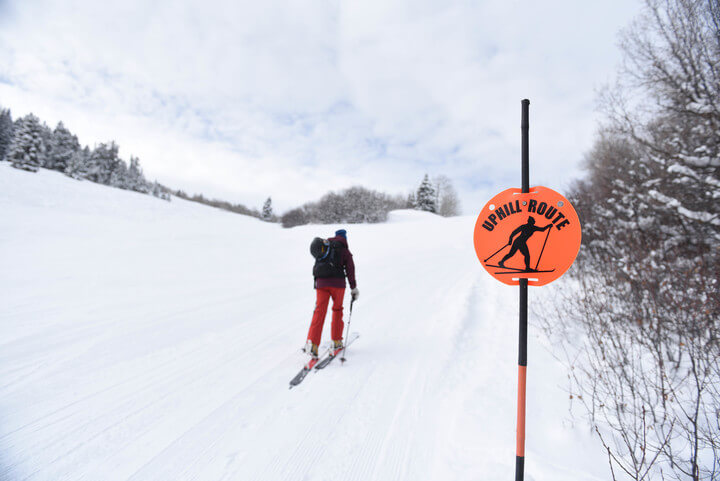 It's Beautiful
If you like to hike and you like to ski, you'll love to ski uphill. Unless you're skinning up a cat track at the resort, it's a guarantee that you'll be off the beaten path and surrounded by nature. The views in the Wood River Valley are spectacular from up north (where most of Ketchum's uphill skiing happens), and on a clear, bluebird day, the 360º views are breathtaking.
No People
This means two things: no lift lines, and you have the right of way the whole way down. You won't run into the slowpoke at the bottom of the mountain, and you won't have to worry about the crazy group of kids that are threatening your peaceful, quiet ski session. There are no slow signs; no ski patrol. There are NO people.
U
ntracked Powder
If you're a shredder, then you most likely live for untracked powder, face shots, and The White Room in general. If you time your adventure right, and you find the right pockets, this can be your reality every time you ski uphill. Bring your snorkel. You never know when you're going to need it in the backcountry.
Accomplished (and sweaty) 
Using your body to access terrain that would otherwise be inaccessible is incredibly rewarding. You feel accomplished, tired, happy, and excited to do it again. Also, being on a skin track with your friends gives you more time to laugh, get a good catch up chat in, and make a memory you'll cherish forever.
Also, uphill skiing can burn 680 calories per hour while downhill skiing burns closer to 400. Go ahead and get fries on the side, you've earned them.
YOLO
You only live one. Need we say more?
A Word of Caution
Folks, earning your turns is amazing and fun and fulfilling. It is also a high-risk endeavor and can be very dangerous (read: deadly). It should only be done with people with whom you feel safe, and with people who are educated about snowpack conditions and backcountry safety. Avalanches are a threat to this activity, and we do not encourage you to go when you don't know how to keep yourself and your friends safe.
If you are someone who wants to get into the backcountry and you're a strong skier but have minimal or no avalanche safety training, there are resources for education as well as guide services available for you to ensure that you have a fun and, most importantly, safe day skiing. Fresh powder is far less important than staying alive. Don't forget it.
That being said, it is worth putting in the time and energy to try it.
Whether you're happy to stay on the mountain, or you're eager to get out into the backcountry, you'll always have a place back at The Limelight hotel to rest your noodle-y legs upon your safe return! If you're staying in Aspen, Sun Valley, or Snowmass, book a room.