In a town known for imbibing and excess, it's no surprise that Aspen mixologists have created some seriously over-the-top cocktails. There's a difference, however, between the ludicrous (Bloody Mary's piled with a grocery store's worth of garnishes; slapdash combinations of high-octane booze designed for maximum intoxication) and intelligent (well-balanced proportions and flavors; thoughtful use of premium spirits and garnishes, attention to seasonality).
With intelligence in mind, I conducted my own research on a recent après ski outing and came up with five cocktails-about-town worth the hype (if not the price tag, but hey, this is Aspen).
Billionaire Vieux Carré, Chefs Club by FOOD & WINE at the St. Regis Aspen
Yes, it's $400.
That's what happens when you combine Pappy Van Winkle's Family Reserve 20yr (retail price: approximately $2,999 a bottle), Louis XIII Cognac, Carpano Antica Sweet Vermouth and Benedictine.
While bar manager Matt Corbin says he wishes this luxurious libation were his creation, "the Vieux Carré actually a very famous cocktail from 1930s New Orleans, traditionally served in Duncan & Miller Adoration crystal stemware from that era."  What better place to partake than at the bar of this groundbreaking concept restaurant? Intoxicating, in more ways than one.
Espresso Martini, Hooch

This swank basement "craft cocktail bar," from the team behind Meat & Cheese Restaurant & Farm Shop, is known for its seasonal libations and is a favorite after-hours haunt for F & B folks. Sometimes, your energy flags during a night on the town and after age 30, drinking Red Bull and vodka is lame. This is where the Espresso Martini comes in.
The components- Ketel One Vodka, Marble Distilling Co. Moonlight EXpresso coffee liqueur, Dos Maderas Rum PX 5+5 (aged for seven years in Sherry casks), Tempus Fugit Crème de Cacao, Bailey's Irish Cream and a scattering of gold flakes- read like a liquid candy bar for grown-ups, but fear not. This smooth concoction is a sophisticated pick-me-up free of jitters, chemicals, and associations with wet T-shirt contests. Amen.
Toco Madeira, Justice Snow's
There are flaming drinks that are just for show, and then there are fiery potions that serve a purpose (and yeah, they look cool). Justice Snow's is known for its creative mixology and encyclopedic bar menu featuring top-shelf and esoteric spirits.
The Toco Madeira starts with a bartender wielding a butane torch to "flame" a sprig of rosemary, which is then placed in a glass with Pernod Absinthe; additional flaming ensues to burn off the alcohol. The end result combines absinthe, Del Maguey VIDA de San Luis Del Rio®, Green Chartreuse and lime juice, served on the rocks.
It tastes, in the words of my companion, like a "licorice-basted barbecue," in the best possible way.
Dominant top notes of anise and wood smoke make for a beguiling, sexy beverage, but be aware that if you don't consume it fairly quickly, the aromas dissipate, leaving you with a drink reminiscent of a well-made Margarita. Win-win.
Margarita 47, The Little Nell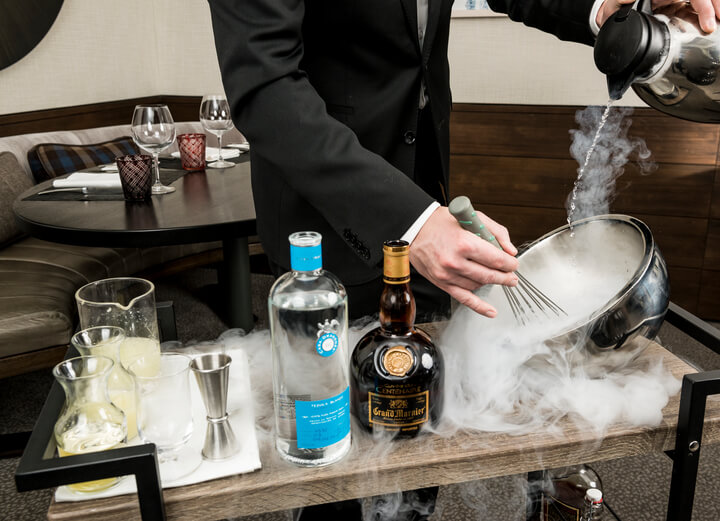 Speaking of Margs, the Limelight's sister hotel offers a showy- but oh-so-satisfying- tableside version, made with Tequila Casa Dragones Blanco, a touch of Grand Marnier and a generous amount of liquid nitrogen (both for effect and to chill the cocktail).
Get it at signature restaurant Element 47 (which also just happens to be how many ducats you'll pay for the spectacle). Just remember- friends don't let friends drink cocktails made in frozen slush machines.
Beluga and Caviar, The Monarch
If you're a classicist, then you know that red wine and steak is overrated. It's all about the Martini, and at this London-style steakhouse, it's go big, or go home. Belgua Gold Line Noble Russian Vodka gets glammed up with caviar and cucumber. 'Nuff said.
Recover
Got a raging hangover? Hotel guests can revive in the Limelight LOUNGE with an all-you-can-eat breakfast buffet, featuring coffee (lots and lots of coffee), tea, housemade granola, DIY pancakes, cold cuts, lox, pastries, fruit, hot dishes and more. Cheers.