Despite Colorado's notoriously fickle summer weather, we still average 300-plus days of sun a year. Summer in Aspen generally means temps in the upper 70s to low 80s, not counting monsoonal deluges, but the altitude somehow makes it seem hotter.
After you work up a sweat hiking, biking, or indulging in the multitude of other outdoor activities the region offers (power-shopping counts), one of the best ways to chill out is in a body of water. Whether it's an alpine lake, river, or hotel swimming pool, you're guaranteed stunning scenery.
These are the coolest local spots- literally- to kick back on summer's day. Don't forget a hat, sunscreen, and drinking water. You're welcome.
John Denver Sanctuary
My personal slice of heaven is this free public botanical garden/wetlands system a couple of blocks from downtown Aspen. This time of year, the flowers are in full bloom, and it's one of the most beautiful, serene spots in the Valley. On June 22, a series of new rock inscriptions from famous philosophers, poets, authors, and artists were completed; check them out in between wandering the rock gardens and wading in the pools.
Devil's Punchbowl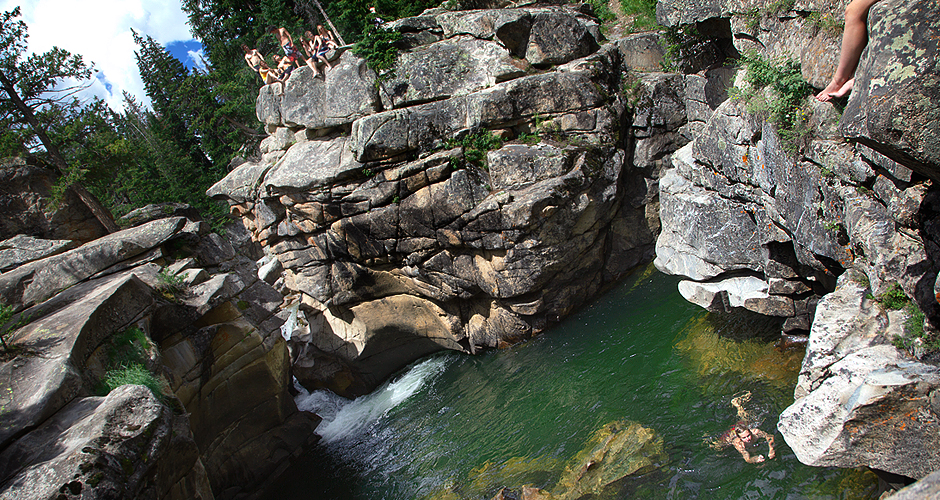 Two words: rock jumping. Cannonball into the icy waters of the Roaring Fork River at this alluring grotto seven miles past Aspen up Independence Pass, aka Hwy 82. Clothing optional; you've been warned.
Aspen Rec Center
If you're looking to swim laps, this is hands-down the sweetest rec center around. For a nominal day fee, you also get access to the gym, showers, hot tub, sauna, and steam room.
Ruedi Reservoir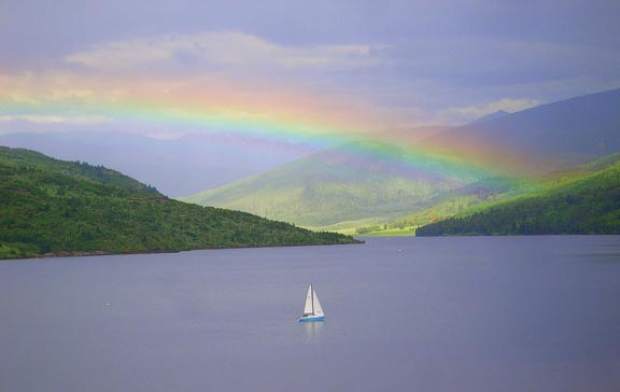 Photo Courtesy of The Aspen Times
Fifteen miles past Basalt lies this pastoral reservoir. It's a local's fave for SUP, paddling, sailing, motorized boating, swimming, and fishing. If sleeping on a beach surrounded by 13,000-foot peaks is your jam, there are four campgrounds to choose from. Bonus: There's scads of wildlife, including bighorn sheep, deer, and foxes.
Glenwood Springs Whitewater Park
River surfers and badass SUP'ers throng to this place, which boasts a serious wave feature- the first man-made one of its kind on the Colorado River. Pack some electrolytes and extra water, because downvalley can get seriously hot this time of year.
Alpine Lakes
The Aspen region abounds with crystalline and turquoise-hued lakes: bust a serious sweat hiking above timberline and brave a dip in pure snowmelt. Note that afternoon thunderstorms are the norm this time of year, so be sure to plan accordingly, bring layers, and brush up on your backcountry lightening safety. Fave local spots include Snowmass, Thomas, and Cathedral Lakes.
North Star Preserve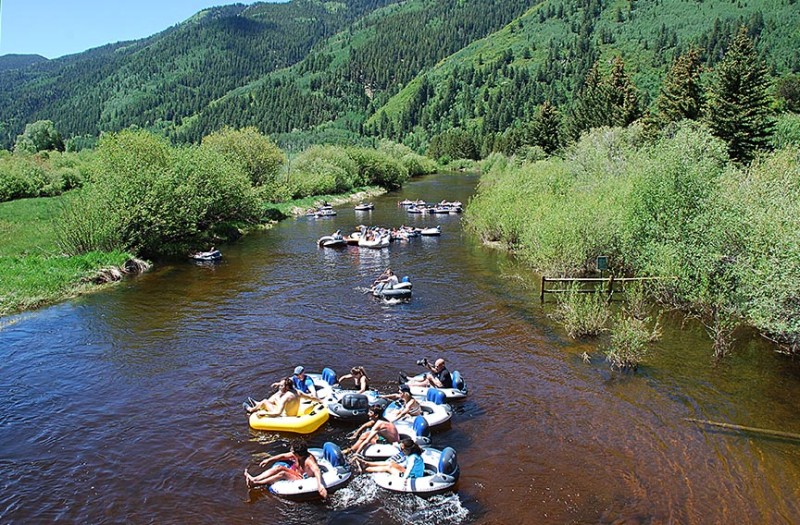 Head east on Highway 82, just past Aspen, and you'll find this peaceful meadow/wetlands area. It's a popular spot for mellow SUP, tubing, canoeing, or kayaking. Rent gear from local outfitters, or take a class from Sun Dog Athletics.
Need to book SUP or hiking suggestions? The Adventure Concierge at the Limelight is there for you. There's also a swimming pool just steps away…
[booknow]