If you're driving, the trip from our front door on Monarch Street in Aspen to the newly-remodeled Nordic Inn in beautiful Crested Butte, Colorado is 176 miles long and would take a little over three and a half hours to complete. Or you could save some gas, get some views, and hike from Aspen to Crested Butte through White River National Park with this once-in-a-lifetime experience.
You're probably thinking, "Whoa! There's no way I could hike over 100 miles!" Not to worry! With our Crested Butte Hike Experience, you'll only travel 11 miles on foot.
Two summers ago, we offered this hiking experience to guests, and they loved the escape into the heart of the Rocky Mountains. Due to the popularity of this outdoor adventure, we've decided to once again offer the Crested Butte Hiking Experience, which includes a 20% room discount.
The Experience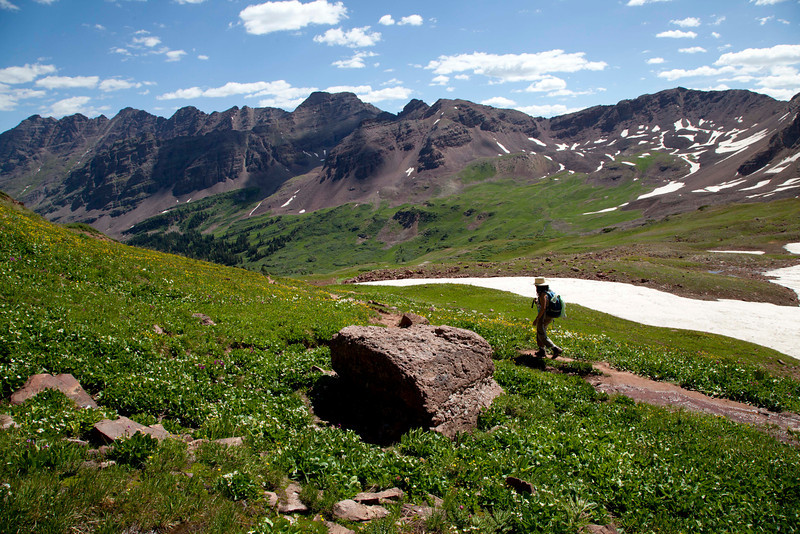 Photo Courtesy of Nordic Inn
We'll outfit you with a map and a Spot Satellite GPS Messenger when you set off on your six-hour hike at the Aspen trail head in White River National Park. For an additional $27, guests can have a packed lunch prepared from them at the Limelight to take on the hike.
During your six-hour hike, you'll take in some of the most beautiful scenery in Colorado. Observe stunning natural sites, such as Crystal River, Maroon Peak, and Belleview Mountain as you wander through the park. From the gorgeous wildflowers to the breathtaking mountain vistas, your hike through the White River National Forest will be a journey you'll never forget.
After your hike from Aspen to Crested Butte through the White River National Forest, private transportation will be waiting for you at the Crested Butte trailhead. From there, you'll be whisked away to the Nordic Inn, the first and only remaining lodge on the mountain since the ski resort opened 52 years ago.
So are you ready to hike from Aspen to Crested Butte? If so, book this incredible adventure by calling 970-925-3025 or 1-800-433-0832. Pricing for the Crested Butte Hike Experience is based on availability. Every guest can customize their Crested Butte Hike Experience by booking à la carte options when they call to reserve their spot.