What are you gonna be for Halloween? More importantly, Where are you gonna be for Halloween? The answer should be Aspen. Here's what's going on in Aspen to make your Halloween spooky-fun. We'll leave the costume up to you.
Take a walk on the dark side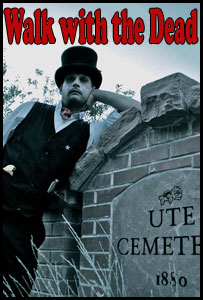 Dean's Aspen Walking Tours will lead you through the skeletons in Aspen's historical closet. Stroll through town—or the graveyard—as your host and guide Dean Weiler weaves tales of the silver boomtown's mysterious, macabre or simply forgotten past.
The DarkSide Tour (Oct. 28 and Oct. 31) highlights legends of Aspen's ghosts, murders and mayhem. If you're brave enough, take a Cemetery Tour (Oct. 18, Oct. 25, Nov. 1) and meet residents of Aspen's oldest graveyard, including the first skier buried in town, a skiing mail carrier. "The cemetery lends its own creepiness, so I let that take care of itself," Weiler says.
Carve it up
Carving turns is less than a month away. For now, carve a jack-o-lantern at Ryno's Pumpkin Carving Contest on Wednesday, Oct. 29. Pumpkins are provided. Local artist Heather Quinn will be creating in her street-art-inspired style. Of course, there will be pumpkin beer specials.
Find the party
Halloween is always a good time for locals. The Belly Up plays annual host to one of Aspen's biggest parties. This year's Danger Kitty "Dead or Alive" Halloween Party will mock-rock the house in '80s hair-metal style. And there's a costume contest with cash prizes. Don't hold back on the spandex and eyeliner. El Rincon has a DJ, costume contest, drink specials and no cover. And the members-only Caribou Club opens to the public for its annual Halloween Bash. Or just head down to Restaurant Row along Hopkins Avenue for good food, good drink and good times—spooky style.
Got another Halloween tip? Let us know. And tag your costume shot #llshine. If you're showing our logo, we'll buy you pizza and a beer or wine during your stay. Happy Halloween!