Fat-biking is a big fat deal. And when you see the big rigs rolling around the snow in Aspen, you're gonna want to try it. If you're any kind of mountain biker, you know the skinny on fatbikes: Those 4- to 5-inch wide tires give stability and traction. Their extremely low air pressure serves as suspension to cushion the bumps. And they provide float over just about any terrain, especially snow. Fatties are the monster trucks of cycling—fun all year-round, but especially sick on the snow. Here are three tips for fat-biking in Aspen.
Conditions are Key
When the powder's good, stick to your skis or snowboard. But two or three days after a good dump is prime time for a bike ride. Groomed or hard-packed snow is best. You don't want ice, and you don't want slush. And even a fatbike won't float you over untracked powder. If hikers, snowshoers or snowmobiles have packed a trail, say thanks and start pedaling.
Tips on Trails
For a beginner run, try the Rio Grande Trail, the Ditch Trail in Snowmass or Maroon Creek Road to Maroon Bells. For a more technical challenge and workout, hit the Smuggler Hunter Creek Loop. Or head up Independence Pass, but be ready to handle some screaming descents on snow. If you want a guided tour and riding tips, connect with Sun Dog Athletics.
Join the Fat Bike Party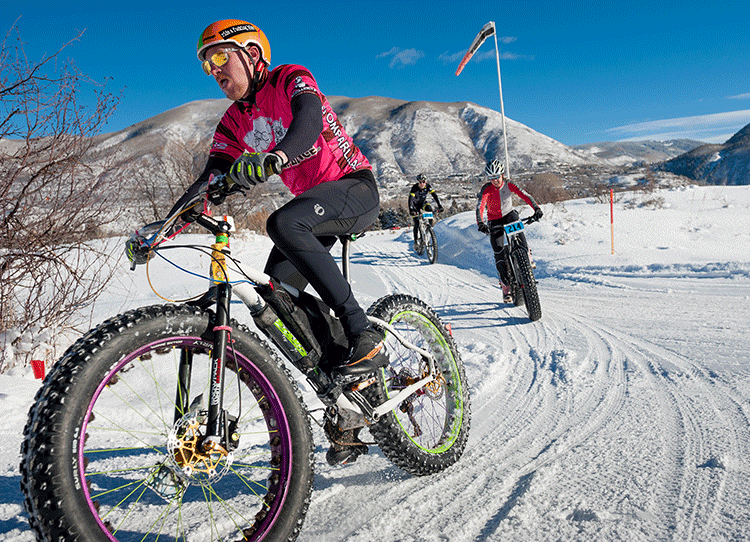 If you're here for Wintersköl (Jan. 8-11, 2015), test yourself against the locals in the Fat Cycle Challenge. You can go big in the competitive division or cruise in the recreational. Either way, a podium finish will score you sweet prizes. If your lungs aren't up for racing, demo a fat bike in the Bike Village or join the town ride, which starts and ends at the Limelight. Then stick around the Lounge for the Awards Party.