For a destination wedding, Aspen, Colorado is the ideal location for a variety of couples. Whether you and your fiance dream of a white wedding or a nontraditional nuptials ceremony, Aspen offers an array of venues to host your cherished celebration. Particularly if you and your betrothed imagine tying the knot outside, outdoor wedding venues in Aspen are some of the most romantic, breathtakingly beautiful locales to exchange your marital vows. These five stunning outdoor wedding venues in Aspen will make your special day an extraordinary one.
Aspen Center for Environmental Studies
Two of the four sites maintained by the Aspen Center for Environmental Studies, Hallam Lake and Rock Bottom Ranch, are available for rent as wedding venues. Enjoy a pastoral wedding on 113 acres of scenic land at Rock Bottom Ranch, where the rental fee includes use of the Field Studies Center and Covered Pole Barn. Hallam Lake sits on 25 acres of nature preserve, and is the perfect backdrop for a rustic wedding ceremony and reception. Both Hallam Lake and Rock Bottom Ranch are equipped with indoor and outdoor spaces to best accommodate your wedding plans, regardless of what turn the weather takes on your special day.
Aspen Historical Society
For couples planning on exchanging their vows between May and October, Aspen Historical Society offers three unique locations with outdoor spaces to host your nuptials: Ashcroft Ghost Town, Holden/Marolt Ranch, and Wheeler/Stallard Museum.
While only the ceremony can be hosted at Ashcroft Ghost Town, this historic site is a picturesque locale in Castle Creek Valley, just 11 miles south of Aspen. An old silver mill, Holden/Marolt Ranch is a historic alpine venue with magnificent views and serene surroundings.  Situated in Aspen's West End neighborhood, the Wheeler/Stallard Museum is a Victorian mansion built in 1888 overflowing with charm and hospitality.
Each of Aspen Historical Society's three sites has a personality of its own to accommodate the vision each couple has for their wedding day.
Elk Camp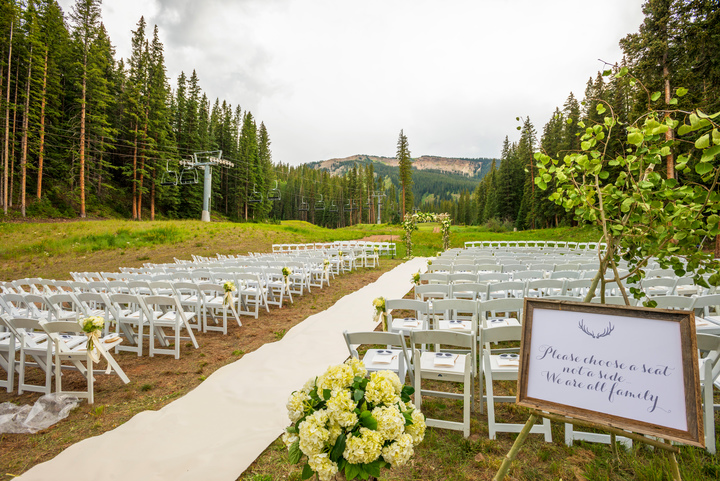 By day, Elk Camp on Snowmass Mountain is a cafeteria where skiers and snowboarders pop in to grab something to eat before hitting the slopes again.
However, on the nine minute gondola ride up to this newly built lodge, you'll be blown away by how this building transforms into an elegant wedding venue for up to 250 guests. Equipped with an intimate fireplace, separate bar area, and a sprawling outdoor patio with breathtaking mountain views, Elk Camp is a great venue for couples who love Aspen for its plethora of outdoor activities.
The Little Nell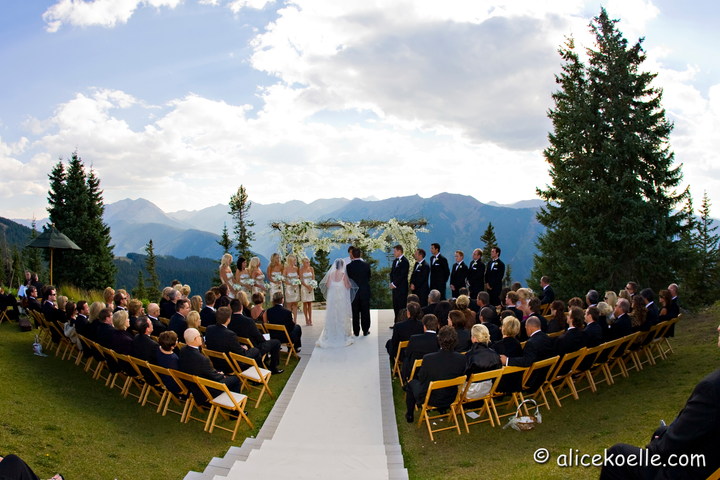 Over 11,000 feet above sea level, The Little Nell's Wedding Deck is a short gondola ride up into the Elk Mountains. This terrace can host up to 250 guests and offers some of the most magnificent views in Aspen. Next to the Wedding Deck is the Aspen Mountain Club, a private party room that makes an exquisite setting for a reception.
Another outdoor wedding venue option from The Little Nell, the Sundeck is 10,000 square feet of indoor and outdoor space with 30 foot ceilings and an incredible rock fireplace.
The Limelight Hotel
Of course we don't mean to brag, but our hotel offers engaged couples several venues to choose from to host their weddings, three of which are outdoors: Pool-Side Courtyard, Ajax Terrace, and Shadow Mountain Terrace.
Whether you want to host a casual get-together or a formal affair, here at the Limelight it's our job to make your dream wedding a reality. Right in downtown Aspen, our hotel is equipped to meet all of your guests' needs while insuring your wedding day is as perfect as you imagined it. If the weather takes a turn for the worse, you and your guests can enjoy our Monarch Room or Living Room/Lounge.
Photo credit: Jason+Gina Wedding Photographers