You've got a weekend free, and you're spending 48 hours in Aspen.
Lucky you. The question is, how do you maximize a short trip in a place that keeps locals occupied year-round?
The hardest part of this equation is narrowing your focus. Why are you coming to Aspen, and what's your main goal? Are you alone, with a friend, significant other, or family? Since personal preferences, physical fitness and ability levels, and budgets vary wildly, I've created a 48-hour breakdown of ways you can spend your time. Use it to help plan your trip, but be sure to allow yourself a bit of downtime to just…be. One of the best things about Aspen is its beauty- taking a walk is the most soulful way experience our town. Just don't forget to look away from those adorable Victorians and historic mining structures (and the goods at Prada) every so often- the mountains and alpenglow are pretty amazing, too.
Day One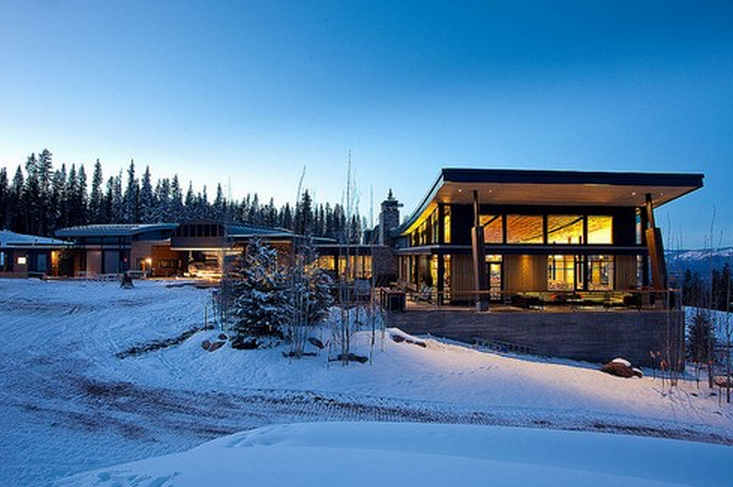 Morning: If you're staying at the Limelight, score, because you have the best all-inclusive breakfast buffet in town, making catching the first chair easy. If you're looking to expand your repertoire and want grab-and-go, head to Peach's Corner Café for housemade muffins and healthy offerings. If you prefer a casual sit-down meal, Main Street Bakery- while perennially packed- does righteous breakfast sammies and other AM staples. For a late morning bite, the best espresso in town/best deal on a locally-made croissant with housemade jam ($5) is at So at the Aspen Art Museum. The rooftop cafe and view of Ajax are aces. If you're more of a first tracks type, the oatmeal pancakes and strudel at Bonnie's- located on Aspen's mid-mountain- are legendary.
Afternoon: If you're in need of a lunch break after a morning of shredding, you've got options. Chill on the Sundeck at the top of the Silver Queen Gondola, or head to its base for the famous burger and truffle fries at Ajax Tavern (there will be a wait, so only do this if you're not jonesing to get back out on the mountain). At Snowmass, Elk Camp at the top of the gondola is known for its food- particularly the pizza bar (think wild mushroom with truffle oil), and mac-and-cheese.
Après ski: Aspen's version of this cultural tradition can be found at all of our four ski areas. In Highlands, it's all about Highland's Ale House; Buttermilk has Bumps, and in Snowmass, Ricard is the newest spot to draw end-of-day revelers (if you've got kids with you, the Snowmass's Very Important Kids program offers free activities from 3:30-4:30, daily). In Aspen, the Limelight has the best happy hour in town, with all kinds of food and drink deals (Check out Whiskey Wednesday; from 3-10pm, the Lounge offers a Colorado whiskey flight featuring Stranahan's, Woody Creek Rye, Breckenridge Bourbon, Leopold Brothers Small Batch Whiskey, and three candied bacon-and-pulled pork sliders with bourbon bbq sauce) for $16). Other après hot spots are J-Bar at the Hotel Jerome, Ajax Tavern at The Little Nell, and The Red Onion. Alternatively, enjoy a soak in the Limelight's hot tub, which affords slopeside views, free of crowds and craziness.
Evening: There's no shortage of restaurants in town, but my picks for a celebratory, two-day getaway meal? Cache Cache (it's rare to find such first-rate food and service- especially when it manages to be at once professional and genuinely friendly- in a major city, let alone a ski town. Caveat: it's gonna cost you). I also love two newcomers to the Aspen scene: Grey Lady, and Meat & Cheese (see Day Three). Chefs Club at the St. Regis is also a good pick- be sure to make a reservation and indulge in one of the seasonal cocktails from their nationally acclaimed bar program. Then, take in a show at the Belly Up (which hosts world-class live acts), Wheeler Opera House, or JAS Café at Limelight sister hotel The Little Nell. Got the kids with you? Check the local paper for family-friendly events- there's always something going on. Fridays are family-friendly in Snowmass, at Ullr Nights, which includes snow tubing, live music, ice skating, S'more's, and more.
Day Two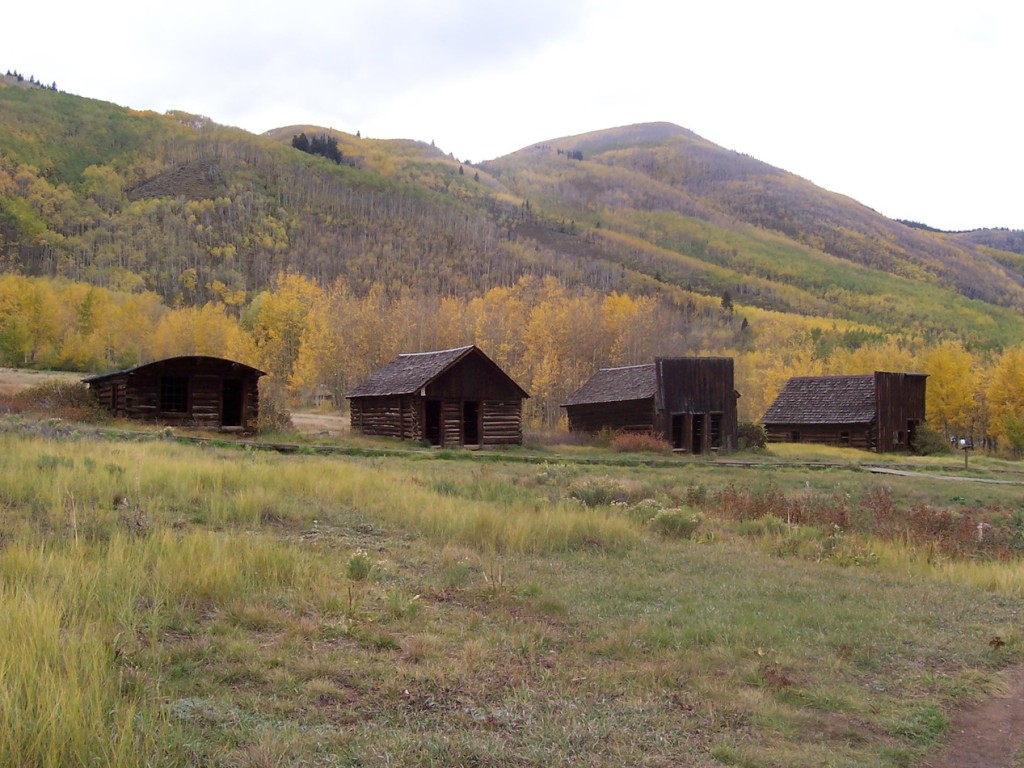 Morning: Head out to the ghost town of Ashcroft, 12 miles from Aspen. You can rent Nordic skis or snowshoes (it's privately owned, so you'll also need to pay a trail use fee- $25 full day, $15 half-day; the 60 miles of trails at Aspen's other three Nordic areas are free). You can hire a guide, but even if you're a novice, it's hard to get lost on the trail system.. Spend the morning exploring the stunning Castle Creek Valley and decrepit buildings from this former silver boom town.
Afternoon: Hungry? Head to Ashcroft's other main attraction: Pine Creek Cookhouse. You'll need to make advance reservations, but this fine-dining destination located in a cabin is a great place to unwind. Order a bottle of wine and dig into executive chef Chris Keating's locally and responsibly-sourced "American Alpine" cuisine. If Nordic isn't your jam, you can arrange to take a horse-drawn sleigh there and back.
You're sure to be in a food coma afterwards, and sore from two days of skiing. It's time to indulge; I'm a huge fan of the Viceroy Snowmass Spa. It's quirky, glam design and distinctive treatments (try the Sami Zen Ritual for total bliss) make it, in my opinion, the best spa in the Valley, and the amenities and hot plunge pool with waterfall are worth a day pass if you're on a budget.
Evening: Keep your spa-buzz going by chilling in front of the Limelight Lounge fireplace with a signature hot toddy like a Brandied Hot Chocolate (Hennessy Cognac, hot cocoa, Kahlua Coffee Liqueur, and whipped cream). For dinner, try Takah Sushi, a favorite local's hang with incredible food and a friendly, laid-back vibe. Head back to your room at the Limelight, and enjoy a nightcap before your private fireplace. Doesn't suck, does it?
Day Three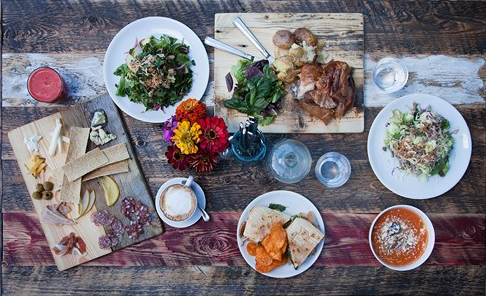 Morning: You'll need fuel for the road or your flight. There's no better place in town for takeway (or a casual sit-down lunch) than Meat & Cheese Restaurant & Farm Shop, owned by cheesemaker Wendy Mitchel of Basalt's award-winning Avalanche Cheese Company. The red-enameled rotisserie twirls crisp, golden-hued pastured-raised chickens and juicy porchetta; potatoes baste in the drippings, underneath. There's also insanely delicious and creative sandwiches on housemade bread, and thoughtfully curated offerings in the cheese and charcuterie cases (Avalanche also makes goat-and-pork salumi). To round out your meal, peruse the tiny produce stand and housewares section in back and wall of esoteric specialty foods. Now, say goodbye to Aspen, edible souvenirs in hand.