Christmas in Ketchum is a beautiful time of the year – snow is falling bountifully, the air has a crisp, icy scent that draws you further into the mountains and makes the idea of a fire so inviting. Families are reuniting, the chair lifts are running, and goggle tans are well underway.
Skiing is only one of the memorable winter time activities to do in Ketchum while you're here for the holidays. Check out what's happening in town this holiday season!
December 10-20
For those of you who are heading to the Wood River Valley a few weeks before Christmas, here are some unique opportunities that you shouldn't miss.
Nutcracker
The Sun Valley Ballet will be performing their annual Nutcracker show on December 9th at 7pm, December 10th at 2pm and at 7pm, and December 11th at 3pm at the nextStage Theater on Main Street in Ketchum. If you'd like to purchase tickets, please check the SVB ticketing page, or go to Chapter One Bookstore to buy them in person.
Full Moon Dinners
Galena Lodge will be hosting a Full Moon Dinner on December 14th and 15th. Bring your snowshoes or cross country skis up to the lodge for a quick workout and adventure on Galena's numerous trails then close out your evening excursion with dinner. There will only be one seating at 6:30, so be sure to book your reservation today!
Lighting Ceremony
Sun Valley's Christmas Tree Lighting ceremony will take place on December 17th at the Sun Valley Resort. Santa will be there alongside carolers and live holiday music. There will be free tasty treats and delicious hot cocoa, free 'wrap-n-run' gift wrapping service at Signatures from 2pm-8pm, and general merriment in Sun Valley Village. Festivities will begin at 5:30pm and the tree lighting will take place at 6:00pm. This is a beautiful memory-making opportunity.
December 20-31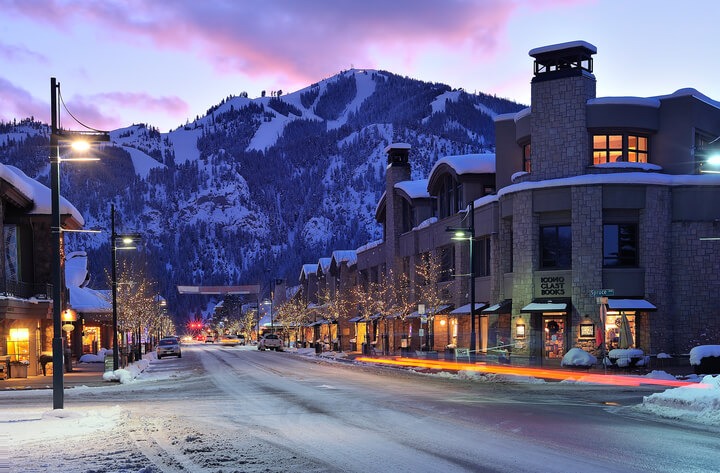 For all you late comers, here's a little sneak peek into the bustling holiday season in Ketchum.
Holiday Dinners
Holiday Dinners at Galena Lodge are a great way for the family to get a different, memorable winter dinner in the Wood River Valley. These dinner parties are seated at big, communal tables (though you are welcome to reserve a more private table of your own), and are served December 23-26 and December 29-31. Don't miss this opportunity to adventure and feast in one of the valley's most beautiful, albeit remote, locations. There will only be one seating per night at 6:30pm, so be sure to book a reservation. These dinners tend to fill up fast!
Christmas Eve Celebration
Sun Valley Resort's Christmas Eve Celebration on December 24th is a must see! The evening begins with the classic Sun Valley Holiday Ice Show and is followed by the Dollar Torch Light Parade. The Holiday Ice Show, complete with carolers and the Nutcracker On Ice, is truly a historic Sun Valley experience. The Torch Light Parade is when you'll get to watch some of Ketchum's finest residents ski down Dollar Mountain with torches set aflame. The bleachers at the Sun Valley Ice Rink and the terrace seating at Sun Valley Lodge will be available for seating at 3pm, and the parade at Dollar will start at 6:15pm. Don't miss this!
NYE
The last hurrah of Ketchum's holiday season is celebrated on New Year's Eve. Sun Valley Resort and the Sun Valley Center for the Arts put on an annual fundraising extravaganza called the Bubbly Bash at River Run Lodge.
This cocktail attire, ticketed event, is a sure bet if you're looking for a good party on New Year's Eve. Free champagne will be flowing from 9-10pm! Tickets are on sale NOW for $85 until November 14th, at which point they jump to $100. Get them online or buy them in person at The Center's ticket box in town. Be aware that you must be 21 to purchase tickets and attend the event. The Bubbly Bash has been sold out every year, so start your planning. Welcome 2017 in style with the folks you love while supporting a great organization whose impact in the Wood River Valley is far reaching.
Don't forget, if you need a place to stay over the holiday season, the Limelight Hotel has you covered.