Aspen Snowmass has something for everyone. Experts can get as extreme as they want by hiking the Highlands Bowl, heading to the Cirque Headwall on Snowmass, or skiing any of the expert terrains on Ajax (local speak for Aspen Mountain). But what about beginners? The name of our area evokes images of steep peaks and intimidating runs, but there is so much more to Aspen than that.
Newbies
If you're brand-new to skiing, head over to Buttermilk. Their in-house rental department will get you sorted out with all of the gear needed to hit the slopes. Make sure to buy or rent a helmet, it's an investment that you'll be happy that you made.
Now if it were me, I'd book my "Beginner's Magic" lesson well before arriving. That way you'll know that you're all set. Doing so is easy through the Aspen Snowmass website, and if you're staying at the Limelight, the concierge can also get you all setup.
Private vs. Group
You'll have to decide whether you want a private lesson or a group lesson. Private lessons are pricey, but effective. If you only have a couple of days and you really want to gain skills and confidence as quickly as possible, the splurge will be well worth it. If you're looking for a fun and social experience, sign up to go with a group. Or better yet, come to Aspen with a group of fellow novices!
For strong intermediate skiers who want to keep up with local friends or perhaps a more advanced significant other, lessons are (shocker) STILL the way to go. Don't try to learn from a boyfriend, girlfriend, or spouse. As an old Aspen Snowmass ad said: going with a ski pro can save your relationship. Our ski pros are here to help with whatever your desired goals may be, and so you can request to work on moving more quickly through the bumps, skiing powder without toppling forward, navigating steep pitches, or simply feeling more agile and competent.
Another piece of advice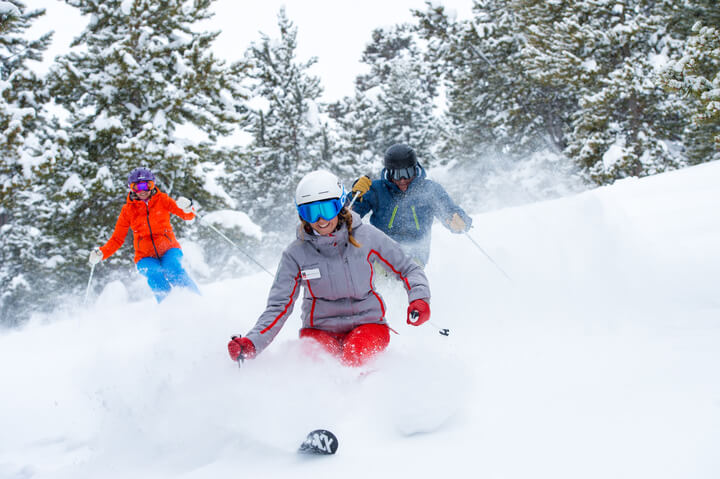 Aspen Snowmass boasts some of the top instructors in the world. Be honest about your ability level and goals. With the right instructor, you'll find someone who adjusts his or her teaching style to fit your learning style. Skiing is meant to be fun, so if you find that you're with a group that is too advanced or focused on something that you've already mastered, speak up and find a group and instructor that fits your needs. This is your vacation, make the most of it!
Après!
While it's certainly not the best part of skiing, on certain days après-ski can feel like the most rewarding part of this sport. Make sure to have a good après game-plan in place. For me that involves a "Smuggler" (hot chocolate and peppermint Schnapps) next to the grand fireplace in the lobby of the Limelight Hotel followed by a solid session in the outdoor hot tub.