Canines rule in ski/mountain towns, and Aspen is no exception. If you're visiting, you'll find that clean, well-behaved dogs are welcome in many businesses, including hotels like the Limelight and sister property The Little Nell.
There are literally dozens of dog-friendly hikes in the Aspen area, and I've highlighted some of my faves in this post. They're all highly scenic, with varying degrees of difficulty and accessibility. Note that dogs must be kept on-leash in Pitkin County, although you'll find that on many trails, locals let their pets loose. Please be honest about assessing your dog's ability to adhere to voice and sight command, especially where wildlife are concerned, and heed Aspen's strict laws regarding picking up after your pet.
Need to leave your furry friend at home? You can borrow a dog/hiking buddy from the Aspen Animal Shelter's "Rent-a-Pet" program for anywhere from two hours to a weekend. The goal is to socialize and exercise the animals, which are all available for adoption.
My favorite in-town hike, with or without a canine companion (Limelight guests can hop the free hotel shuttle). This moderate, six-mile (roundtrip) trail winds up a forested, hanging valley with waterfalls, bridges, and views of the Elk Mountains. There are some steep, narrow, rocky parts that aren't ideal for large breeds like Bernese Mountain Dogs.
This steep, switchback-heavy 6.4 mile (roundtrip) trail ends at an alpine lake located at 11,866 feet. If you and your dog are acclimated to the altitude and fit, go early to beat summer electrical storms (Rule No. 1 in the mountains: always wear layers), and bring your swimsuit and/or fishing gear.
Looking for something mellow? This 1.5-mile dirt track meanders through the aspens along Castle Creek, connecting the ghost town of Ashcroft (hit Pine Creek Cookhouse for lunch; reservations recommended). An even shorter running/walking trail is Weller Lake, which is a half-mile east of town, at the start of Independence Pass.
This strenuous, 12-mile hike starts at the Maroon Bells and ends at Schofield Pass, 13 miles from Crested Butte. It's a favorite summertime outing, especially in July when the wildflowers are in full bloom. The Limelight adventure concierge will provide shuttle service (plan on hitting the trail by 7am to avoid inclement weather) and a GPS; be sure to arrange transportation into Crested Butte if you're not camping at the trailhead or hiking round-trip. The hike is just as stunning in fall, when the aspens turn the meadows and mountainsides into a sea of gold.
A favorite of locals, this moderate 3.6-miles (one-way) hike is in the Collegiate Peaks Wilderness, just off of Independence Pass. It ascends through forest, meadow, and alpine tundra before ending at its namesake lake.
Tips for traveling to Aspen with your pet: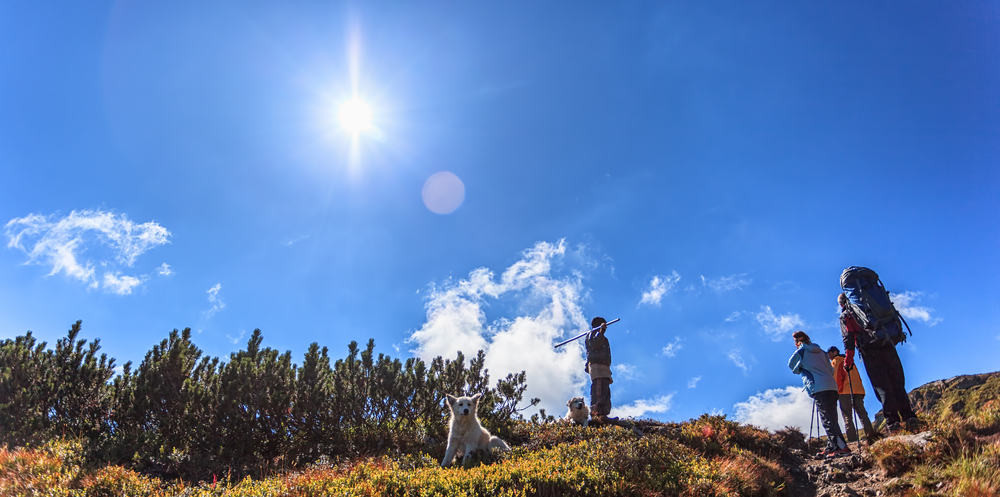 Dogs are just as susceptible to altitude-related problems as their human companies. Be sure you both stay well-hydrated, and acclimate for a couple of days before taking on any major hikes. If your pet has light-colored eyes and/or coat, be aware that sunburn or eye damage can be an issue; opt to hike in the morning or late afternoon.
Don't let your dog drink from creeks, rivers, lakes, etc. They're frequently a source of giardia, which will necessitate a trip to the vet.
For 24-hour emergency services, Valley Emergency Pet Care (VEPC) is located approximately 16 miles downvalley, Basalt.
Many local campgrounds allow pets, but do your research, first.
Be sure your dog has up-to-date tags and vaccinations.
Want more details on how to enjoy Aspen and beyond with your dog? Pick up a copy of Canine Colorado: Where to Go and What to Do With Your Dog (Fulcrum Publishing) by longtime local and writer/editor Cindy Hirschfeld.