I love a good Bachelorette party in Aspen. My friends are active, athletic, yet still very fun-loving, so we always manage to strike a balance between partying and doing activities that actually make us feel good.
Step One
Step one for planning the perfect Bachelorette party in Aspen is always the hotel. It's definitely key to find somewhere with a great pool scene and fun bar. I love the Limelight's pool and hot tub because you have easy access to the bar inside (sangria flights, anyone?). The rooms at the Limelight are also big enough to share amongst a gaggle of girlfriends.
Step Two
Step two, for me, is planning a special activity for the group. We've always had fun with custom yoga classes, and Evan Rachel Soroka at O2 Aspen is the perfect leader.
Classes in the studio are great, but I've also seen groups practicing in local parks in order to take advantage of the beautiful Colorado weather. Extra points for wearing kooky costumes (80s workout gear was a favorite theme at the most recent Bachelorette party that I went to) so that you can draw extra attention to the bride-to-be.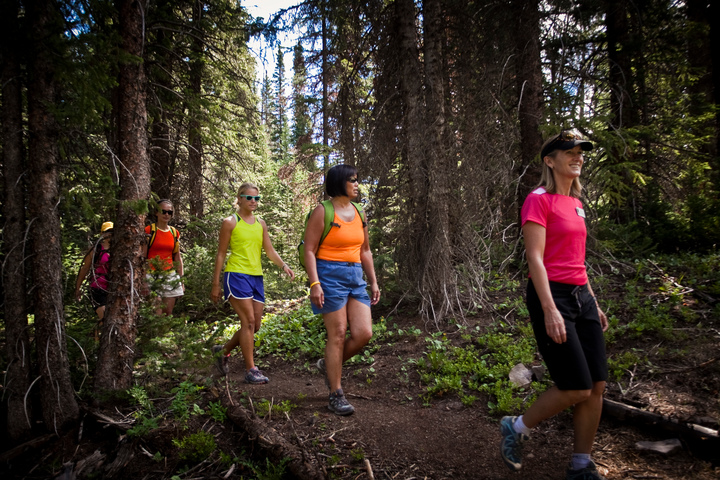 After the yoga class, it can be fun to let the group explore a bit on their own. Some of my friends usually go on a hike, others like to stay at O2 for spa treatments and massages. Then we'll meet back at the hotel for an afternoon of sunning ourselves by the pool.
Step Three
Step three is the dinner reservation. It's important to have a reservation no matter what time of year you're visiting Aspen. Restaurants fill up quickly, and it can be hard to find space for a large group.
My absolute favorite spot when celebrating any occasion is the Tatami Room at Kenichi. You'll have a private room to yourself, the food is incredible and easily shareable, but most importantly, there's an iPod hook up so that you and the girls can rock out to the music (time to make a killer playlist) that will get you ready for a night on the town.
I've written about my favorite spots for a bar crawl in Aspen and I have to say that any of these bars and restaurants are a good next step after Kenichi. Part of the fun in Aspen is that everything is within walking distance (especially if you're staying somewhere centrally located like the Limelight), so you can go wherever the mood takes you. Or, depending on the number of single friends in your group, you can go wherever you see the cute local guys heading.
In terms of recovery after a big night on the town… March yourselves directly to Spring Cafe for a green juice or smoothie. This is the first important step in getting back up and running. For a special treat and send off, my friends and I love brunch at the Little Nell, but there are tons of other options as well.
The bottom line is that a Bachelorette Party is a way to shower a bride with love, and picking somewhere as special as Aspen is certainly a good start.