There are two types of skiers/snowboarders. There are those who want to charge hard and make the most of every second on the slopes (even if they're the first to hit the bar after the lifts close), and those who possess a more lassiez-faire attitude. I'm of the latter persuasion at this point in my life, in part because a Clif Bar isn't my idea of a satisfying lunch. More to the point, I relish après ski culture, which has a fairly liberal definition these days. Whether it's due to a recovering economy or the current mania for mixology, on-mountain imbibing has never been more popular, and Aspen in particular has no shortage of places to get your on-the-slopes drink on.
There's nothing wrong with knocking back a PBR between runs, but if you're looking for quality craft brews, wine, or cocktails, they're in short supply at most ski resort cafeterias. Aspen, however, prides itself on providing quality libations- often featuring Colorado beer and spirits- which make taking a break more appealing than ever.
It goes without saying you should never ski while drunk (trust me on this), so mind the altitude and drink responsibly. Your best bet is to choose a location where you can download on an adjacent gondola or chairlift: the ski patrol has enough work to do without cleaning up your post-margarita yard sale. Disclaimer done, here's my round-up of the best on-mountain bars at Aspen-Snowmass. Happy Holidays!
Elk Camp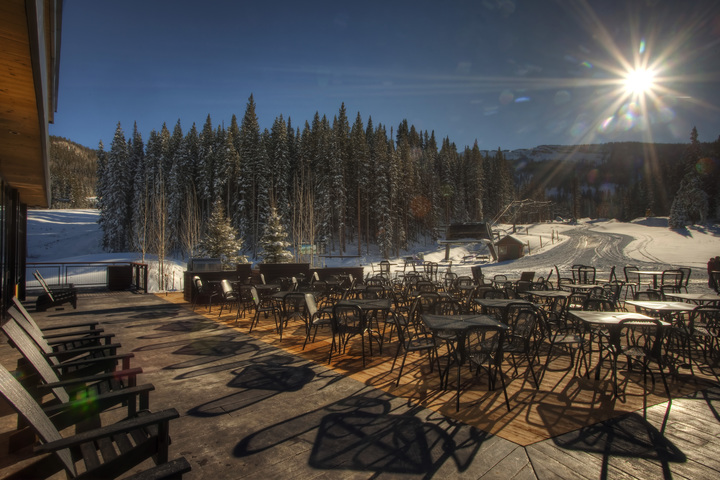 My top pick for both dining and drinking between runs. This high-style cafeteria has a full bar that features Colorado spirits like Woody Creek Distillers, and craft brews from Roaring Fork Beer Co and Aspen Brewing. The drinks are seasonal, strong, and part of Elk Camp's commitment to supporting local growers and craft foods (among them Rock Bottom Ranch, Avalanche Cheese Company and Crystal River Meats.) If toddies are your thing, you'll be pleased by the creative offerings on- and off-menu.
Lynn Britt Cabin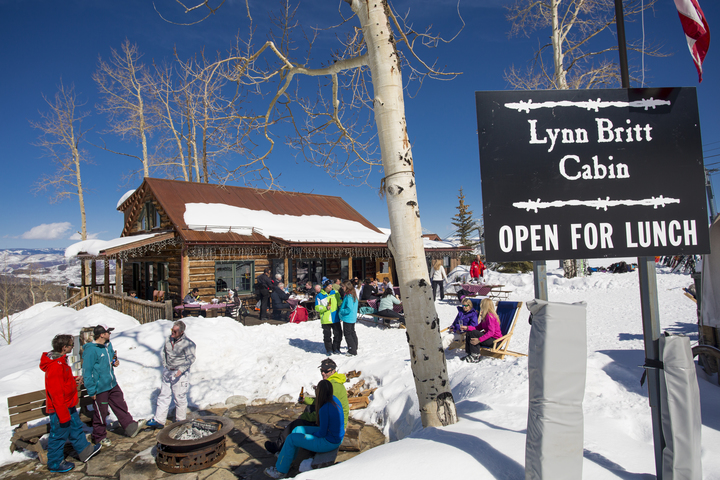 Located off of an intermediate run at Snowmass, this upscaled log cabin seats 60 and boasts a frequently changing, seasonal fine-dining lunch menu from Skico executive chef Jim Butchart and his team (think cheese and charcuterie plates, cassoulet, bison prime rib). This season the cabin is ramping up its bar program as well, so if you're looking for a primo vintage to enjoy with your multi-course meal, this is the place. Lynn Britt is also open for dinner, by reservation only.
Cloud Nine Bistro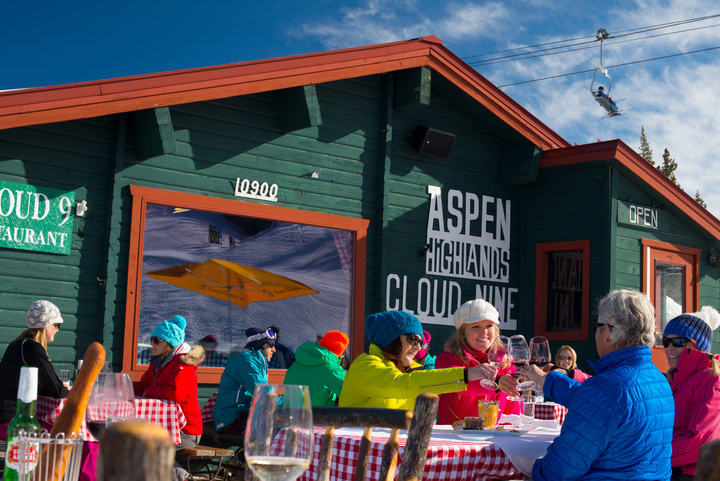 The food isn't the attraction at this wild fondue spot at the top of the Cloud Nine lift at Highlands. You go because it's one of the last of a dying breed: a funky, cozy, 70s-style ski chalet perched atop a peak with stupendous views. The Euro fare gets elevated by copious quantities of wine by the glass or bottle (there's Champagne, too, if you're feeling celebratory). Be prepared to watch- or better yet partake- in singing, dancing on tabletops, and other alpine revelry.
The Sundeck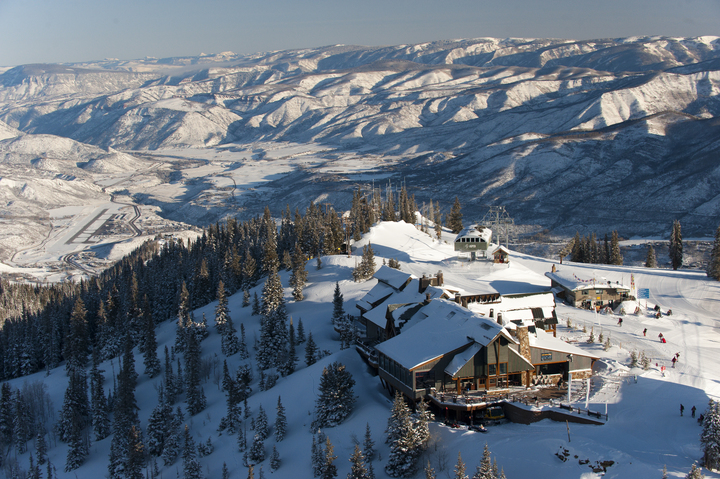 "Cafeteria" doesn't do justice to this glam, 10,000-square-foot dining and event center at the top of Silver Queen Gondola on Aspen Mountain. A full bar, 30-foot ceilings, mind-boggling panoramic views of the Continental Divide, and a bomb fireplace make this a fine place to indulge in a hot toddy or three. On sunny days, grab a seat on the deck, kick up your boots, and toast the sweet life.
More of a post-ski sesh kind of partier? Check out Whiskey Wednesdays at the Limelight for a high-octane taste of Colorado.