Find out how to take wonderful photos of Colorado's Aspen trees with your camera–whether it's a DSLR or your iPhone.
Best Places to Photograph Aspen Trees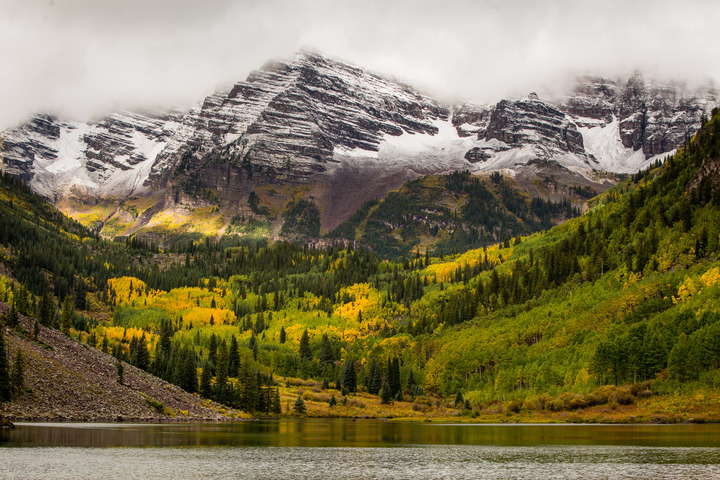 Luckily, Aspen groves are all over the state, so you'll have strong odds of seeing them wherever you go. But if you're looking for the best place and don't mind the drive, here's what we recommend:
Castle Creek Road near Aspen, CO
Maroon Bells near, Aspen, CO
Lizard Head Pass near Telluride, CO
Guanella Pass near Georgetown, CO
Kebler Pass near Crested Butte, CO
Golden Gate State Park near Golden, CO
General Photography Tips
For you newbies out there, here are some general photo tips that will help you capture Aspen trees as well as other focal points.
Early morning and dusk are "the golden hour" and will produce a warm, golden light that works well in photography.
For calming photos, capture a horizontal line with your landscape.
For energizing photos, capture vertical lines in your landscape.
Utilize the rule of three. The rule of three states that your focal point should be 1/3 of the way from the center of your photo.
Instagram Filters We Love for Aspen Trees
These Instagram filters will make your Aspen Trees look brighter and more interesting in your Instagram feed.
Juno – Brighten oranges, yellows, and reds
Claredon – Brightens highlights, boldens shadows
Valencia – Makes colors more prominent
Mayfair – Great filter for any photo
iPhone Tips
Turn on HDR (high dynamic range) for balanced photos. What this setting does is snap three images, one for brightness, one for shadows, and one for the middle lighting. It then combines the three images so you're not stuck with an overly lit sky or almost-black shadows.
A wide angle lens attachment is a useful tool and can be purchased for less than $10. These widen your iPhone's camera and allows you to capture the best shots of Aspen groves.
You can take photos and edit like a pro on your phone using the Adobe Lightroom app. This app is free.
Aspen Inspiration
Get inspired by some of our favorite photos of Aspen trees.
If you're heading to Colorado to capture Aspen groves and bright skies, stop in The Limelight Hotel in Aspen, Colorado. You can rest up, relax, and dine in.