There is something special about the 14ers near Aspen. Perched in the midst of one of Colorado's finest mountain ranges, these seven peaks are remote, rugged, and beautiful. For those who enjoy mountaineering, they are some of the finest summits in the entire state of Colorado.
The 14ers near Aspen, as well as Aspen itself, sit in the middle of the wonderful Elk Mountains. This range is unique to Colorado in several important ways. First, it has some of the steepest and most dramatic peaks in all the Rockies. Part of what is great (for peak baggers anyway) about most of Colorado is the relatively gentle nature of most of its summits. Not so in the Elks; these mountains feature dramatic rises, steep faces, and impressive vertical gains. All of this adds to their beauty and mystique.
Another feature of the Elks is their unique geology. Their characteristic red sandstone provides brilliant displays of color. Deep maroon reds mix with dark greens from trees and grasses, or bright white couloirs filled with snow, and vibrant yellow Aspens in the fall. Of course, this rock comes with its downsides as well. The routes in these mountains have some of the loosest, most crumbly rocks to be found anywhere in the state.
The Elk Mountains have seven (or five, depending on how you count) distinct 14,000-foot peaks which can be climbed. This post will provide a quick overview of each of the peaks including their difficulty, best routes, how to prepare, and what to look out for.
To 10 Aspen 14er Pro-Tips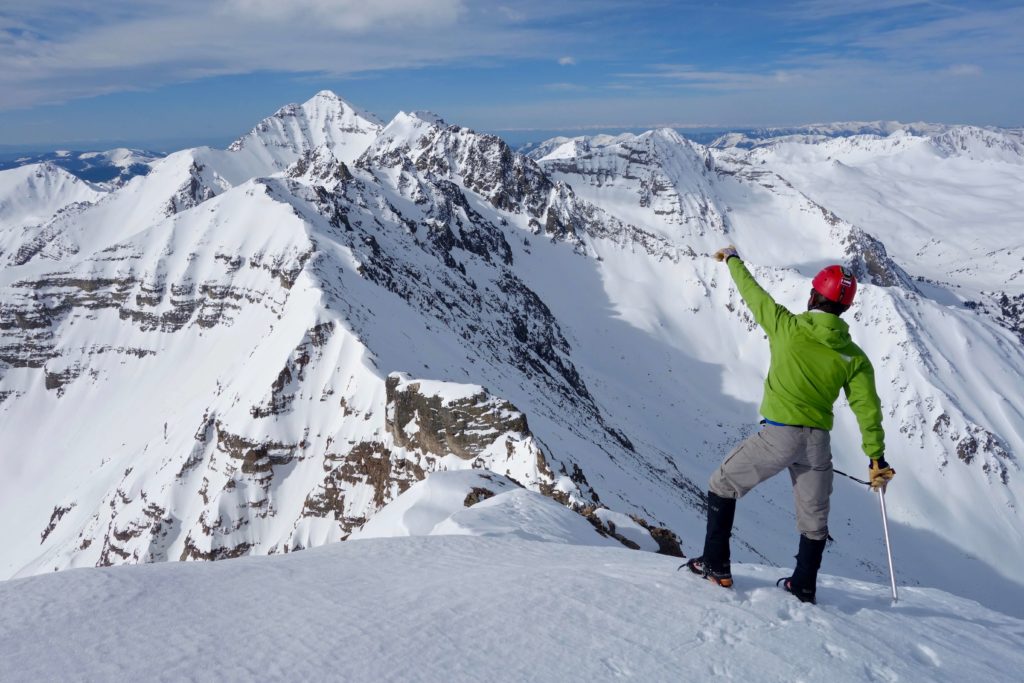 Scaling an Elk 14er is no easy feat. All of these mountains offer a unique set of challenges, and some of these summits are the most difficult to attain of all the 14ers in Colorado. With that said, if you are relatively new or unfamiliar with the area around Aspen, it is important to get some quick context and pro-tips before considering a summit bid.
Do your Homework. The routes on the Elks are tricky. None of these peaks have a trail all the way to the summit. There are no obvious walk ups and finding your way can often be a challenge. In other words, most of the routes will require careful route finding, so be sure to plan ahead accordingly. We have provided links to detailed route descriptions below. Be sure to study up before setting foot on the mountain.
The Elks are loose! We just can't say it enough –  these 14ers have some of the loosest rock you can find just about anywhere. Combine that with very steep slopes and things can get dangerous quickly. Be prepared for loose rocks. Test everything. And never intentionally dislodge a stone down the hill.
The Elks can be dangerous. Between the loose rocks, the weather, other people, and the striking relief of these mountains, the routes listed below can be very dangerous. Sadly, multiple people die each year on the 14ers near Aspen. Treat these mountains with great caution and respect.
Don't be afraid of heights. If you decide to climb one of these 14ers, be prepared to face some seriously impressive vertical faces. If you play in the Elks long enough, you'll eventually find some stunning vertical relief.
Be in shape. For most people, climbing one of the mountains will require a full day's effort of multiple miles and thousands of vertical feet gained. Be sure that your fitness level is up for the challenge.
Start moving early. In the summer, thunderstorms are probably the biggest risk on any 14er. Be sure to start early, carefully watch the weather reports, and be headed down by noon at the very latest.
Let your body acclimatize. If you're visiting Aspen from the flatlands, be sure to let your body acclimatize to the altitude prior to setting out. Giving yourself an extra few days to acclimatize can make all the difference as you ascend to 14,000+ feet.
Build up to these. Be sure you're ready for the mountaineering challenge prior to taking on an Aspen 14er. There are plenty of easier 14ers options just outside of Aspen to hone your skills if necessary.
4wd can help. For some of these peaks (Snowmass & Castle in particular) having a solid 4wd vehicle can help shorten the days considerably.
Have fun. In spite of all the challenges and difficulties, successfully climbing one of these 14ers can offer rewards to last a lifetime. Enjoy your time and always remember that the world's best climber is the one who is having the most fun.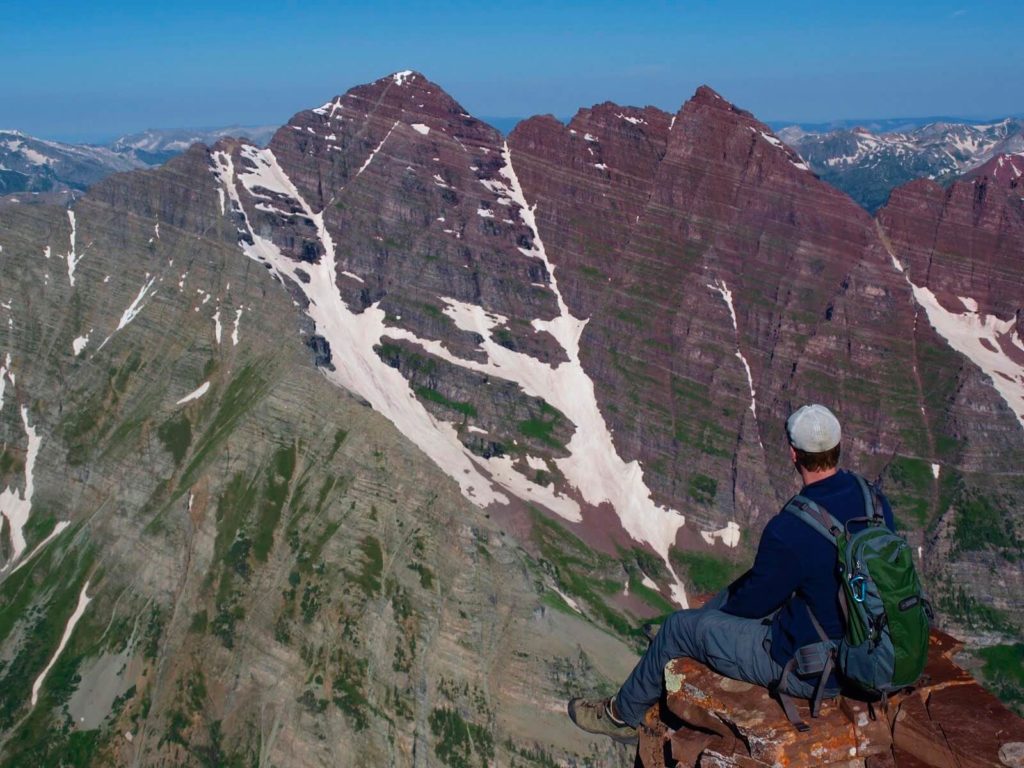 The famous Maroon Bells seen from the summit of neighboring Pyramid Peak. The summit views from the 14ers near Aspen are some of the best to be found anywhere.
What to Bring
Here is a quick list of the essential items to carry before you ever set foot on one of the 14ers near Aspen.
The 10 essentials – These should always be in your pack.
Extra food & water – You never want to run out of either of these.
A Helmet – For many of the routes, this would be a smart option to carry along
A knowledgeable partner – Bringing someone along who knows the routes can be invaluable for these 14ers.
Emergency beacon – If available to you, these are always good to have as a backup.
Castle Peak (+Conundrum Peak)
Difficulty: Blue (Moderate)
Trailhead & Distance From Aspen: Castle Creek Trailhead; Approx 30 minutes
Standard Route: Northeast Ridge > Saddle Traverse to Conundrum
Length: 13.5 miles (from the main trailhead); 7 miles (starting at 11,200′ along the 4wd)
Elevation Gain: 4,600′ (from the main trailhead); 3,100' (starting at 11,200′ along the 4WD road)
Overview: Castle Peak is the highest mountain in all of the Elks, and it is, by far, the most attainable of all the 14ers near Aspen. The standard route up Castle can be kept at Class 2 the whole way. With the exception of the last half mile and a few boulder fields, there is a trail to follow all the way up. Castle and its neighbor Conundrum Peak are an excellent choice if this is your first adventure onto one of these peaks. But don't be fooled – the day is still long.
The standard route on Castle starts up an old 4wd road (for those with an appropriate vehicle, you can shave off most of the distance by driving some of this) and snakes its way up into a beautiful valley above tree line. This gorge is replete with old mining ruins and you get the feeling of the area's mining history as you walk over its rocky bounders. A winding trail eventually gives way to the final summit ridge to the top. The views of the surrounding area from here are stunning. Across the way is an 'unranked' 14er, Conundrum Peak, which can be easily be synced with Castle on a loop.
Castle Peak Pro-Tip: A reasonable 4wd vehicle can dramatically shorten the day on this peak, allowing you to start just below treeline.
Snowmass Mountain
Difficulty: Black (Difficult)
Trailhead & Distance From Aspen: Mount Snowmass Trailhead; Approx 30 minutes
Standard Route: East Slope
Length: 22 miles
Elevation Gain: 5,800'
Overview: The brilliant white rocks on Snowmass are matched by the huge, near-permanent white snowfield which sits beneath its twin summits. An abundance of lakes and green valleys beneath Snowmass' upper reaches makes this one of Colorado's more beautiful places to camp and explore. Although it is close to Aspen, the views of Snowmass are hidden but all who make the journey.
The standard route up Snowmass consists of a near marathon-length (22 miles) journey into the Maroon-Bells Wilderness. The vast majority of that time is spent hiking through beautifully wooded basins on your way up to Snowmass Lake. Once you attain the lake, however, the fun has just begun. From here, the remainder of the route gains elevation in earnest before it finally crests on a ridge. Snowmass is the first peak on our list with Class 3 scrambling, so be sure you are comfortable climbing with all four limbs as you scramble up to the summit. The views of Capitol Peak in the distance will move even the timidest souls.
Snowmass Mountain Pro-Tip: The standard route up Snowmass consists of a long, long walk.  For this reason, most parties will choose to tackle Snowmass as a multi-day backpacking trip, camping at Snowmass Lake. Even if you chose not to scale the peak, this is still an incredible place to spend a few days.
Maroon Peak
Difficulty: Black (Difficult)
Trailhead & Distance From Aspen: Maroon Lake; Approx 30 mins
Standard Route: South Ridge
Length: 11.5 miles
Elevation Gain: 4,800'
Overview: The Maroon Bells are famous. And rightfully so. These twin summits of soaring red rock sit above the beautiful Maroon Lake. The scene of their soaring heights as the backdrop to the lake might be one of the most photographed spots in all of Colorado. And it is with good reason. The views up into the Bells from here can awaken adventure and inspire the soul.
The climb up South Maroon Peak is the easier of the two Bells to climb. However, it is still no easy feat. After a relatively mellow jaunt up the valley, the route takes on a new challenge as it turns upwards for nearly 3,000 feet on a unrelentingly steep ascent. Although this slope is only class 2, it will test the fitness of anyone who pushes up it.
Beyond this slope is where the real challenge of the route begins. From here, there is still a long way to complex terrain, gullies, and Class 3 scrambling to be had before the summit. This complicated face is sure to be a nightmare to anyone who is afraid of heights, but the stunning relief makes for an amazing view of the valley below. After you gain the summit, enjoy the view back to the lake and smile, because hey, you're almost certainly being captured in about a hundred pictures being taken far below.
Maroon Peak Pro-Tip: There is a famous sign at Maroon Lake that warns climbers of the 'Deadly Bells'. Sadly, more climbers are killed on these peaks than almost any other in Colorado. Tread lightly and with great caution.
North Maroon Peak
Difficulty: Double Black (Most Difficult)
Trailhead & Distance From Aspen: Maroon Lake; Approx 30 mins
Standard Route: Northeast Ridge
Length: 9.25
Elevation Gain: 4,500'
Overview: When looking up at the Bells from Maroon Lake, it is North Maroon which steals the show. Sitting front and center of the scene, it appears to be the larger of the two mountains.  However, North Maroon is actually the shorter of the two; in fact, with less than 300' rise from its bigger brother, North Maroon is technically an 'unranked' 14er. Don't let these technicalities fool you, however, North Maroon is a fierce mountain in its own right. This is the first class 4 climbing we have encountered in our list, and it is the most difficult mountain thus far.
The crux of the climb up North Maroon consists of ascending two very steep, very loose gullies on the way to the summit. Above these are a series of rock bands which require a series of steep, exposed Class 4 moves to ascend upwards. When you reach the top of North Maroon, you will exhale a deep sigh of relief for making it this far. Your relief can quickly turn though once you realize the only way down is from where you just came.
North Maroon Pro-Tips: The twin gullies of North Maroon might be the most dangerous spot of any 14er near Aspen. These steep chutes can become a lethal shooting gallery of tumbling rock for anything which gets dislodged. Take incredible caution to not dislodge anything and always assume there are climbers below you.
Pyramid Peak
Difficulty: Double Black (Most Difficult)
Trailhead & Distance From Aspen: Maroon Lake; Approx 30 mins
Standard Route: Northeast Ridge
Length: 8.25 miles
Elevation Gain: 4,500'
Overview: Pyramid Peak might be the most fun of all the 14ers near Aspen to climb. This peak is steep, rugged, and comes with some of the finest scrambling in the Elks. What's more, its unique position across from the bells affords incredible views. This might just be the finest 14er summit in all of Colorado.
The terrain on Pyramid is similar to most of the other peaks we have seen thus far. A steep ascent leads to a series of complicated, class 4 walls which eventually lead to the summit. Pyramid seems to have more solid rock than the Bells, and the scrambling is up some very fun walls for experienced climbers. All that said, solid route finding skills on Pyramid are essential, otherwise, it is very easy to find yourself in terrain which is much more challenging.
Pro-Tips: Pyramid is a very popular climb for guided ascents. If you want to get onto some serious terrain, but would appreciate the comfort of a seasoned guide, check out one of the local outfits in town. There are a few to choose from, so evaluate and choose accordingly.
Capitol Peak
Difficulty: Double Black (Most Difficult)
Trailhead & Distance From Aspen: Capitol Creek Trailhead; Approx 50 minutes
Standard Route: Northeast Ridge
Length: 17 miles
Elevation Gain: 5,300'
Overview: You won't see Capitol from any roads near Aspen, and it is not nearly as famous as some of its nearby 14er brethren, but the status of Capital is unquestioned. Capitol Peak is stunning. Its soaring faces and dramatic cliff walls dwarf almost anything else near Aspen. Rising for thousands of feet in near vertical lines, the mere sight of Capitol Peak from afar is sure to stop even the most intrepid mountaineers in their tracks. Capitol Peak may be the last peak on our list, but it is surely the finest of the group. This is the king of the Elks.
Capitol's standard route is a climb which is fitting for such a mountain. The approach is a very long hike up the drainage to Capitol Lake, an excellent spot to pause and consider your fate from below. From here, the route goes up a steep ridge to the Mt. Daly saddle and then crosses a large boulder field before topping out at 'K2', an unranked 13er next to Capitol. From here, the realities of rockfall, extreme exposure, and sustained Class 4 scrambling turn up in earnest. The remainder of the route is some of the most challenging of any 14er.
The fun begins on the infamous knife edge,  a 150 foot long, double exposed spine of rock. There is no way around this obstacle, which poses drops of 2,000' on either direction. From there, there is plenty more to go, as the route ascends via a series of traversing ledges and cliff bands which much be climbed. All the while, a looming vertical cliff of 1,000+ feet lurks below. Few summits will be as rewarding or humbling as standing atop Capitol.
Pro-Tip: Capitol Peak has been claimed by many as the most difficult of all the 14ers in Colorado to summit and with good reason. The realities of your own existence are sure to meet you eye-to-eye multiple times if you choose to ascend this monster.
The 14ers near Aspen are some of the most challenging in the state of Colorado. Don't take climbing them lightly. If you're up for the challenge and want to stay in Aspen pre or post-ascent, The Limelight Hotel downtown will carbo-load you in the morning and in the evening.
Happy summiting.