Rosé is all the rage.
No, not the syrupy pink white Zinfandel that flowed in the '70s and '80s. We're toasting the crisp, dry true rosés that have made a resurgence—the ones we're celebrating with Rosé Days.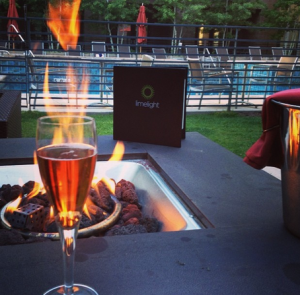 Rosé Days every Wednesday will turn the midweek blues into pinks, thanks to our specials on various rosés, from still to sparkling. Did you know rosé can be made from any red grape variety? Check out these "7 Facts You Need to Know About Rosé," and you can impress the cognoscenti.
Rosés pair superbly with a wide range of foods, including salty, spicy and garlicky dishes. That means they're perfect for our everyday wood-oven pizzas, salads with vinaigrettes or penne arrabiata & prawns. But our chefs get in on the fun too, creating mouth-watering specials inspired by the pink palette. Salmon tartar or chili and lime fish tacos, anyone? The red cabbage is close to pink. How about smoked salmon & crème fraiche board and tuna nicousse salad?
We're not afraid to mix it up.

Rosé Day specials include cocktails like martinis, cosmos and mules too. And our refreshing Sangria Margarita will spark a midweek fiesta.
Don't fear the pink! Come raise a glass with us poolside or fireside. If you miss it over the winter—well, put on your rosé-colored glasses and dream of hot, summer Wednesdays. Although, come to think of it, pink goes perfectly with powder too.