The small, contained nature of Aspen makes it the perfect place for weddings, corporate retreats, family reunions, bachelor and bachelorette parties, and groups of all sizes. Big cities with tourist attractions spread miles apart are good for individual exploration, but for my money, Aspen the best place on the planet to go with a group.
The diversity of lodging Aspen is a huge draw. Families can rent condos and private homes; couples can find hotel rooms that range from affordable to luxurious; those visiting solo can find something in just about any price range.
In the same vein, the group activities that Aspen has to offer can suit all ages and ability levels. In the winter the best ski instructors in the world converge in Aspen and can help you hone your abilities. Whether it's advancing from the bunny hill to a solid blue run or mastering the steeps of the Highlands bowl, Aspen ski pros can make it happen. Similarly, in the summer there are mellow hikes like the Smuggler/Hunter Creek Loop or the lung-busting, intense ascent of Aspen Mountain, which is right outside your door if you're staying somewhere that's centrally located.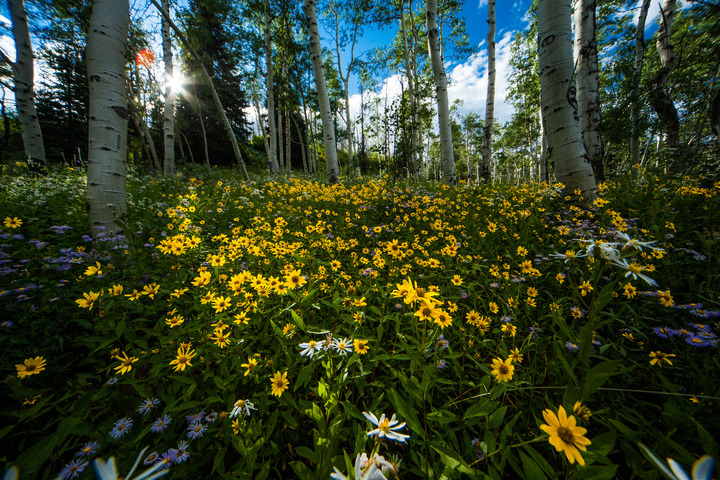 My favorite group activity has to be whitewater rafting. With skiing, my friends are all different levels so we tend to split up on the slopes. Hiking is great, but I'm usually huffing and puffing half way through, which makes it hard to carry a conversation. Rafting, on the other hand, is a turnkey activity. The guides at Aspen Whitewater will have everything ready as you arrive. All groups have to do is show up. They'll get everyone prepped, outfitted, and take you to and from Aspen's famed "gold medal" rivers. The last time I went rafting I fell out, but my guide had me covered and pulled me right back in the boat, which is more than I can say for my colleagues, who were too busy laughing to help.
Recently, I was in Aspen for the Aspen Institute's Ideas Festival—the crème de la crème in terms of group events. My friends and I attended breakfast and lunch programs together, and separated for different afternoon plenary sessions.  The small speaker salons in the Limelight Hotel's Monarch Room afforded us the opportunity to get up close and personal with leading thinkers and doers. My favorite speaker was Amy Cuddy, whose TedTalk I've watched at least a dozen times (check it out here). I also had the opportunity to hear Deepak Chopra at Belly Up Aspen, the premiere concert venue in town, a quick walk across Wagner Park from the Limelight.
If you're looking for a perfect place to travel to for your next amazing outing, Aspen can't be beat. The Limelight has event space, caterers, and accommodations for groups of all sizes. Just give us a ring and we'll set you up with memorable experience.
If you're looking for a destination for your friends, family, or colleagues that will enable your group to go in different directions for an hour or two, and then meet up to share the stories of the day, look no further. Aspen truly is the place to be.