It seems like people love to lament how much they hate New Year's Eve. It's definitely a high pressure holiday; we all want to end the year on a good note AND start the new year in the most epic way possible. I've had my share of New Years celebrations in Aspen. From catering a party my first winter when I didn't have better plans to indulgent house parties with limitless stocks of champagne and caviar. As an Aspen New Year's Eve veteran, I'm more than happy to divulge my insider tips:
Make some sort of plan.
You can't wing it in Aspen on New Years. You'll be left out in the cold.
Don't miss the fireworks!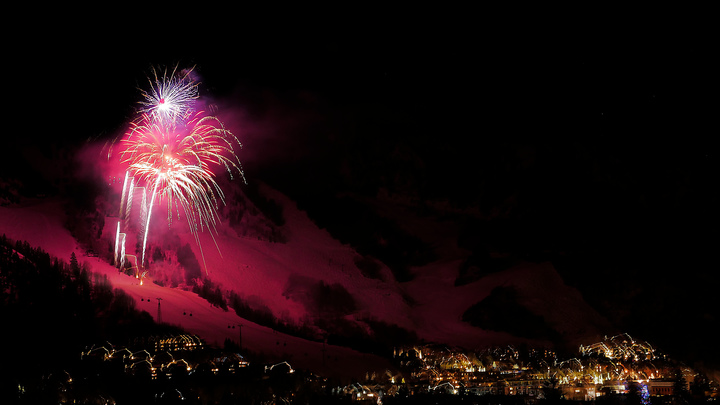 Seeing Aspen Mountain glowing under the Aspen Skiing Company's incredible light show is a must.
Consider how you want to start the New Year.
My favorite way to spend January 1st is with yoga on top of Aspen Mountain followed by breakfast with friends. The class starts at 9:30 sharp, so that means that partying until the wee hours doesn't work for me. If you're a night owl who doesn't want to miss one part of the party (and after party) consider booking yourself an appointment for a facial or a massage. You might not feel like a million bucks, but you can look the part if you schedule some pampering well in advance. I'm obsessed with the "O2 Glow" oxygenating facial at O2 Aspen. 60 or 90 minutes will have you looking and feeling as if you actually did get a decent night's sleep.
Dress to impress.
Aspen may be a casual town where celebs wear their cowboy boots to the Caribou Club, but all of that goes out the window on New Year's Eve. You'll see sequins, cocktail dresses, and even tuxedos on just one night a year at all of the soirees.
Don't forget to eat dinner!
Dinner reservations can be tough to come by, but that's no excuse. The Limelight Hotel has a gala dinner buffet, drinks, dancing, and a champagne toast. The simplicity of having just one stop on New Years is definitely a good idea.
Find a designated driver.
You're not in NYC. There aren't unlimited numbers of cabs and Ubers and Lyfts and rickshaws. Aspen's DD tends to be the Roaring Fork Transit Authority. The buses run on time past 2:00am and will get you home safely. Better yet though, book a hotel room within walking distance of the festivities.
Aspen has limitless party options on New Years, but pick wisely. The crowd guzzling bottomless Dom Perignon at the Little Nell will be very different than the one partying it up at the Crystal Palace. Talk with your people, have a destination in mind, and make a resolution that you won't break on January 1st!