Spring in the Pioneer and Boulder mountains is a beautiful time of the year. With longer and often warmer days, some good corn snow, and a generally uplifted community vibe, Ketchum is perfect for a spring getaway.
Whether you're in college, the honeymoon year, or the kid-wrangling phase of life, Ketchum will have you entertained for as long as you can handle being away from home.
Because mid-March and early April often coincide with Spring Breaks around the country, we're going to take a look at the goings-on in Ketchum during those weeks.
Events
Sun Valley Film Fest
From March 15-19th, the sole focus of the town is on the Sun Valley Film Festival.
This annual event creates a buzz that's very tangible around town – there are screenings everywhere, film junkies piling into happy hours, industry leaders hosting panel discussions, unforgettable parties, networking dinners for budding filmmakers, and scriptwriter's workshops.
The 5-day event is worth at least a one film screening, even if you're not "in the biz" (but do try to make time for more – there are some high quality flicks being shown every day). The best part about the festival is that it won't impact your ski time. You can have the best of both worlds.
North Coast
On March 20, New York City's premiere hip-hop comedy and improv group – North Coast – is paying our little town a visit, so don't miss it! This upbeat show will have you rolling in laughter. Tickets are $25 but don't wait around to snag one. The Opera House in Sun Valley is not massive and will sell out quickly.
Janss Pro-Am Classic
Perhaps the most highly anticipated party in Ketchum is the Janss Pro-Am Classic which will be held on March 30th and April 1st.
Hosted by the Sun Valley Ski Education Foundation, this annual event is held to honor and remember former Sun Valley Resort owner, Bill Janss.
Join forces with a Senior Pro skier to form a team of 6 and go head-to-head in giant slalom races with other contenders. There will be prizes for Best Costumes (YES…there are costumes), Fastest Pros, Fastest Amateurs, Fastest Teams, Best Crash, Most Inspirational, and Championship Team. Don't miss this opportunity to celebrate, raise money, and have some good ole' fashioned fun! The costume theme for the 2017 Janss Pro-Am is "What's up Doc? Cartoon Classics." to learn more, visit the description page here.
Sawtooth Gelande Quaffing Championships

Capping out the final days of what could still be spring break for a few lucky individuals on April 8th, is the Sawtooth Gelande Quaffing Championships at the base of Warm Springs.
First of all, you pronounce Gelande "geh-lawn-duh". Second, what exactly is Gelande Quaffing?
In short, it is a competition in which an individual sends a pint of beer down a bar top to his or her partner (the receiver), who is tasked with catching the glass after it has flown off the table and before it hits the ground, drink the beverage in it's entirety, and run to the other end of the table until 4 rounds have been completed. Costumes and hilarity are, it could be argued, a prerequisite for entry.
Places to go and things to do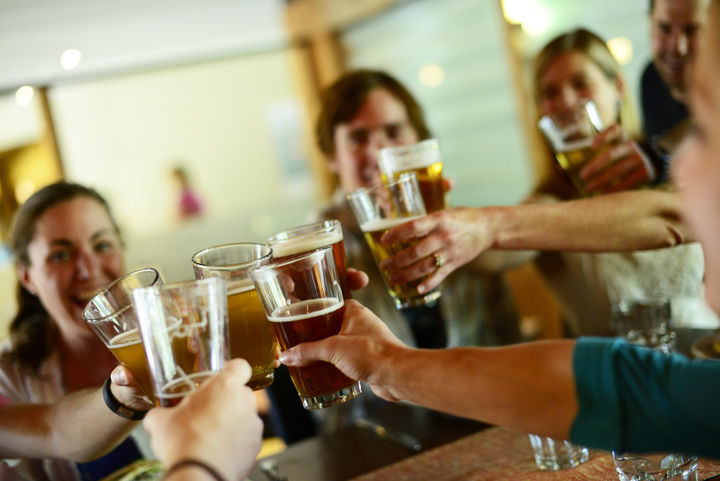 If you're on a school getaway, or simply in desperate need of a happy hour, here are some of our favorites:
Lefty's Bar & Grille: A great, relaxed local's bar with greasy food and tall beers. 4-6pm every day.
Cornerstone: Fancy cocktails, great food, zero disappointments. Call for happy hour times.
Sawtooth Club: A historic establishment in Ketchum you won't want to miss. Get happy 7 days a week from 4:30-6pm.
Limelight Hotel: You simply cannot go wrong, and pairing pizza with anything is a good choice. 3-7pm every day.
If you need a little music in your life
Check out Sun Valley's Aprés Music series at the base of River Run or Warm Springs. If you can't make it to the afternoon series, check up on Whiskey Jaques' music schedule for the remainder of the winter!
The Limelight Hotel has music every week, usually several times a week. Check with the front desk for the schedule!
Whether you want to but loose or relax, spring break in Ketchum is the place to be; don't miss it!