Thanks to the Bomb Cyclone and resulting heavy snows in Colorado, ski season is officially here.
As Aspen's four resorts gear up to open, the town is buzzing with that hyperkinetic seasonal energy unique to ski towns. Stealth backcountry skiers are already bombing the bowls, and downhill aficionados are waxing their skis in anticipation. Then there are folks like me, waiting for there to be enough base to cover the Nordic trails and enable the 10th Mountain Huts to open later this month. I should clarify; I've been downhill skiing since I was three, but over the last few years, I've started shifting to Nordic disciplines for various reasons. I still downhill, but increasingly, I enjoy the other snowy pursuits the mountains have to offer.
I know I'm not alone, either. Whether it's financial, physical, or due to other reasons, I've known ski town residents who not only don't ski, but don't know how.
See, that's the thing about living in a ski town. You don't have to ski to enjoy a great quality of life. So whether your idea of a perfect day is laying fresh lines, or just going for a run, there's plenty to do in the Aspen area when it's snow season. Try some of the following to expand your winter experience:
Nordic Skiing
There are different types of Nordic skiing, from skate skiing and telemarking to AT (alpine touring). Depending upon your level of experience, fitness, and aptitudes, there's likely one suited to you (even if it's snowshoeing, which is technically a Nordic sport, as well). Pitkin County has over 60 miles of free cross-country and snowshoe trails to suit all levels. The Aspen Nordic Center is a convenient place to take a lesson and get details on the four Nordic trail systems/centers in the Roaring Fork Valley: Snowmass, Aspen, Ashcroft, and Spring Gulch.
Snowshoeing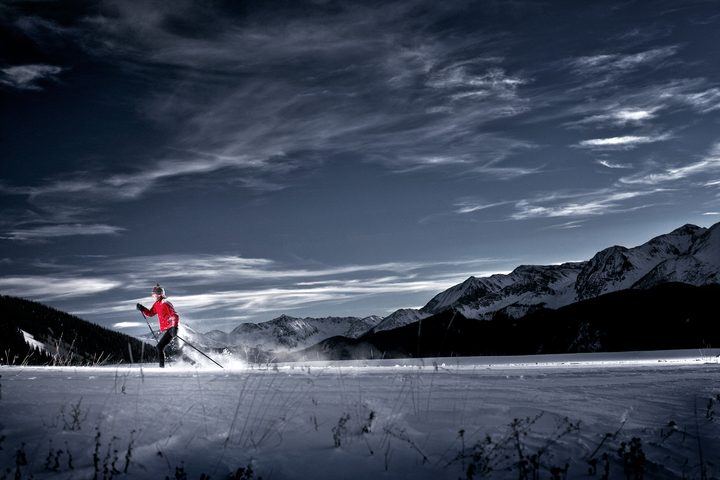 While daredevil types may turn their noses up, snowshoeing is a killer workout (if you want it to be; it can also be as easy as a contemplative stroll along flat, groomed track), and the fastest, easiest, least-expensive way to engage in a snow sport that's not running (I do confess I love a good run in the snow; just be sure if you're headed out you invest in a pair of snow traction devices, first). One of my favorite things to do is snowshoe by moonlight (or headlamp); it's my version of Zen. A great way to get in the spirit is to take a tour on some of the 21 miles of groomed trails around the ghost town of Ashcroft, outside of Aspen. Best: Snowshoe your way to Pine Creek Cookhouse for lunch or a hot toddy (reservations required).
Skijoring
Dogs are synonomous with ski towns, so why not get in some mutual exercise? Skijoring- is a Scandinavian sport in which a skier is pulled by a dog or horse. In Aspen, there are two ways you can skijor with your pet: The Limelight's sister property, The Little Nell, is debuting workshops this winter, or you can take a clinic through High Country Dogs. Just be honest with yourself about your ability (you should take a skate ski lesson first, if you don't already know how), and that of your pet (excellent voice command and leash skills are a must).
Ice Skating
Aspen has several rinks to choose from; hockey enthusiasts will want to check out the Rec Center.
Paragliding
If you think the gondola has a great view, try leaping off the summit of Aspen Mountain at 11,200 feet. Check out Aspen Paragliding, a USHPA-certified school that also offers instruction, certification, and clinics, year-round.
Horseback riding or Sleigh Rides
There are a number of stables in the Valley, which is rooted in ranching culture. I recommend Aspen Wilderness Outfitters for a wintery backcountry outing. What's more wintery than a sleigh ride? There are different outfitters in Aspen, the most popular trip being the ride out to Pine Creek Cookhouse for dinner (reservations required).
Snowmobiling
True, it's controversial from an environmental standpoint, but few things beat the exhilaration of ripping at high speed over a snowy landscape. Aspen has a handful of outfitters to choose from.
Fatbiking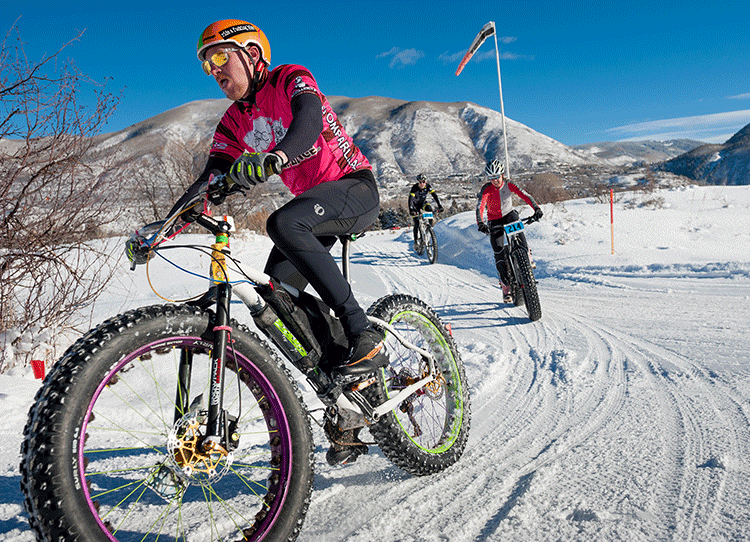 The newest sport to hit ski towns originated in Alaska (they were used by support riders following Iditarod competitors). Today, these mountain bikes with the big, honkin' tires (4.5 inches in width, they're inflated with up to five pounds of air pressure) offer traction, grip, suspension, and flotation on snowy or icy terrain (they're also popular for desert riding). Check it out with Aspen's Sun Dog Athletics; you can ride groomed track or get in some downhill thrills.