I was recently in New York City for a heatwave so brutally humid that my friend remarked that it felt like we were in the jungle.
Without a pool in sight, we had to spend far too much time indoors escaping the crushing temps. I could hardly wait to get back to Aspen where humidity is non-existent and even when the temps are high, I have access to pools all over town.
Pool Time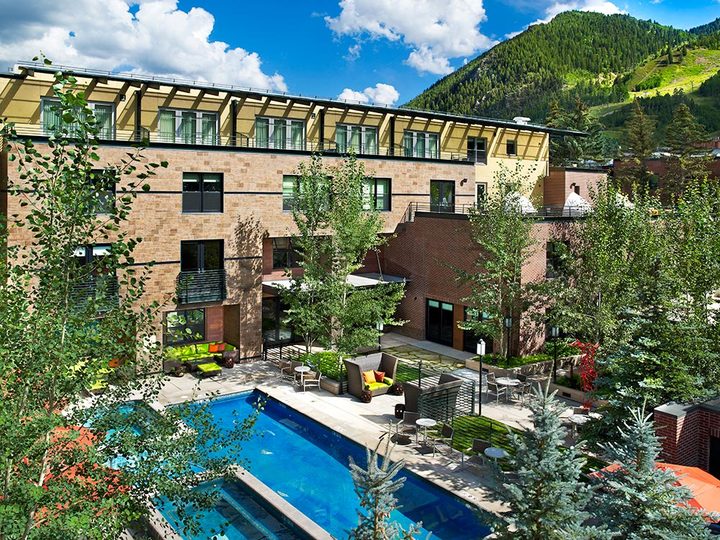 My favorite spot to cool down, of course, is the Limelight Hotel's outdoor pool area. The central location of the hotel itself makes it the perfect place for a midday getaway. You can pop in for lunch, a cool down, a hot tub session, or just to catch some rays for an hour or two. The pool area itself is an oasis in a laid back yet stunningly gorgeous "city" that is the perfect getaway from the real world.
And as you walk out the entrance of the hotel, you find yourself in the heart of downtown Aspen where you can continue or start your evening.
Pre-pool
It's no secret that a solid hike is my favorite way to start the day. It gets me moving and gives me an excuse to relax all afternoon. A soak in the hot tub is key apres-hike. It'll help your sore muscles recover for the following day's athletic pursuits. Because the hot tub and pool are perfectly situated at the Limelight, you can easily cool off after your recovery soak.
After you've had some time to decompress, take a look at the poolside dining menu. The Limelight's woodburning pizza oven serves up some of the best slices in town, and whether or not you've hiked earlier that day, you're still in Aspen, so why not treat yourself? (And while you're at it, go ahead and sample a Sangria Flight; if you're there during apres hours, you'll also get a great deal.)
It's also worth noting that the entire pool area is very kid and family-friendly. There are certainly spots for adults to have some solitude, but kiddos are often out in full force squealing with glee as they jump in the pool. There are plenty of places for parents to look on and supervise their little ones while also kicking back cocktails and keeping one eye on a new magazine or good book.
Important Note
It's important to remember that the trade-off for having zero humidity means that you are high up in the mountains. Hydrating with plenty of water is important even if you're in the pool, and sunscreen is a must. Apply early and frequently, because as my cousin's daughter pointed out, in Aspen you're up high and closer to the sun.