Aspen Mountain is Aspen's crown jewel. Affectionately known as Ajax, this mountain gently towers over the town, calling locals and guests to its summit.
In the winter, skiers and snowboarders flock to the top of Aspen Mountain and cruise down the mountain's variety of runs to the base.
But in the summer, the snow melts, wildflowers bloom, and new activities replace skiing and snowboarding. If you're in Aspen during this magical time, head up to Aspen Mountain and participate in one of these activities. You'll enjoy sunny skies, gentle wind, and sweeping views of The Elk Mountains.
Yoga on Aspen Mountain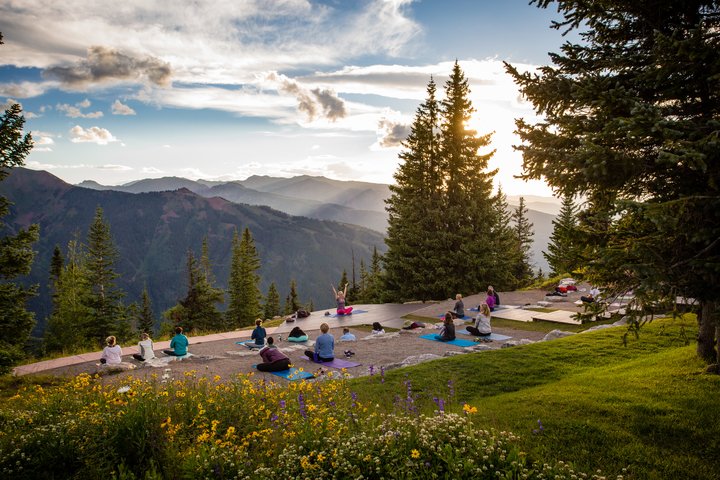 When: Weekdays June 18 – August 31 at 10:30 AM
Throughout the summer, you can attend yoga every weekday on The Sundeck on Aspen Mountain. It costs only $5 plus a lift ticket and is the perfect way to start your day. Remember to take layers; it will be colder on the summit than in town. Namaste.
Bluegrass Sundays
When: Every Sunday from June 17 – September 2, 2018 from Noon – 3 PM
Bluegrass Sundays are an Aspen tradition. Every Sunday during the summer, local bluegrass bands play a set atop Aspen Mountain where you can grab lunch, a beverage, and soak in the sun. This is a completely free event that only requires a lift ticket. Dancing is encouraged.
Classic Saturdays
When: Every Saturday from July 7 – August 11, 2018 at 1 PM
If classical music is more your thing, head up Saturday and see The Aspen Music School's selected orchestra play a new repertoire each day.  Bring wine (no glass), a picnic blanket, and sunscreen and relax in the sun to classic and contemporary music.
Lunch at the Sundeck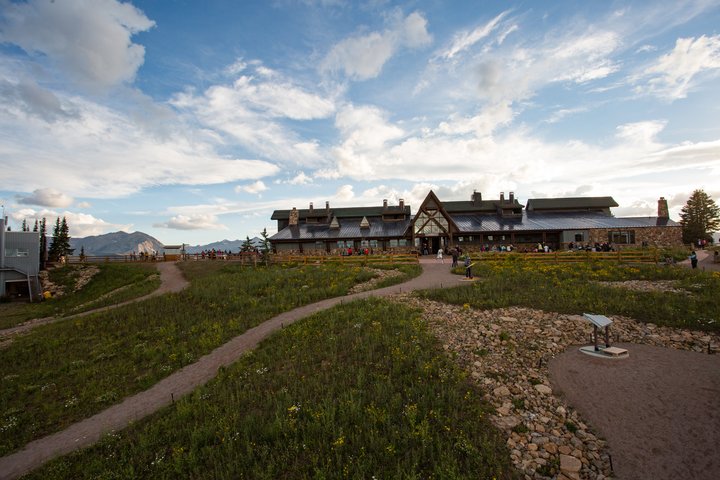 You can also head up the gondola on your own accord, getting off The Sundeck and enjoying lunch. The Sundeck is a cafeteria-style dining experience with healthy and indulgent picks; as well as foods that fit certain dietary needs.
The Sundeck has plenty of indoor and outdoor seating, with couches, lounge chairs, and traditional tables. After you've finished up, stroll around the top of the Aspen Mountain and take in the views before riding the gondola back down.
Disc Golf
Aspen Mountain is one of the world's highest disc golf courses with 18 holes. The first 9 are suited for beginner/intermediate players and the second 9 are advanced. You can pick up discs and scorecards at the patrol center on top of Aspen Mountain. Get out there disc golfers!
Hiking – Ute Trail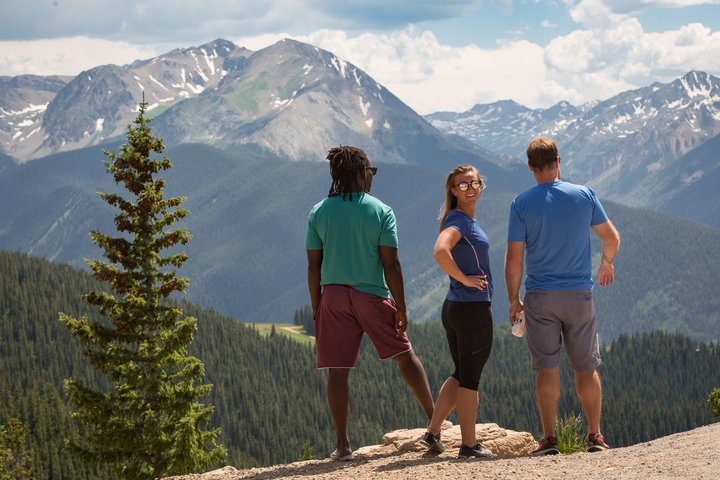 There aren't many hiking trails up to or on Aspen Mountain, but one popular one is the Ute Trail, a 3-mile route that is rated as challenging by most hikers. The trailhead is about 1/2 mile southeast of Aspen and begins on Ute Avenue. For photos, terrain info, and maps, view the Ute Trail Hike.
Coming to Aspen this summer? Stay with us at the Limelight Hotel in downtown Aspen and enjoy everything Aspen Mountain offers.