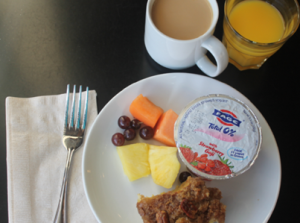 Monday
I would advocate that French toast casserole is a great way to kick start the week. While I wanted to cut myself a slice the size of the plate, I practiced some self control and found my way to the fresh fruit station. The greek yogurt seemed a natural fit to add some balance to the breakfast. On my way to the orange juice I got waylaid by the fresh donuts and indulged in a chocolate frosting donut (not pictured because eaten enroute). Overall, this delicious breakfast made me feel like I was winning by 8:10 AM on a Monday morning. And that's not a feeling that always comes easy on a Monday.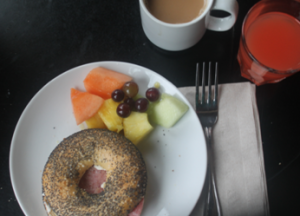 Tuesday
While it was only day two I could not help but tap into my favorite food group: bagels. I always refer to bagels as my "desert island food." It's the response to that question – if you could only have one food and you were stranded on a desert island. I have found a way to perfect the bagel, compliments of the Limelight, just add cream cheese and salami. Add a side of fresh fruit for a flash of color and juicy goodness, paired with a grapefruit juice.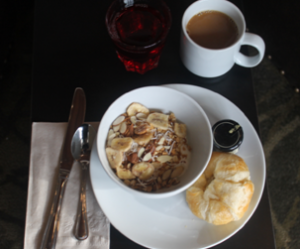 Wednesday
My efforts of making homemade granola have failed in burnt attempts which only furthers my admiration for the Limelight homemade granola. This granola takes all granola to a new level with its perfect crunch, packed with flavor. Mind you it is this good in its naked state before you indulge in the number of fixins you can add to it: dried bananas, pecans, almonds, coconuts and even chocolate chips. Add some yogurt and a fresh croissant with jam, washed down with cranberry juice and a side of coffee for an excellent start to the day.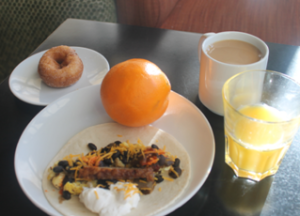 Thursday
A sure way to kick off a great day is the make your own breakfast burrito bar complimented by a donut. Black beans with vegetables, sausage, cheese, sour cream and some hot sauce enveloped by a tortilla make it hard to complain. For good measure, I grabbed an orange and figured if I couldn't finish all the food in one sitting it would brighten my day later.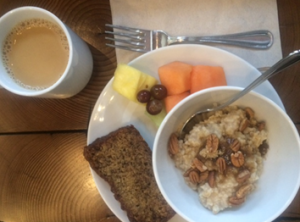 Friday
With plans to head outside for a day of hiking and biking I figured a hearty breakfast of oatmeal was in order. It doesn't stop at just plain oatmeal. I added some brown sugar and ventured to the granola fixins where I added some pecans as well. A slice of banana bread, side of fresh fruit and a coffee would give me that added energy to make it until a late lunch that day.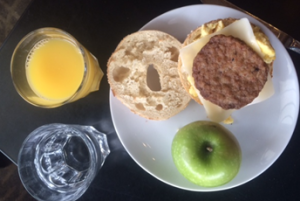 Saturday
After some contemplation of what I should indulge in this morning, I turned the egg and sausage station into a make-your-own-breakfast sandwich situation. I couldn't resist. I grabbed a slice of cheese from the cold cuts area to pack in some extra flavor.  An apple and some OJ got me ready for a beautiful day of biking.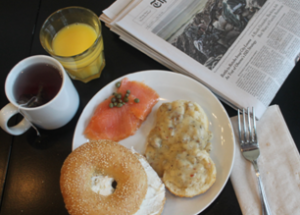 Sunday
Bagels and lox, yes please! Oh wait, is that biscuits and gravy?! I will take it all! I could not help myself. While I realize my eyes might be bigger than my stomach this morning I can't possibly resist. With a Sunday New York Times at the front desk, I may as well make a day out of this savory breakfast experience.